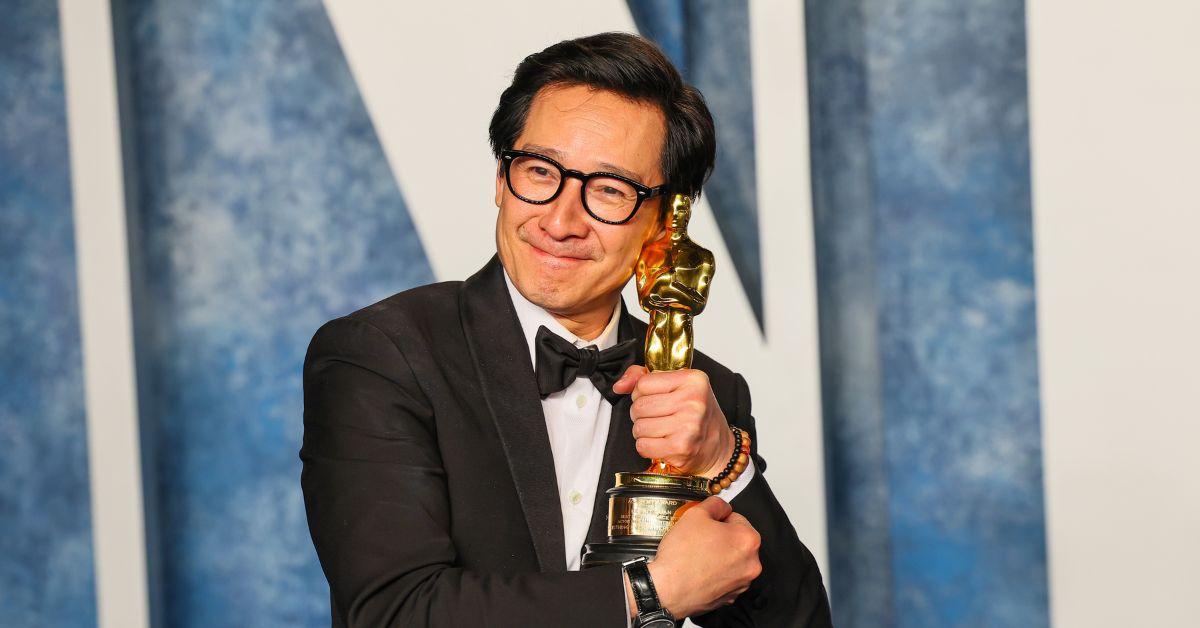 Ke Huy Quan Said His Mom "Sacrificed so Much" for the Career He Has Today
Article continues below advertisement
Ke Huy Quan received nothing but love from his peers when he accepted his award. In his acceptance speech, the former child star thanked his wife, Echo, his castmates, and his parents. Ke Huy Quan credited his parents for his successful career and honored them multiple times during the ceremony. Here's what to know about Ke Huy Quan's parents and ethnicity.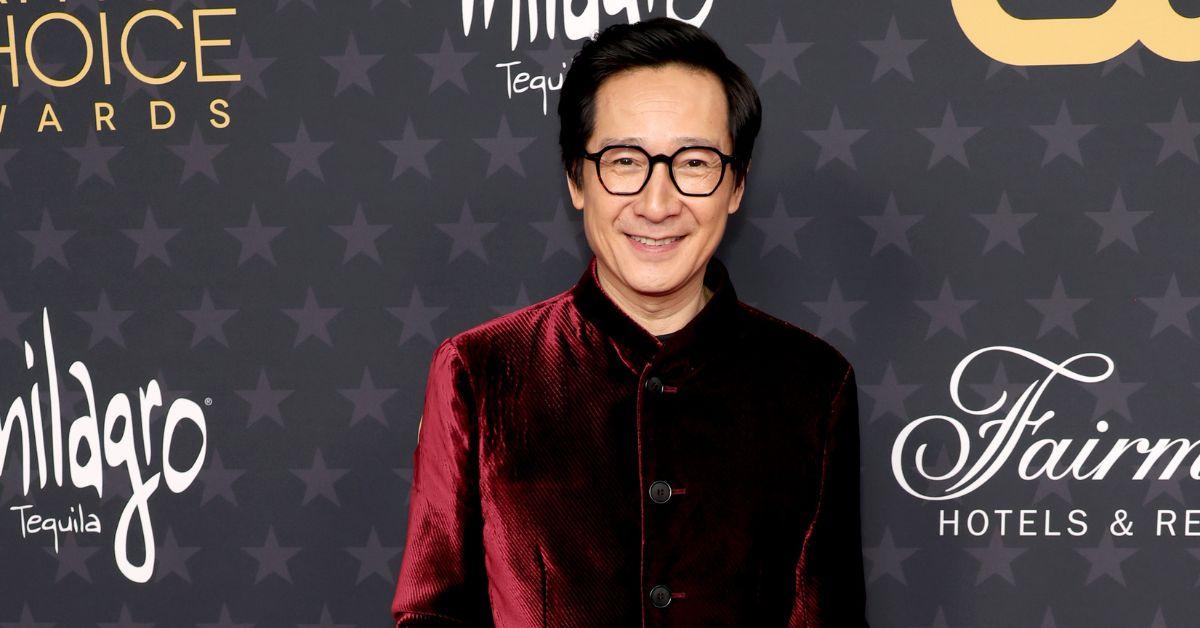 Article continues below advertisement
Who are Ke Huy Quan's parents? The actor said his "84-year-old mother" watched his win from home.
On March 12, 2023, Ariana DeBose announced the winner for Best Actor in a Supporting Role. In a side-by-side of the presenters and the nominees, fans watched as Ke Huy cried and hugged his wife before making his way onstage.
Once he made it to the stage, he shared that his mother, whom Ke Huy kept unnamed, was at home watching him accept the award decades after he first rose to fame as a child star on The Goonies and Indiana Jones.
"Thank you. Thank you," Ke Huy began his speech. "My mom is 84 years old, and she's at home watching. Mom, I just won an Oscar!"
Article continues below advertisement
Ke Huy continues expressing his love for his family in his Oscars acceptance speech. He thanked his little brother for calling him "every day" to check his well-being. The actor also gave insight into the "sacrifices" his parents, specifically his mother, made to get him where he is now.
Article continues below advertisement
"My journey started on a boat. I spent a year in a refugee camp," Ke Huy explains onstage. "And somehow, I ended up here on Hollywood's biggest stage. They say stories like these only happen in the movies. I cannot believe it's happening to me. This — this is the American dream. Thank you so much."
He added: "Thank you so much to the Academy for this honor of a lifetime. Thank you to my mom for the sacrifices she made to get me here. To my little brother, David, who calls me every day just to remind me to take care of myself: I love you, brother."
Article continues below advertisement
What is Ke Huy Quan's ethnicity? He recently began using his birth name publicly.
For Ke Huy, the Oscars was a significant night, and not just because the actor was nominated (and won) a golden trophy. While nominated for the award, Ke Huy decided to go by his birth name instead of Jonathan Quan, a title he had used for most of his career.
Article continues below advertisement
When the Oscars wrapped, Ke Huy, whose ethnicity is Vietnamese-American, said backstage that he used an "American-sounding name" for years to bring him more opportunities. However, the actor said he now feels comfortable using the name his parents gave him.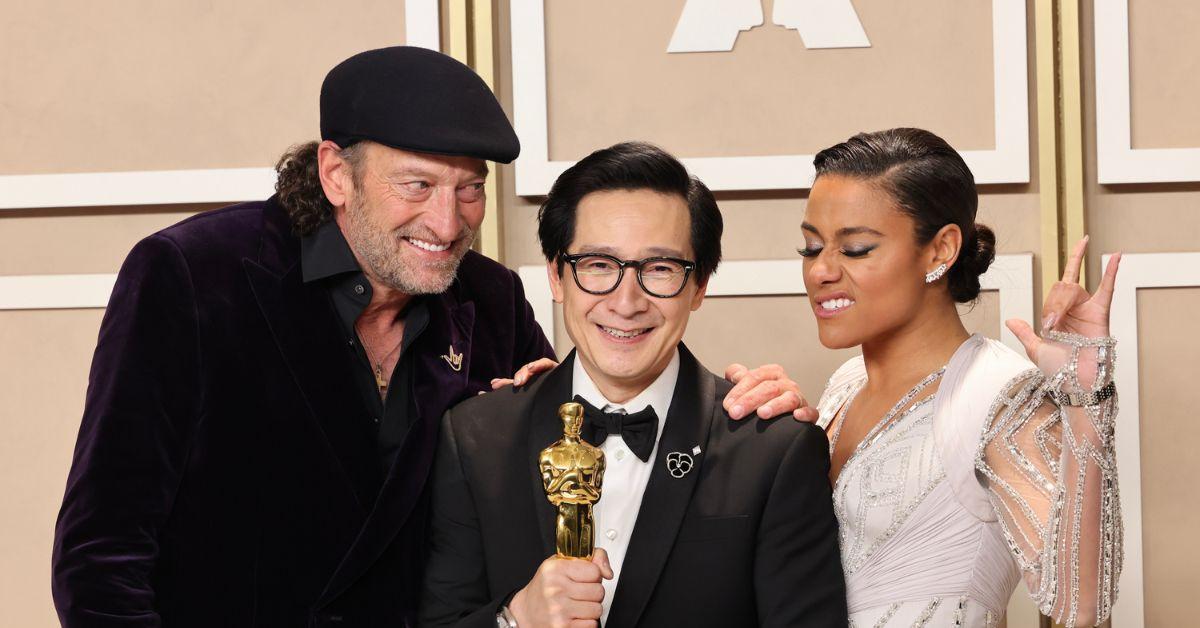 Article continues below advertisement
"The very first thing that I wanted to do was to go back to my birth-given name," Ke Huy said backstage after the Oscars. "Tonight, to see Ariana [DeBose] open that envelope and say, 'Ke Huy Quan,' that was a really, really special moment for me. And then immediately, I was so emotional, but the first image that I had in my mind was my mom — who is the reason why I am in America, who is the reason why I have a better life, I have all these opportunities."
Ke also credited his mother for leaving behind a "great life" in Vietnam to move to America for her kids. The actor admitted he wouldn't know what to do without his family's unwavering support.
Article continues below advertisement
"Like I said in my acceptance speech, she sacrificed so much," Ke reiterated backstage. "She had a great life where we came from, and she gave all that up so that all her children — there are nine of us — and every single one of them are so grateful to my parents."
We're sure Ke Huy Quan's parents were delighted to see him win his first Oscar!