Get Ready to Meet the Next Generation of Pokémon on 'Scarlet' and 'Violet' Later This Year
When are 'Pokémon Scarlet' and 'Pokémon Violet' being released? A recent trailer tells us everything we need to know.
Trainers, rejoice! Pokémon Scarlet and Pokémon Violet are coming out to usher in an entirely new generation of Pokémon. The new Pokémon titles were announced in late February 2022 during a Pokémon Presents conference. The upcoming games will feature entirely new mechanics and, of course, new Pokémon to catch in an enormous world. In June 2022, another trailer unveiled more info and even a release date.
Article continues below advertisement
The last mainline Pokémon games were Sword and Shield, released in November 2019. These two games introduced the eighth generation of Pokémon. They were preceded by the classic Pokémon remakes Let's Go, Pikachu! and Let's Go, Eevee!, both of which marked the franchise's arrival to the Nintendo Switch. As mainline games, Pokémon Scarlet and Violet will continue Pokémon's legacy on the Switch, and you can play them sooner than you'd think.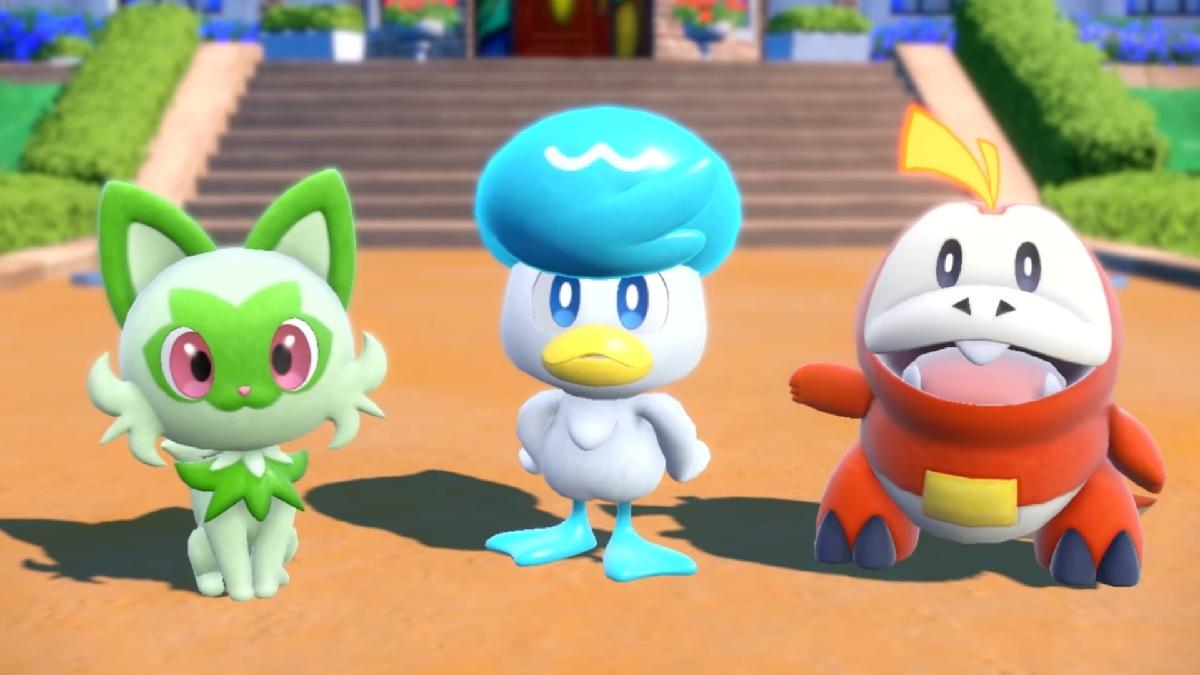 Article continues below advertisement
When are 'Pokémon Scarlet' and 'Pokémon Violet' coming out?
As of June 2022, there's already plenty we know about the upcoming Pokémon titles. Like any new mainline Pokémon game, all new Scarlet and Violet players begin their adventure with new starter Pokémon. Players can choose between a Grass, Fire, or Water Pokémon.
The reveal trailer introduced the new starters for Generation 9: the feline-like Sprigatito (Grass), crocodile Fuecoco (Fire), and duckling Quaxly (Water). Other new Pokémon include Lechonk, Pawmi, and Smoliv.
Scarlet and Violet also take place in an enormous Spain-inspired open world. Different towns and areas of wilderness now flow together seamlessly. The open-world concept was first introduced to the franchise with Pokémon Legends: Arceus, which utilizes large open areas connected by a central hub. Instead of random encounters, trainers can encounter wild Pokémon out in the open and choose whether to fight or avoid them.
Article continues below advertisement
The second trailer for the game gives fans a better look at what's in store. The new professors in the game are Professor Sada and Turo. Battles also take place in a dynamic 3D setting where you can watch the action from several different angles. The trailer also unveiled the new legendary Pokémon gracing the cover of each game. Scarlet features the red and organic Koraidon while Violet is repped by the tech-based Miraidon. What's more, the game officially has a release date.
The game is officially coming out on November 18 worldwide. Digital pre-orders are already open on the Nintendo e-shop. With more info undoubtedly on its way, Gen 9 is looking to be a major landmark for the franchise. We're about to dive into a whole new era for mainline Pokémon games with Scarlet and Violet.