Sam Has the Best Dad in 'Ted Lasso' (Even If He Is Somewhat Evil in 'Game of Thrones')
Who is Sam Obisanya's dad in 'Ted Lasso'? Ola Obisanya makes his first appearance in 'Ted Lasso' Season 3, Episode 7 as a guiding voice for Sam.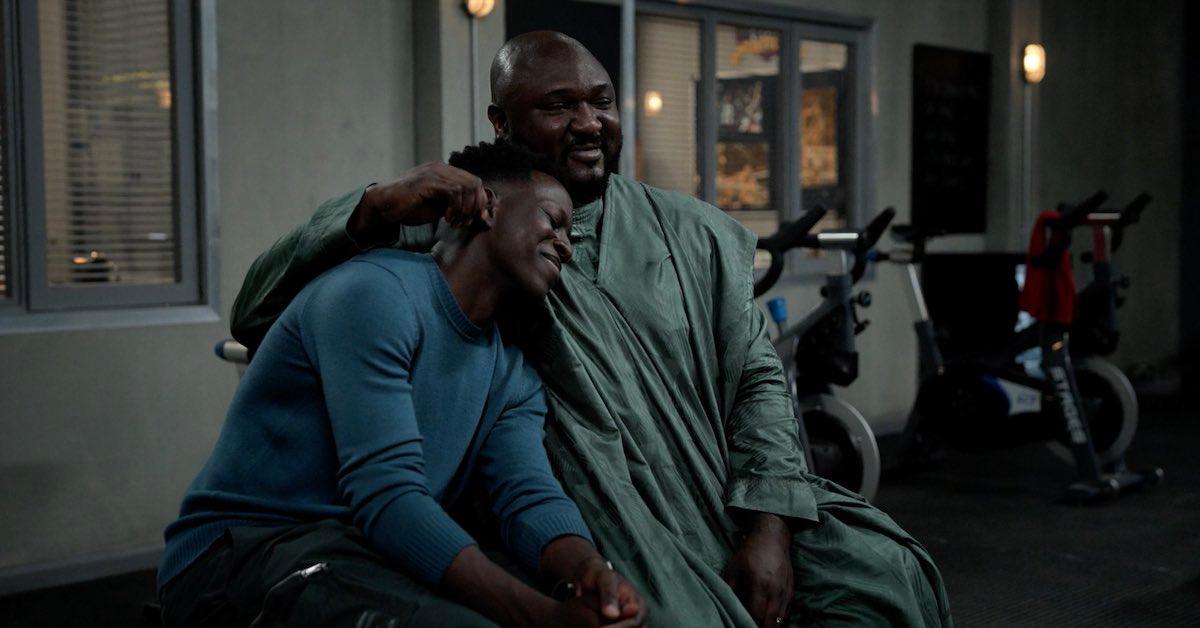 Spoiler alert: This article contains spoilers for Ted Lasso Season 3, Episode 7.
As Ted Lasso heads into its final stretch, Season 3 is getting better and better. The previous episode brought the team to Amsterdam to live out their wildest adventures, but Episode 7, titled "The Strings That Bind Us," takes us a little too close to home. Sam Obisanya (Toheeb Jimoh) faces Britain's xenophobic politics head-on with devastating effects.
Article continues below advertisement
Luckily, Sam's dad, Ola Obisanya (Nonso Anozie), visits Sam and spreads some wisdom and humor. He's not just large on the screen, but he's a larger-than-life personality who is clearly an inspiration to Sam. And considering how pure Sam is, we know he must have a pretty great dad. So who is Sam's dad in Ted Lasso, and where have we seen Nonso before?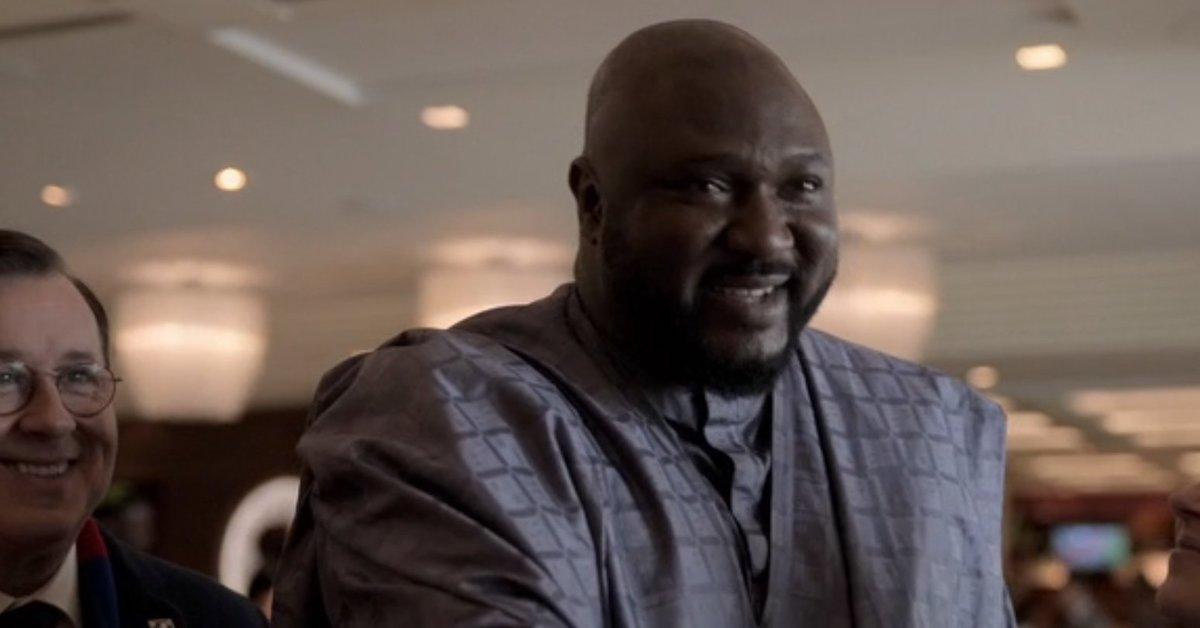 Article continues below advertisement
Sam Obisanya's dad, Ola Obisanya, pays Sam a visit in Season 3, Episode 7.
At the start of the episode, Sam and his restaurant staff at Ola's are disheartened and angered by the fictional U.K. Home Secretary, Brinda Barot, turning away boats of Nigerian refugees from English shores. Sam's friend (and potential love interest?) Simi (Precious Mustapha) is irate, but Sam wants to offer a kind solution first. He tweets a message about hoping for better from the U.K.'s leaders and tags Brinda.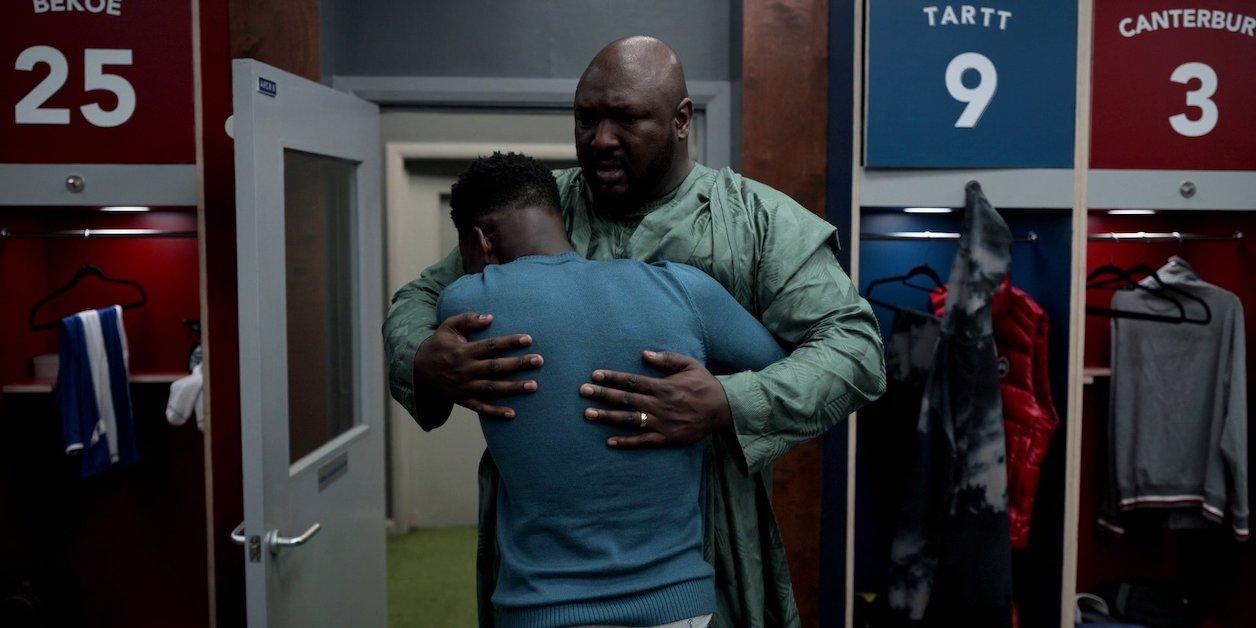 Article continues below advertisement
Brinda, however, responds with vitriol. "Footballers should leave the politics to us and just shut up and dribble. You should worry less about the safety of our nation and worry more about being a mediocre player on a mediocre team." When Sam claps back, "I'd rather be a mediocre footballer than a world-class bigot," he finds Ola's destroyed and vandalized. "Shut up and dribble" is even spray-painted on his wall.
This comes just ahead of Sam's father's visit, to who Sam was so excited to show off his restaurant. But luckily, Sam's dad comes at just the right time. As Sam storms into the AFC Richmond locker room, his dad shows up with open arms. Sam hugs his father, and they discuss how Sam can move forward.
Article continues below advertisement
"Follow your heart, Samuel. Angry will only weaken you," Sam's dad wisely says. "If you really want to piss off the people who did this, forgive them … Don't fight back. Fight forward." His words of advice apply to Sam's disagreement with the U.K.'s politics, Sam's restaurant, and even the soccer team.
Article continues below advertisement
Sam eventually brings his father to his restaurant, and when they arrive, the entire AFC Richmond team is sweetly putting the restaurant back together. Bumbercatch lights up the restaurant's name, Ola's, as Sam's father introduces himself to Simi as Ola. This isn't just a Nigerian restaurant; this is Sam's family's legacy. Ola, Sam, and Simi then cook a meal for the team, tying in Ted Lasso's father-son theme.
Ola Obisanya is played by 'Game of Thrones' actor Nonso Anozie.
Some of us might recognize Sam's dad, which makes sense. Nonso Anozie has been acting in various film and television projects since 2006. His most recognizable roles include Tommy in Sweet Tooth, the Captain in Cinderella, Domovoi Butler in Artemis Fowl, and of course, King Xaro Xhoan Daxos in five episodes of Game of Thrones.
Article continues below advertisement
King Xaro played a significant role in Season 2 after Daenerys births her three dragons. Upon hearing of this magic, Xaro invites Daenerys and her dragons to stay with him in the city of Qarth, where he proposes to her in a marriage alliance. Jorah, however, warns Dany that Xaro could have ulterior motives (and of course, he's right).
It turns out that Xaro just wanted access to Dany's dragons and potential wealth. Despite his supposed wealth, he has nothing and needs Dany to maintain his wealth and power. After his and her maid Doreah's betrayals, Dany locks them inside a vault and leaves them to die. Fans remember Xaro for saying, "I invoke Sumai."
Now, fans will remember Ola's wise words as well.
New episodes of Ted Lasso drop every Wednesday on Apple TV Plus.