"Poop in the Ocean, Bring It!" — Our Recap of 'Survivor 44's' Premiere Episode
We recap 'Survivor 44,' Episode 1, titled "I Can't Wait to See Jeff," so we can relive the chaos through twists, turns, blindsides, and medevacs.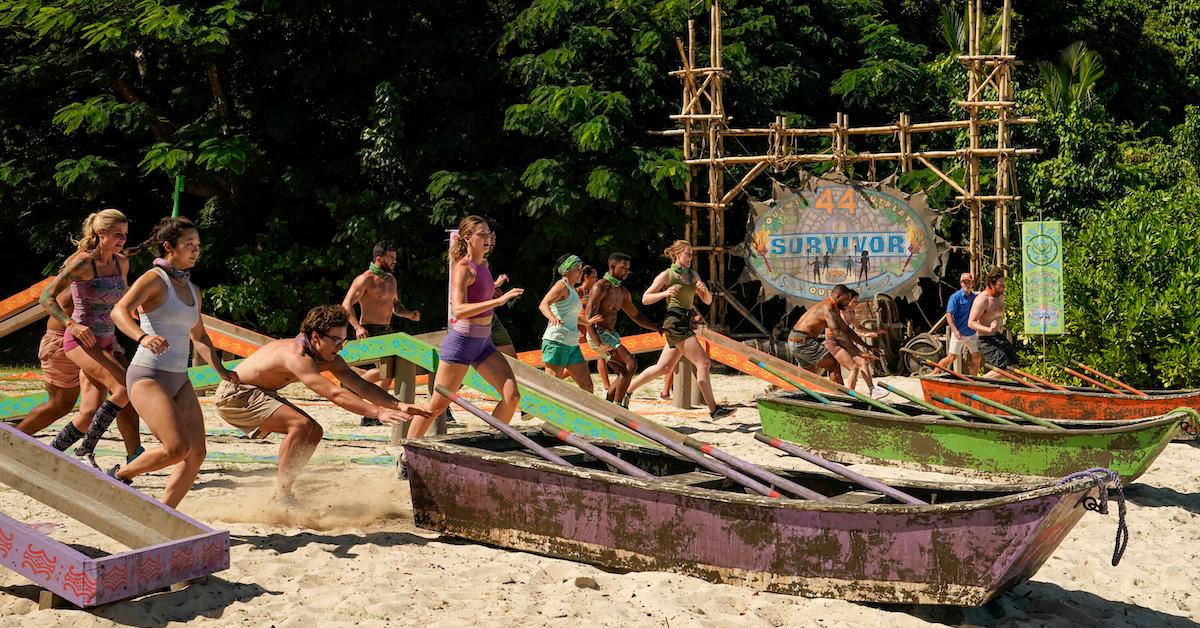 Spoiler alert: This article contains MAJOR spoilers for Survivor 44, Episode 1.
If there's anything we can say about the premiere of Survivor 44, it's that Jeff Probst was right: This will be the wildest season yet. Production is trying new things and finding more ways to spice up "the greatest social experiment" on television.
Article continues below advertisement
Off the bat, we get a cold open — that's new. And we can actually hear a producer's voice! Yes, Season 44 is like the ninth season of The Office, and the fourth wall between player and producer is finally broken. The producer instructs Carolyn, one of the series's more eccentric new players, to introduce herself. And she literally squeals with delight. (For anyone who's listened to the Rob Has a Podcast tribe breakdowns, this is not a new sound.)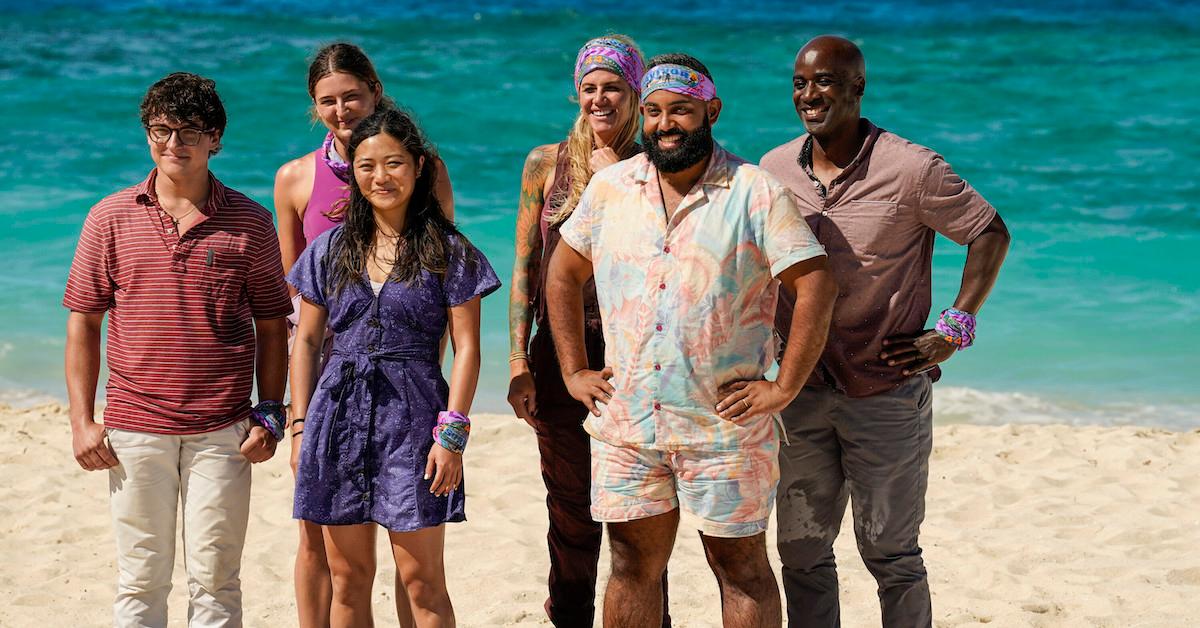 Article continues below advertisement
As we dive into the opening credits, we can't help but still feel nostalgic for the Survivor theme song from its olden days, but the players showing us how excited they are for the game makes us just as excited as they are.
The First Reward Challenge
Before meeting the 18 contestants, Jeff talks to the camera, and we finally get to some mat talk before the first challenge. After a flashback about what an amazing social experiment Survivor is, we learn that the three tribes of six are Ratu in orange, Soka in green, and Tika in purple. Jeff tells them that he will "birth [them] into the game with the first reward challenge." That's quite an image, Mr. Probst.
Article continues below advertisement
During the challenge, teams have to crawl under obstacles in teams of two, and each player carries back a puzzle piece. Once the team has all six pieces, two players must put together a puzzle. Then three more players each need to throw rings off of a very tall post.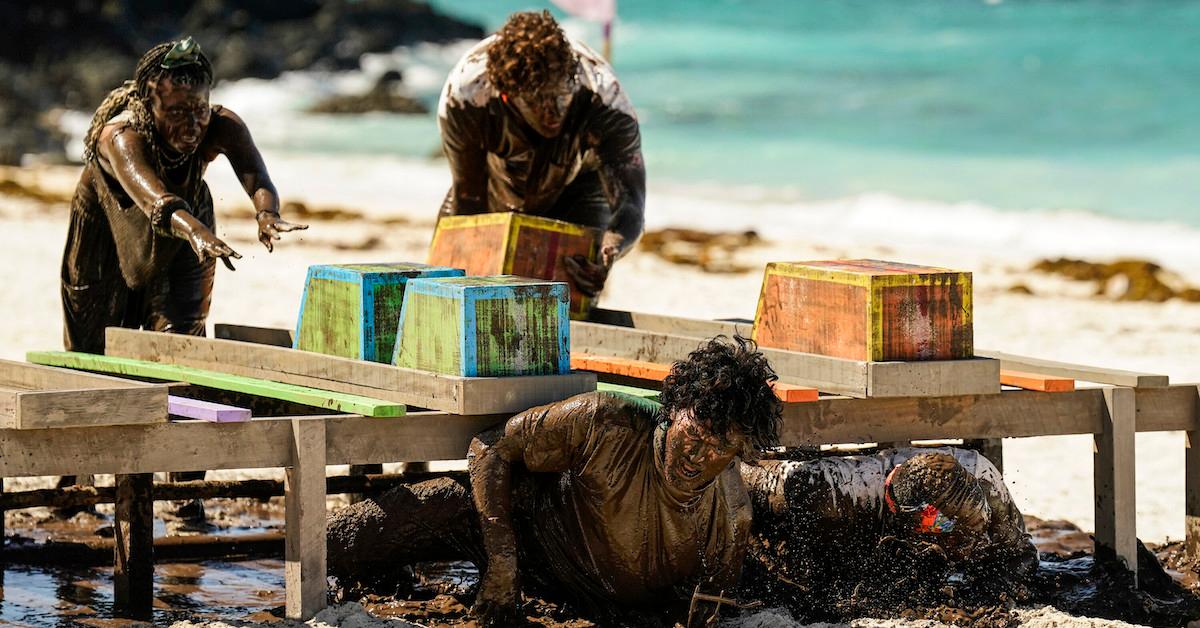 Article continues below advertisement
Just minutes into the challenge, poor Bruce from the Tika tribe hits his head on the wooden post he needs to crawl underneath to complete the challenge. He's bleeding profusely, but he never! gives! up! This slows Tika down, and as all three teams work on the puzzle, Bruce buckles over.
Jeff stops the challenge and calls in the medical team. The doctor gives Bruce oxygen as Jeff holds up Bruce's muddy, bloody head. The medical team advises that Bruce can keep playing under supervision. Bruce calls the challenge back on, and Carson and Helen quickly bring the Tika tribe into first place with the puzzle. Carolyn steps up to toss the first ring … and she just can't do it.
Article continues below advertisement
The green Soka tribe follows Tika's lead on the puzzle, but they quickly finish the ring toss and finish the challenge in first place. Soka wins a pot, a machete, and flint: the three necessities. Ratu follows and earns the chance to pick whether they do "Sweat" or "Savvy" in order to win a shot at their necessities. And Carolyn is still at the ring toss, but her team hugs her to make up for her falling literally short.
After the Challenge
Back at camp, Soka is obviously thrilled that they won. As they explore their new home, Frannie, Claire, and Josh stumble upon what Frannie describes as "this strange birdcage with this wrapped package and this rusty padlock." As it turns out, all three tribes have their own version of this.
Article continues below advertisement
Then we head over to Ratu, where they're faced with the decision of "Sweat" or "Savvy." Based on their puzzle-solving skills, Matthew and Brandon volunteer to do "Sweat," in which they have to drag a bag of coconuts back and forth as they add more coconuts, one by one, within four hours. The hours wear on, and after Matthew says Jeff's classic line, "You gotta dig deep!" they finish the challenge just in the nick of time.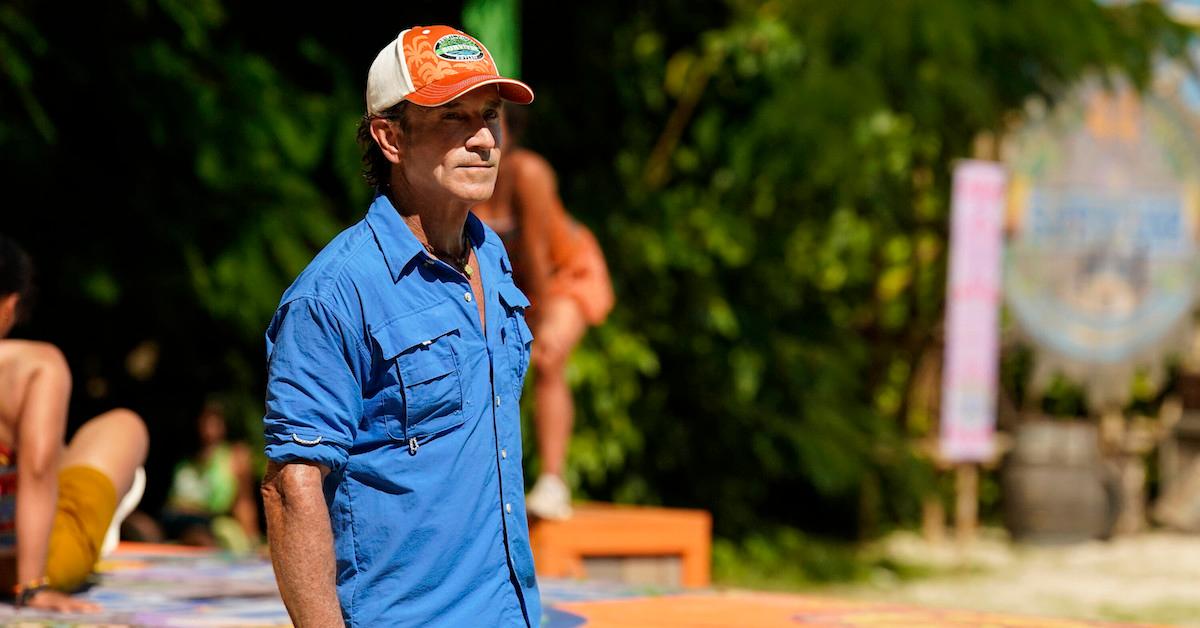 Article continues below advertisement
At the Tika tribe camp, they're thrilled to take on "Savvy." With Carson, a NASA Engineering Student, and Helen, a puzzle wiz, they probably would've picked this option anyway. They have to figure out the number of rings in the two spheres. As they do that, Yam Yam tells his tribe, "I feel like a dinosaur is going to come out and eat us." Yes, we love Yam Yam. Carson and Helen solve the puzzle easily, and the tribe gets to work.
Alliances and friendships start to form in the tribes. Carolyn tells Carson on Tika that he's a "good-looking young man" and compares him to Tom Holland. If that's not a compliment, we don't know what is!
Article continues below advertisement
Matt, who is recently single, and Frannie hit it off at Soka. She says that they're "cut from the same cloth" and "having a lot of fun laughing together" — could this be the showmance that Jeff teased before the season? Hello Rob and Amber, 2.0, and hopefully not Taylor and Figgy 2.0.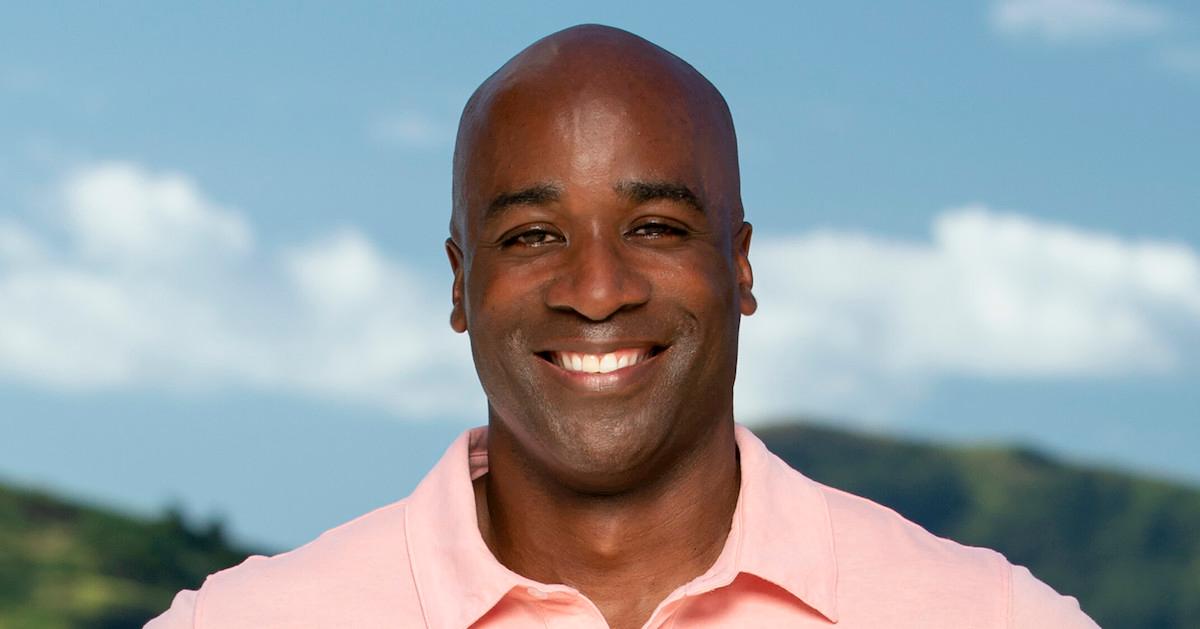 Article continues below advertisement
As we head to Tika at night, however, things take a turn for the worse. Bruce starts to feel faint — his head hurts so bad, he can't even open his eyes. His blood pressure is "hypertensive," and Jeff arrives on a boat. Sadly, Bruce is pulled from the game, becoming the game's first casualty. Noooooo, Bruuuuuuuce!!!
The next day at Ratu, Matthew jumps around, climbs some rocks, and dislocates his shoulder. He pops it back in, but the doctor says to keep it in a sling and minimize load-bearing pressure. Come on, Matthew, don't hurt yourself!
Article continues below advertisement
The Jungle Jaunt
Next comes our "New Era" classic twist: the walk, the climb, whatever we want to call it. We're calling this season's three-person meetup the "jungle jaunt." All tribes pick a "fair" way to choose who goes on the adventure. They pick Sarah from Tika, Matt from Soku, and Lauren from Ratu. While Sarah and Lauren are eager, Matt is concerned about putting a target on his back, but he decides to take some risks anyway.
After they get to know each other a bit, each of them has their own bag of three small packages. Two of the three packages contain a "lose your vote" and one contains an advantage. The players have to choose one, and they can then choose to pick again if they lose their vote on the first try (and potentially lose their vote at a second tribal), or they can stop there. It's a different take on the Monty Hall problem because after losing one vote, they then have a 50 percent chance of getting an advantage.
Article continues below advertisement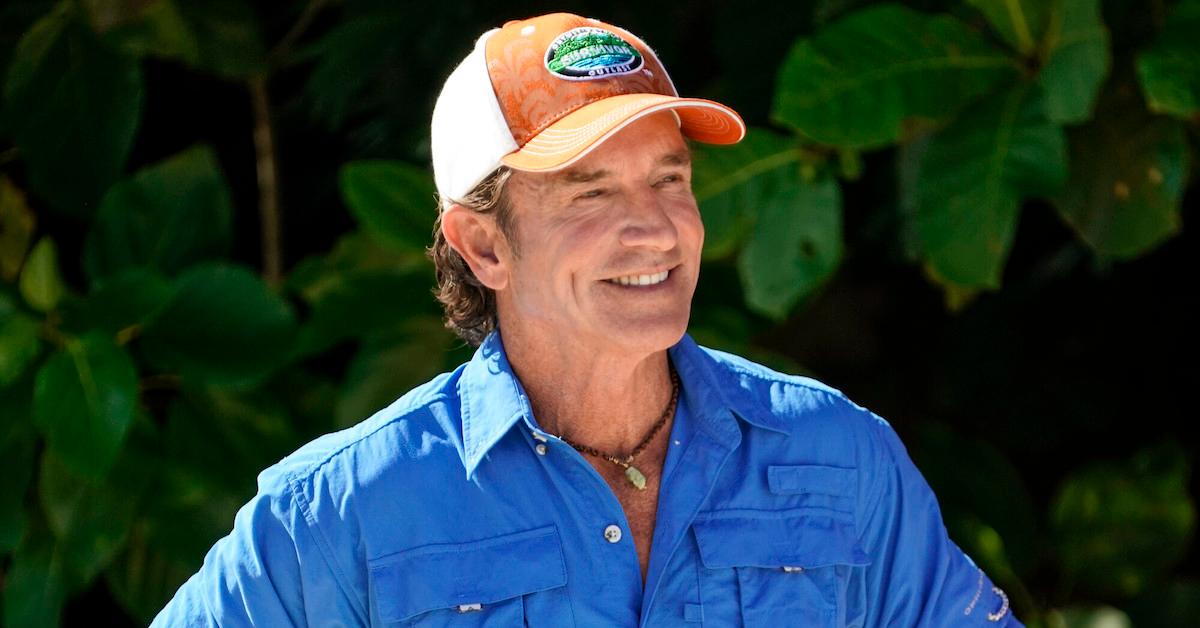 Sarah loses her vote for her next tribal council but gains the Inheritance Advantage, a new advantage that allows her to play all of the advantages at that same tribal council. It definitely seems like the producers are aiming for an advantage-geddon here. Matt loses his vote at two tribal councils, and Lauren gets an advantage on her first try. She gets the Bank Your Vote advantage, which allows her to willingly give up her vote at a tribal council in order to use that vote as an extra vote later in the game.
Article continues below advertisement
Meanwhile, the Ratu tribe decides to split into groups and look for the key to the cage. Brandon finds it and first tries to hide it from his "buddy," Maddy, but she catches on quickly, so he reveals it. She suggests they keep it between themselves, but Brandon wants to build trust with the tribe, so he shares it with everyone. He opens the cage and gets an idol, plus an orange medallion that can be used as a fake idol, but he no longer trusts Maddy.
The First Immunity Challenge
Then, we learn about how Bruce is doing. Jeff reveals, "Bruce is in great shape. No danger. No damage." This makes it all the more devastating that he had to leave the game. For this challenge, teams have to push a boat out to sea, paddle around a buoy, and get a heavy chest from the water onto the shore. They then have to get the chest onto a zig-zag track, drag it down the track, untie the chest, and pull out a small bag with a key. The last stage is to complete a giant slide puzzle with VERY heavy pieces.
Article continues below advertisement
Matthew sits out for Ratu, while Claire sits out for Soka. Soka is unsurprisingly in first place throughout the challenge, once again, since they have one of the physically strongest teams. Matt calls the puzzle while the other four tribemates push the puzzle pieces around the board. Ratu and Tika finally begin their puzzles, but then Jeff stops the challenge for another medical emergency.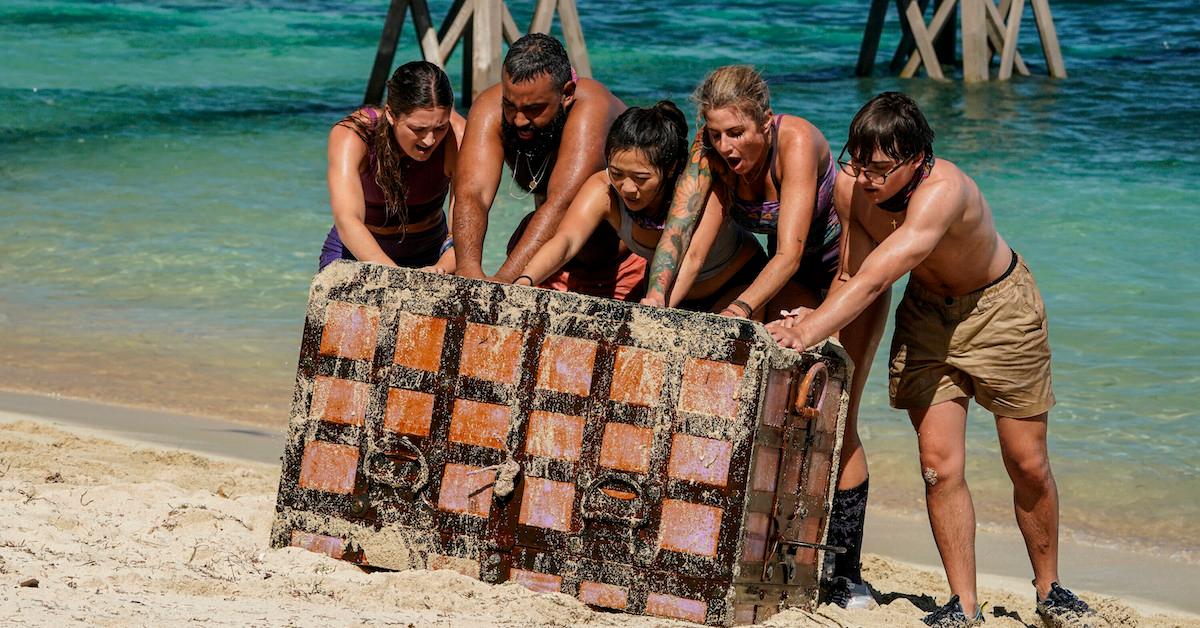 Article continues below advertisement
One episode into Survivor 44, and the medical team has already been brought multiple times. Brandon, a former NFL player on Ratu, nearly passes out and has to sit out the rest of the challenge. Soka finishes first, collecting their very sexy sword immunity piece, while Tika comes in second place with the shield. Ratu finishes last and is forced to go to tribal council.
Tribal Council
We follow Ratu back to the beach, and the players hustle to stay in the game. Jaime grows paranoid as she's stuck between two sides. Maddy wants to vote out Brandon, and Brandon wants to vote out Maddy. Once they get to tribal, Jeff pulls out a metaphor about a "snake" from Brandon, and Jaime reveals that she's going to play her shot-in-the-dark for a one-in-six chance at safety. She says that if everyone votes as they said, her vote won't matter.
Article continues below advertisement
Seeing this chaos, Brandon decides to play his idol — good choice, buddy. The shot-in-the-dark choices, on the other hand, are hard to make sense of knowing what we know. Jaime becomes the first player to ever get a "safe" scroll from playing her shot-in-the-dark, even though it doesn't really matter in the end. Maddy and Kane both vote for Brandon, but with his idol, his vote for Maddy makes her the first player voted out of Survivor 44.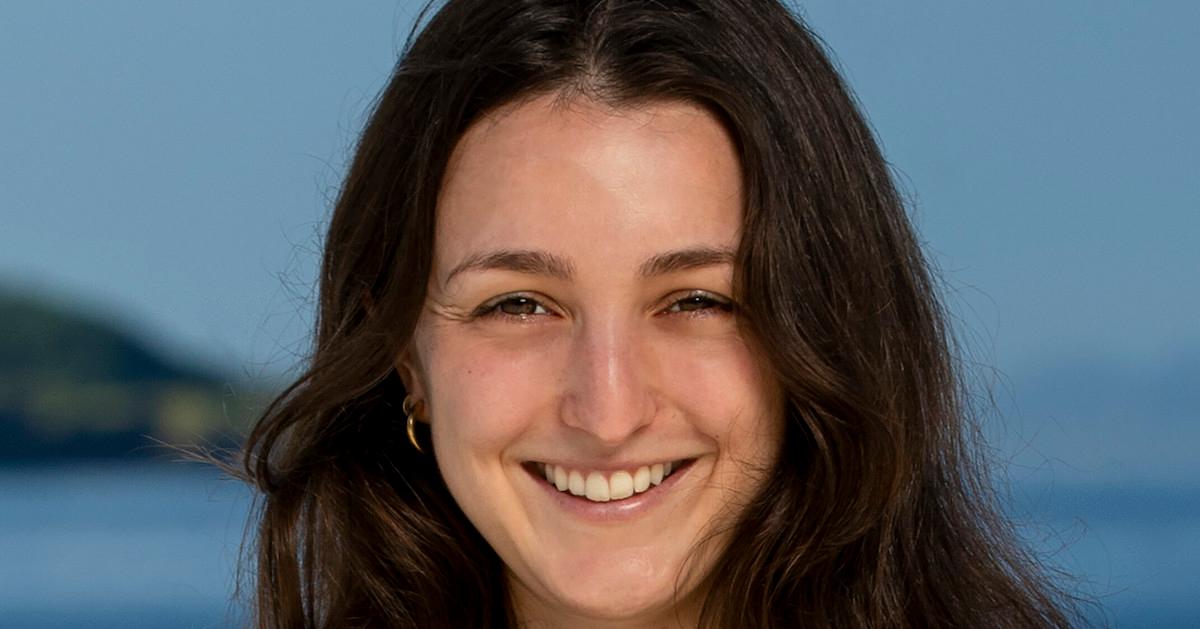 "The tribe has spoken." Actually, just one tribe member spoke, but it was enough. Maddy came in fast and strong and says she had a great time playing.
The preview for next week, which incorporates dragons and celtic braiding (Game of Thrones meets Survivor?), hints that Frannie and Matt could get it on at the Soka tribe, and we are ready for it!
New episodes of Survivor air every Wednesday at 8 p.m. EST on CBS.