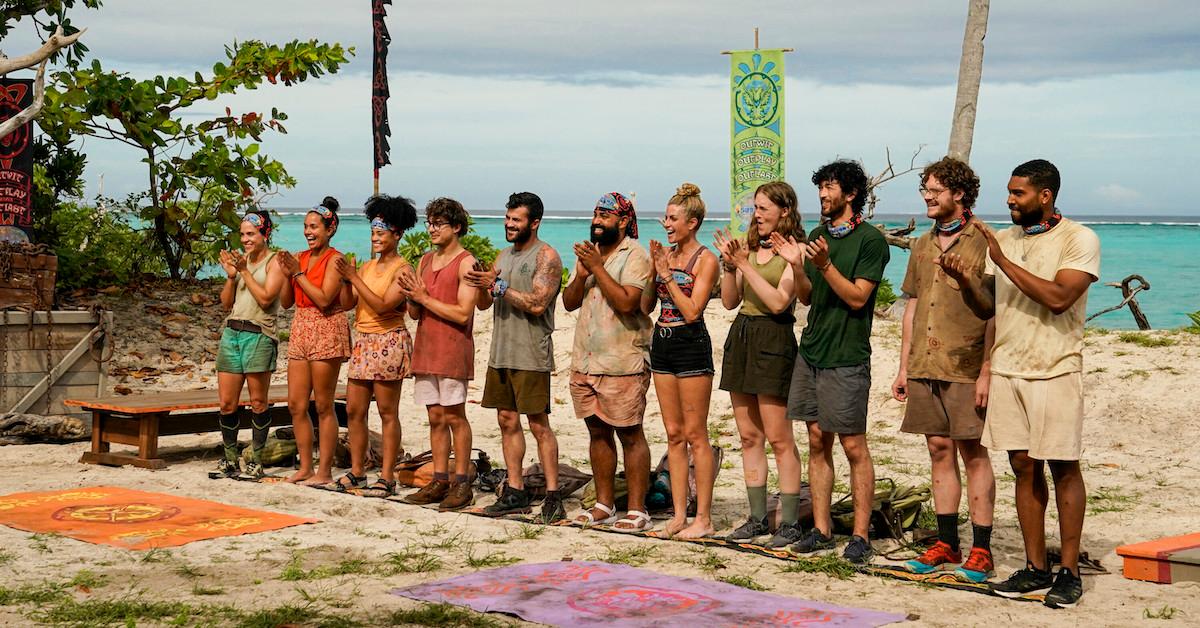 "Let's Not Be Cute" About How Devastating Episode 7 of 'Survivor 44' Is (SPOILERS)
We recap 'Survivor 44' Episode 7, titled "Let's Not Be Cute About It." A new twist and advantage leads to an unexpected Tribal Council.
Spoiler alert: This article contains spoilers for Survivor 44, Episode 7.
The new era of Survivor is obsessed with its twists, advantages, and disadvantages, not to mention the players need to "earn" everything in the game. Episode 7, titled "Let's Not Be Cute About It," continues the tradition of twists that take players' power away in the game. Luckily, the twist still encourages some semblance of strategy and relationship-building.
Article continues below advertisement
The episode begins right after the last Tribal Council, in which Josh was sent home, and Yam Yam does some damage control by making his newly merged tribemates laugh. In a confessional, he tells us of his name, "It's a pretty name, but you don't want to see it written down." We're crossing our fingers for Yam Yam in this episode!
Read on for the rest of our recap of Survivor 44, Episode 7.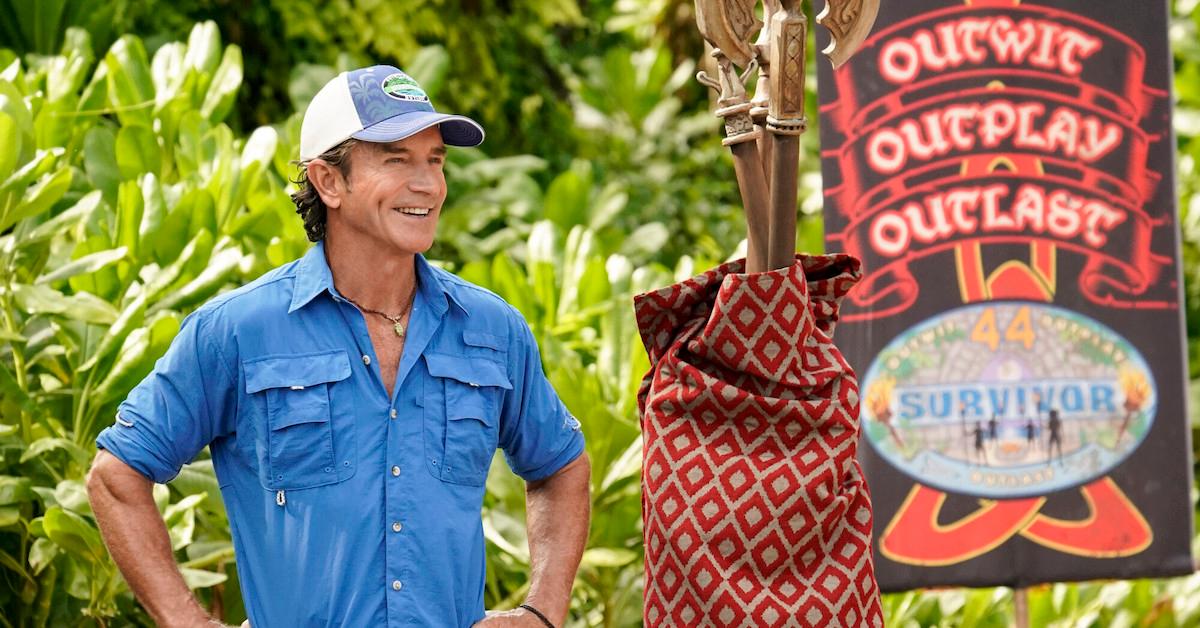 Article continues below advertisement
Our 'Survivor 44' Episode 7 recap begins with the newly merged Va Va tribe.
We may love watching Yam Yam, but he knows exactly what he's doing out on the island. "My strategy's always been to charm people," he says during a confessional. Matt and Frannie go on a walk together, and Matt feels "weirdly confident and comfortable," which is never a good sign in Survivor. But Brandon tells Matt that when he unlocked the birdcage idol, he was given real and fake idols, so Matt realizes that Danny could have the real Soka idol.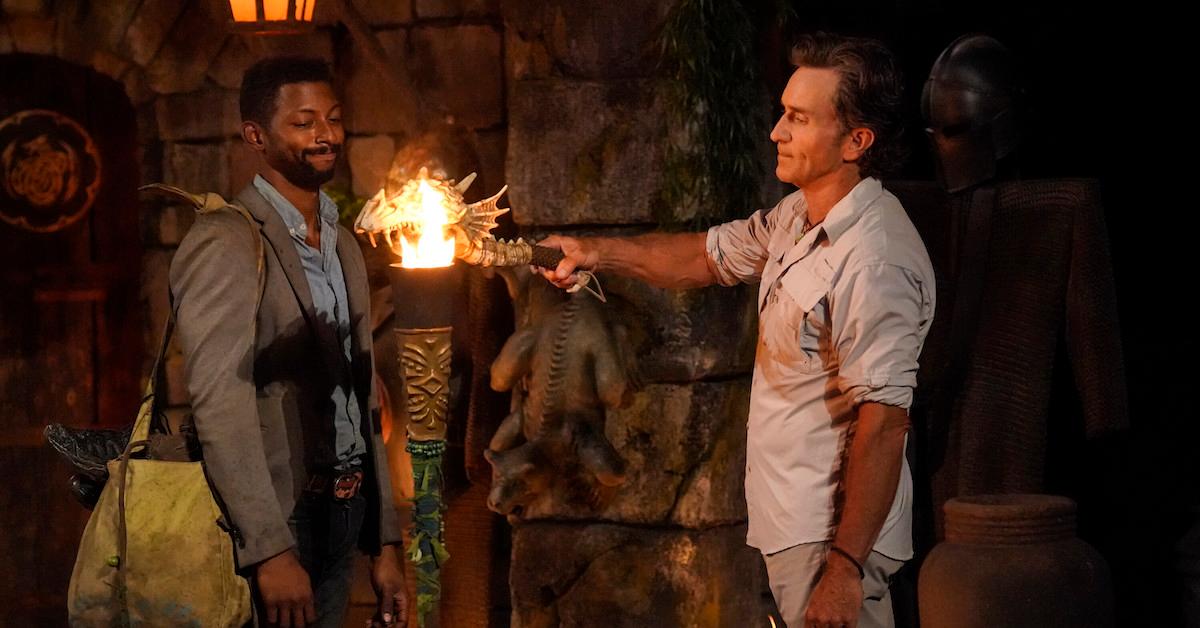 Article continues below advertisement
Danny wants to get Lauren out because she has an extra vote, and he makes his plan known throughout the camp. This allows the other players to blindside Danny, who they now think has an idol. Meanwhile, Carson feels cozy because everyone wants to work with him. But as we know, nothing goes as planned in the modern-day era of Survivor.
The tribe names themselves Va Va, which translates to "Four Four" in Fijian, to commemorate Survivor 44. It's not the worst merged tribe name!
Article continues below advertisement
On Day 14, an immunity challenge begins with a game-changing twist.
Can't we just let the players play, Jeff? Host Jeff Probst welcomes the castaways to their first individual immunity challenge only eight minutes into the episode. He explains the challenge — players must stand on a beam while balancing a ball at the end of a long pole. Players must move to narrower beam sections at various intervals throughout the challenge. But wait … there's a twist. And it's not a fun one.
Jeff explains that the tribe will be split into two "teams" of five. In each team, whoever lasts the longest will win individual immunity. But there's a catch — whoever lasts the longest overall wins immunity for their entire team, as well as peanut butter and jelly sandwiches, salty potato chips, and iced tea. However, they also won't vote. They'll just watch Tribal Council as removed observers. "It's safety without power," Jeff explains.
Article continues below advertisement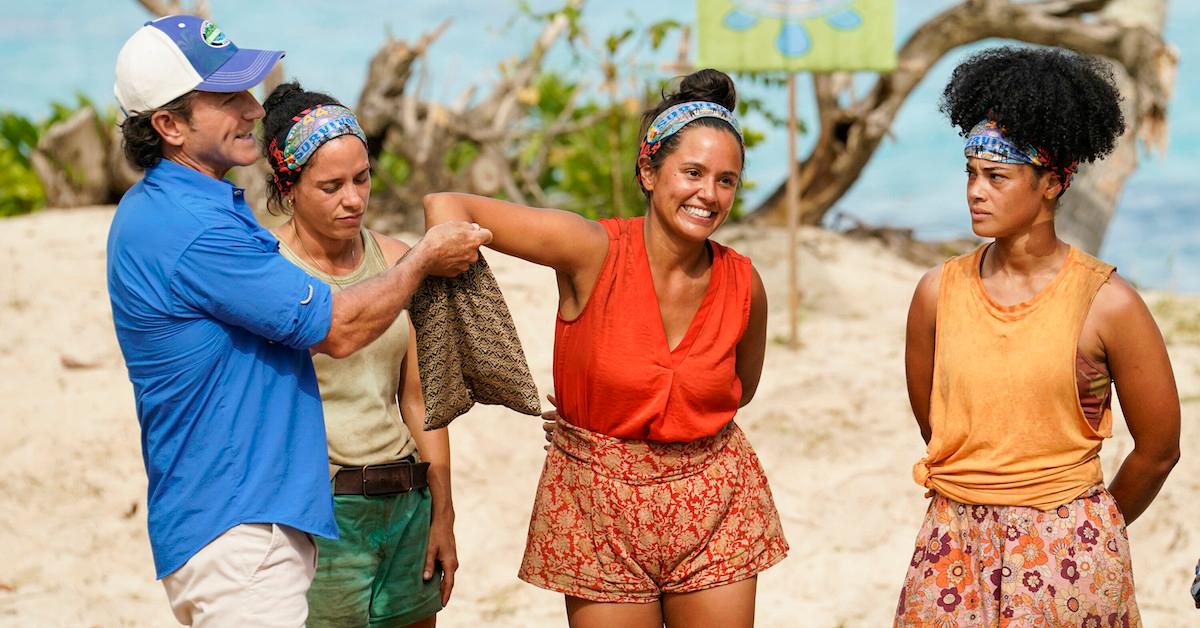 The Orange team is Heidi, Kane, Danny, Carolyn, and Frannie, while the Purple is Lauren, Yam Yam, Jaime, Matt, and Brandon. This leaves Carson to choose whichever team he thinks will win; he picks the Orange team.
Article continues below advertisement
Carolyn is the first to drop out of the challenge, and the players drop like flies. Frannie is the last woman standing on the Orange team, securing immunity, while three players remain on the Purple team. Eventually, it's down to Frannie versus Brandon, and Frannie secures the win! Go, Frannie! Except … now Matt is on the chopping block. And the teams are forced to go to separate beaches, which means they can't speak before Tribal Council.
Orange noshes while Purple strategizes.
As the Orange team chows down on their juicy-looking PB&Js, they speculate that either Matt or Yam Yam will go home since the other three players were all former Ratu members. Frannie realizes, "I put my best friend in the game on the chopping block," and Carolyn is very anxious on Yam Yam's behalf as are we. Who's going to give us episode titles and the best quotable moments without Yam Yam?
Article continues below advertisement
As it turns out, the Winners are not wrong. Matt didn't bring his bag to the challenge, which means he won't have it for Tribal Council (unless someone else brings it … which they don't). He doesn't have his shot-in-the-dark or fake idol, so he needs to rely on his social prowess alone. But Yam Yam makes a strategic play when he tells Lauren that Danny wants her out. Knowing that Matt is aligned with Danny and that he's tight with Frannie, she wants to get Matt out.
Article continues below advertisement
Ready, set, go … to the next twist.
The Winners are given a note that says, "After you finish eating, open together." The note explains that there's a new advantage locked in a cage and keys scattered around the jungle, but only one will work. "Go!" the note says, and the players sprint off. Kane loves it, comparing it to Dungeons & Dragons, but all we want is for the advantage to save both Yam Yam and Matt somehow.
Heidi eventually opens the birdcage and wins the "Control the Vote" advantage. She learns it must be played when Jeff says, "'It's time to vote.' You will tell one player who you want them to vote for. They must cast their vote for that player." Heidi realizes that she does have the power to save both Yam Yam and Matt!
Article continues below advertisement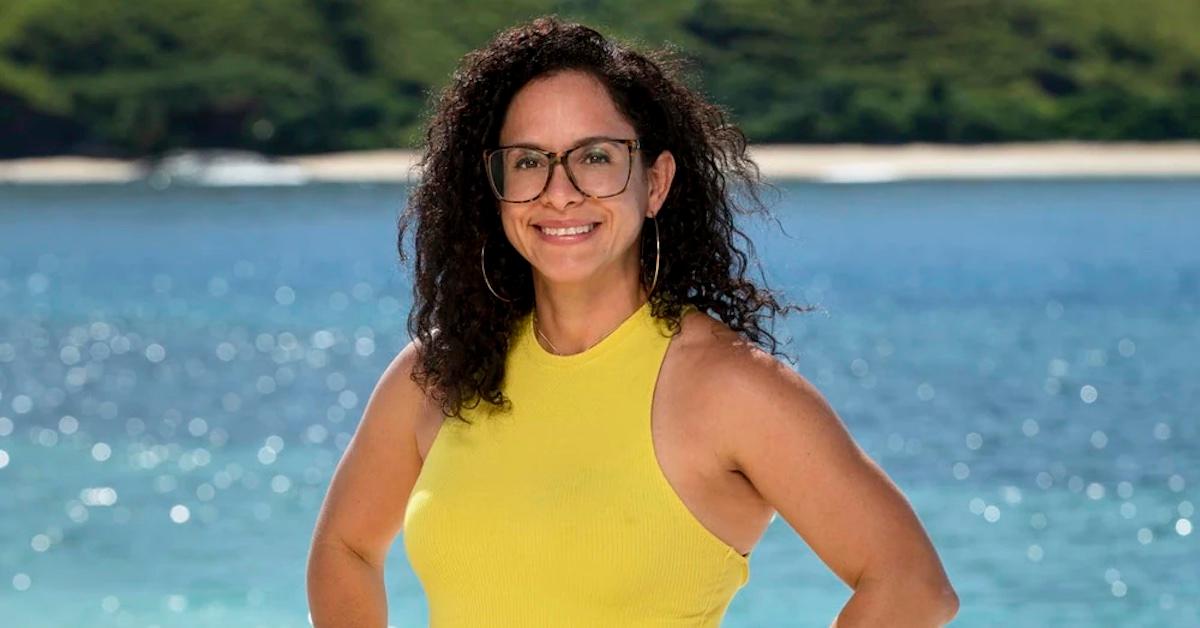 As Matt and Yam Yam fight for their lives in the game, all we want to do is get to Tribal Council and see what Heidi will do with her power. All of Matt and Yam Yam's strategizing is essentially useless, depending on what Heidi does. They discuss coming together to force a tie in case the other three split their votes, which would make for a fun Tribal.
Article continues below advertisement
As Heidi considers her options, Frannie tries to convince her to target Yam Yam, while Danny wants Heidi to target Lauren, but Heidi thinks she could eventually work with Yam Yam. Heidi notes that she wants to gain "friends instead of enemies," which is a decent strategy … so save them both! Come on, Heidi, make the right choice!
Half of the tribe has spoken.
Does it really count if half of the tribe has lost their votes? It can't truly feel like a win for them if they can't control their games. Regardless, this episode contained another Tribal Council first. This is *probably* the first time a player has offered Jeff a papaya fruit. Yes, Matt literally brought a papaya to Tribal Council in place of his "bag of tricks."
Article continues below advertisement
Jaime makes it clear during Tribal that part of their vote was decided by how the Winners will perceive them. And then, Matt and Yam Yam both make impassioned emotional pleas to stick around. Matt cries, "I came into this game with a lot of things I wasn't sure I would be able to do, just from a social anxiety perspective … You have to trust in yourself and believe in yourself to get through that. I'm very, very proud of myself."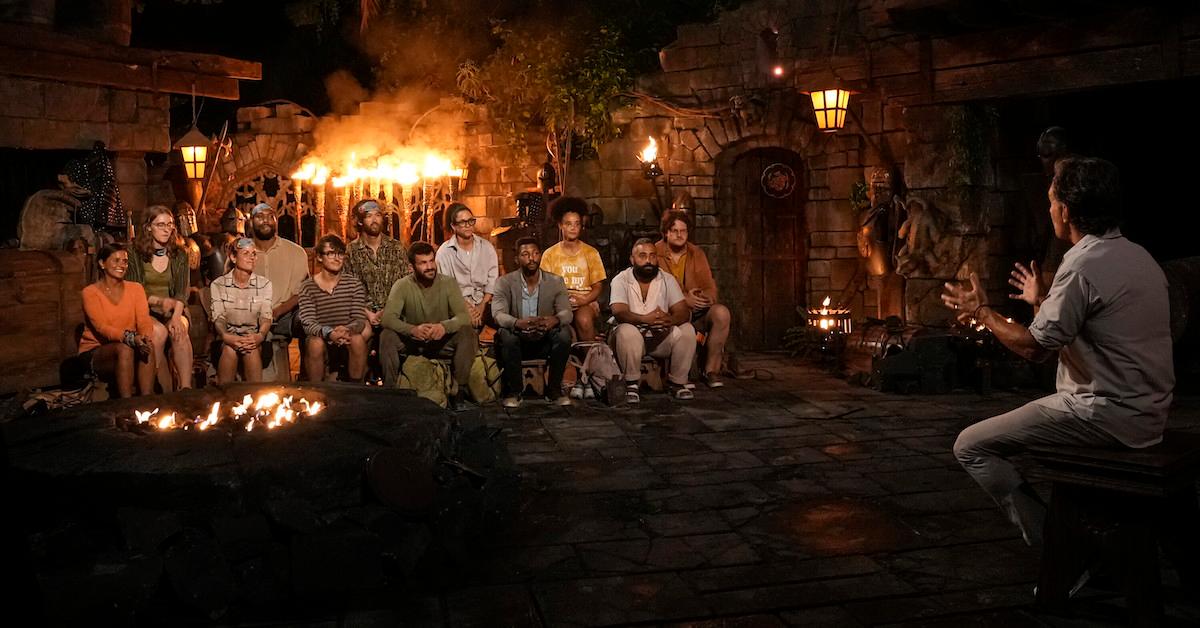 Article continues below advertisement
Jeff points out that Yam Yam tends to deflect with humor. "I do deflect with humor. It's something I use to protect myself. I'm doing this because as a kid in Puerto Rico, it wouldn't be possible for me to be here," he shares. He then mentions how close he and Carolyn are. "This is my problem, I say everything. I've been able to compete, dig, run, push, I have blisters to show for it. I can be a badass." Yes, you Yam Yam!
When Jeff says, "It's time to vote," Heidi stands to play her Control the Vote advantage. She chooses to control Lauren's vote to vote for Yam Yam. No, Heidi! We were rooting for you! Even still, Yam Yam, Brandon, and Jaime vote for Matt, so Heidi's "power" doesn't even matter. If she had picked one of the Ratu members to target, Yam Yam and Matt certainly would have come together to vote them out, keeping all of us happy.
Article continues below advertisement
Sadly, Matt is sent home, but he goes out saying, "I'm proud of you, Frannie, for winning today." We're not crying — you're crying! The showmance is over, but hopefully, the romance lives on. Episode 7 was truly emotional and explosive but still somehow disappointing. Here's to praying that the players have more power in Episode 8 of Survivor 44.
New episodes of Survivor air every Wednesday at 8 p.m. EST on CBS.