Tarte Influencer Trip Theories Get Dark When the Brand Takes Dubai
Anyone who is familiar with Tarte Cosmetics' marketing genius knows that the brand has long sponsored excursions with influencers called Trippin' With Tarte.
While "Tartelettes" previously enjoyed trips to places like the Florida Keys and Napa Valley, Calif., its first vacation of 2023 has some people asking one simple question: How?
Article continues below advertisement
Here's what we know about the Tarte influencer trip to Dubai, as well as what skeptics are saying about the incredulous trip attended by top TikTok influencers.
Tarte influencer trip theories should be taken with a grain of salt.
Trippin' With Tarte kicked off in 2013, per Fashionista. "At the time, traditional events were all kind of starting to feel the same," CMO Samantha Kitain explained, adding, "#trippinwithtarte allowed us to create an intimate, open space for content creators so that they could get to know the brand, they could get to know Maureen, and they could really discover the products more organically and in a meaningful way."
Article continues below advertisement
Indeed, a New Yorker named Maureen Kelly founded the company in 1999, per Entrepreneur.
By Maureen's own admission, she "started [her] company on credit cards and a dream." Today, Tarte is worth nearly $74 million. Want to hear something crazy? The company has never relied on advertising to turn a profit.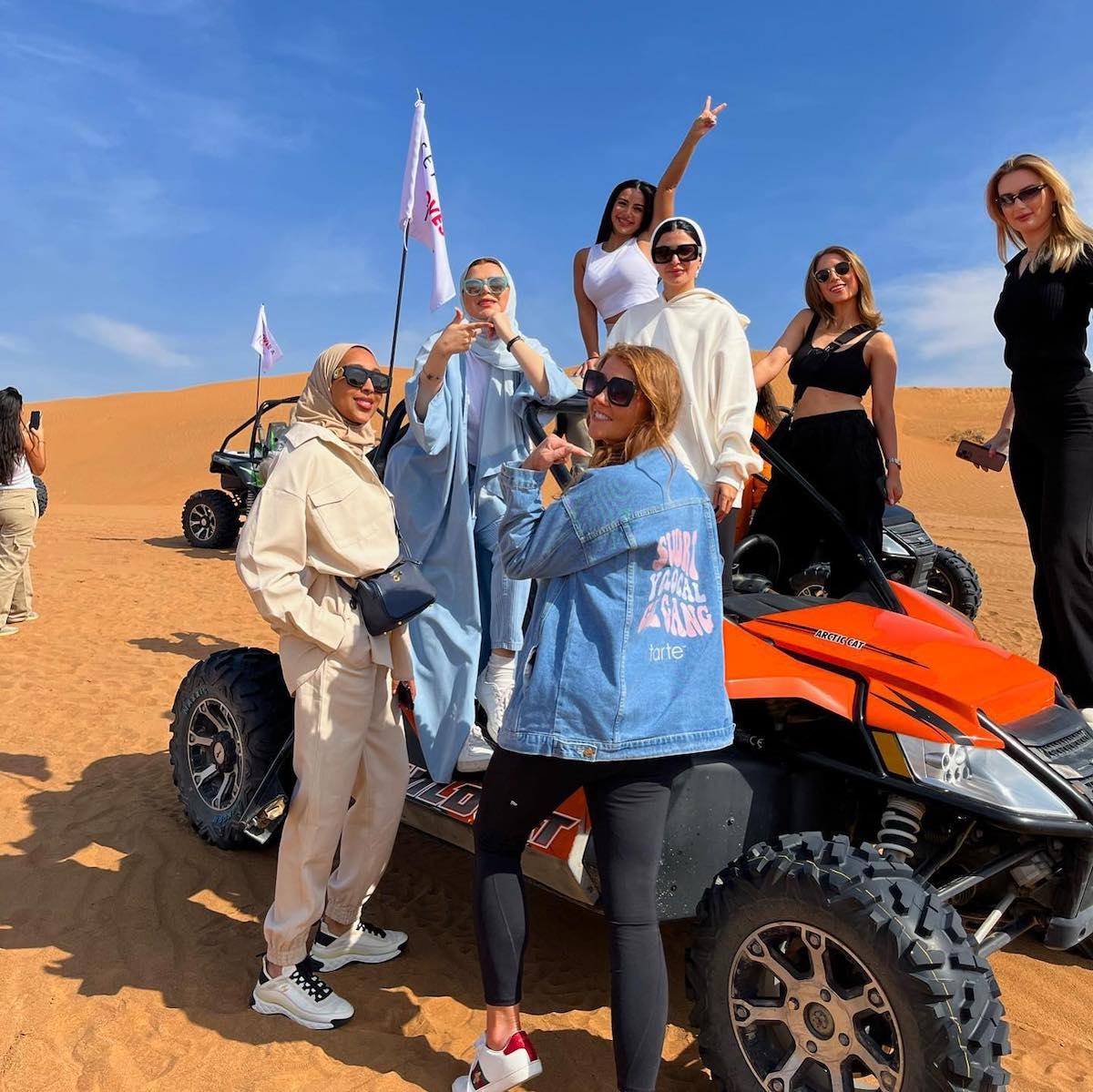 Article continues below advertisement
Maureen was an early believer that social media sells makeup, per Ocean Drive, which quoted her as saying, "I have never used models — I use real women that are employees, friends and friends of friends in our campaigns."
As such, TikTok has been one of the main vehicles for Tarte to spread the word about their products.
The Dubai trip took social media by storm and seems to fit in with Tarte's marketing strategy. But critics online are calling out the extravagance of this vacation for an elite group of influencers, which according to a TikTok sleuth named Jack Mac, who's a reporter for Barstool Sports, included business class airfare to Dubai for each influencer and a guest, plus a stay at the luxurious Ritz Carlton, untold amounts of swag, and so much more.
But was the trip the result of money laundering as one commenter on his TikTok posited?
Article continues below advertisement
Some critics are saying the Tarte trip math simply doesn't add up.
Jack Mac launched a three-part series on TikTok "investigating" the fuzzy mathematics of the Tarte influencer Dubai trip. His "data" led him to value the trip at $65,000 per person, which he notes is equivalent to a "Harvard education."
Meanwhile, there are reportedly 50 influencers who went on the trip.
Article continues below advertisement
As Arab News reports, among the attendees were Alix Earle, who has close to 4 million followers on TikTok, Meredith Duxbury, who has amassed 16.7 million followers, and the Mian Twins, who have 6.8 million followers.
These influencers and others shared juicy tidbits from Dubai that prove the trip was over-the-top and, well, just extra!
Article continues below advertisement
Based on content shared by the likes of these leading TikTokers, another creator named Simply Simone also called out the brand for the puzzling excess in another video that is gaining traction online.
Article continues below advertisement
Tarte has seen the value of creating TikTok viral products.
It's important to note that not only have commenters shot down shady Tarte influencer trip theories, with one person suggesting the brand's buzzy makeup product Shape Tape Concealer alone paid for Dubai, but the company has seen the benefit of these trips in the past, which likely justifies the particular voyage.
As Samantha told Fashionista, when Tarte relaunched its iconic Cheek Stain, a Trippin' With Tarte excursion generated content that enabled the brand to double its projections in the first week alone. And Maureen noted that influencers chronicling the Napa trip resulted in massive mascara sales.
It probably helps that Tarte is extremely strategic about how it chooses influencers to go on these trips, with Samantha explaining, "It's also about them having authority and being experts in whatever they do. They don't have to be an amazing makeup artist, but they all have things that their fans love about them. We love that, too."