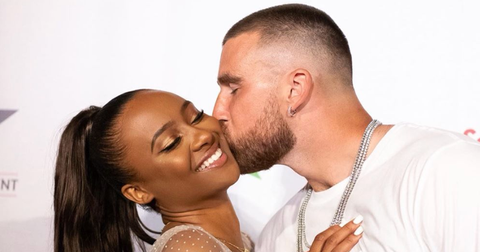 Meet Travis Kelce's Girlfriend, Kayla Nicole
By Sara Belcher

Updated
Kansas City Chiefs tight end Travis Kelce is quite a catch. After auctioning off his heart on E!'s reality show Catching Kelce to winner Maya Benberry, the pair only dated for a short while before calling it off. And Travis found someone new very fast.
Travis has now been with Kayla Brown (who goes by Kayla Nicole) since 2017, and it doesn't look like they'll be calling it quits any time soon. Here's an explainer on Travis' current girlfriend.
Travis Kelce's girlfriend is a sports media personality.
Just like her boyfriend, Kayla is really into sports. Her Instagram bio claims that she's worked for media outlets like the NBA, BET, Global Grind, HotNewHipHop, XONecole, All Def Digital, BallisLife, mostly covering sports.
Kayla also has a YouTube channel, where she has an entire on-screen media reel covering events, like the WEEN awards and a Lakers Game. Her reel also features her interviewing different celebrities, like Will Ferrell and Amy Poehler.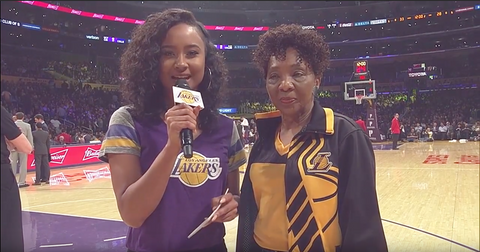 Kayla has also hosted "Heat Check," a YouTube show about basketball put on by the outlet BallIsLife, and was the "resident tastemaker" with HotNewHipHop.
All of her media work traces back to the broadcast journalism degree she received from Pepperdine University.
She's also worked as a model.
Outside of her media work, Kayla has also worked as a model, promoting brands on her Instagram to her 190,000 followers. Her brand deals have included the wine brand Babe, Gameday Tailgate Experience, and Tinder.
She's also shared various model shots she's done, though it doesn't look as though she's professionally signed by anyone currently.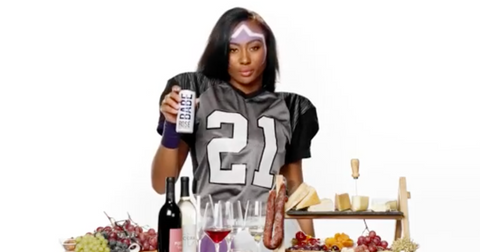 Alongside modeling, Kayla has competed in various beauty pageants and has been awarded the titles of "Top 20 Miss CA 2013, First Runner Up Miss Malibu 2013, Top 10 Miss CA USA 2012, 2nd Runner-up in Miss Southern Coast Regional 2012, Third Runner Up Miss Malibu 2012," according to her professional Facebook page.
Kayla is from Los Angeles.
Kayla seems to be based in Los Angeles, attending college in California and working for various outlets based in Los Angeles. Even though Travis is based in Kansas, it seems the two make plenty of time for each other, frequently posting photos together. Kayla also makes it a point to attend as many of his Chiefs games as she can, showing up at tailgates and supporting Travis from the sidelines.
It's unclear, since the pair have been together since 2017, if they'll be moving to the same state any time soon. Travis is still in the middle of his five-year contract with the Chiefs, so if they plan to live together anytime soon, it looks like Kayla will have to move her life to Kansas.
Travis' ex, Maya, had some issues with their relationship.
After Travis and Kayla went public, Travis' ex, Maya, had some thought about his new relationship.
According to The Shade Room's Instagram, Maya tweeted "When you and your ex broke up 5 months ago but you find out via social media that he's supposedly been in another relationship for 6..."
Maya alluded that Kayla and Travis' relationship started while he was technically still with Maya, though Travis has yet to confirm or deny the accusations.
Regardless, it seems like Kayla and Travis are pretty serious about each other right now, and we're more than happy for the couple.