Wednesday Addams' Dance Moves From the Popular Netflix Series Are Taking Over TikTok
Wednesday Addams' dance moves are the latest TikTok trend. The popular new Netflix series by Tim Burton stars Jenna Ortega as the titular character.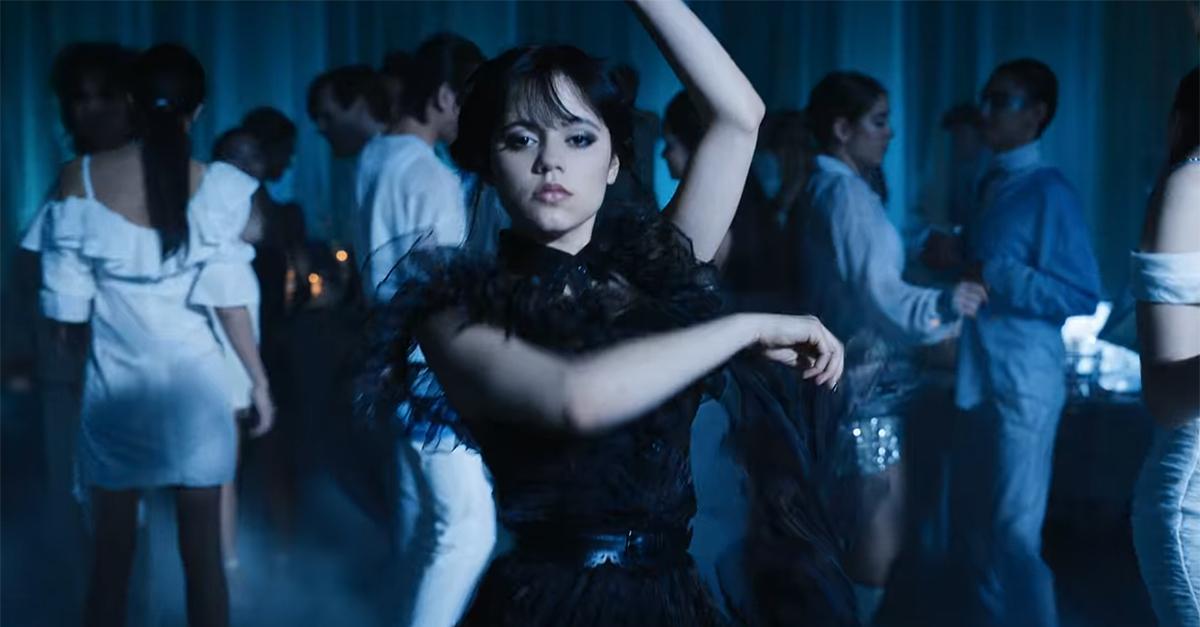 Netflix seems to have another hit on their hands with Wednesday. The new Addams Family adaptation has been the No. 1 Top TV Show in the U.S. since its Nov. 23 debut. As opposed to its family-centered predecessors, the new series focuses specifically on the sadistic young daughter of the family, Wednesday Addams (Jenna Ortega), as she attends Nevermore Academy. Once there, she discovers her own psychic powers and uses them to try and solve a murder mystery at her school.
Article continues below advertisement
Wednesday Addams has long been a fan-favorite among the many creepy and kooky members of the Addams Family, so it should come as no surprise that she's become popular once more with the arrival of her own Netflix series, especially with Tim Burton returning to Addams Family fame. What's more, she's even achieved further meme status on TikTok with her unique dance moves featured on the show. A new dance trend on TikTok sees content creators emulating Wednesday Addams's dance moves on their own.
Article continues below advertisement
Wednesday Addams dance moves are the latest TikTok trend.
Among the many strange and eclectic trends on TikTok — including doorbell camera drama, artificial Christmas trees, and parasite cleanses — dance trends are probably the most popular. Plenty of content creators have been in their rooms, on the sidewalks, or even in the middle of the street performing choreographed dance moves for that coveted internet clout.
As of now, people are taking cues from Wednesday Addams and copying the dance moves she displays on the show.
The dance comes from Episode 4 of the series, "Woe What a Night." In the episode, Wednesday and her love interest Tyler Galpin (Hunter Doohan) attend a local dance. As "Goo Goo Muck" by the Cramps begins to play at the event, Wednesday starts to strut her stuff. She starts to dance to the music, flailing wildly and creepily with all the grace and flexibility of a newly stiffened corpse. She also shifts her hands in a shifty way, appropriately reminiscent of "The Creep" by the Lonely Island.
Article continues below advertisement
Her dancing has taken over TikTok by now, with many dressing up as the titular character to copy her unique choreography. Many dance to the song used in the show, but people are also using a TikTok remix of "Bloody Mary" by Lady Gaga as the background music, concentrating on Wednesday's specific hand gestures. Nevertheless, the dance has become incredibly popular on the platform with many users taking their own spin on Wednesday's moves.
Article continues below advertisement
Some people have even taken it a step further and found subtle references to previous Addams Family iterations in her dances. Jenna Ortega's moves bear a striking resemblance to that of a dance performed by Wednesday's original 1964 actress Lisa Loring. Another one of her moves also looks similar to a dance performed by Anjelica Huston in her portrayal of Wednesday's mother, Morticia, in Tim Burton's Addams Family films in the early 1990s.
TikTok dances tend to run the gamut. But combine that time-honored trend with everyone's favorite malicious goth teen, and there's a recipe for success right there.
Season 1 of Wednesday is now streaming on Netflix.