'Street Outlaws: No Prep Kings': Kye and Lizzy's Relationship Takes a Turn
Discovery says the stakes are "higher than ever" in Season 5 of Street Outlaws: No Prep Kings. "Ryan Martin returns to the track to keep his winning-streak alive, competitors like Lizzy Musi, Kye Kelley, Justin Swanstrom, Daddy Dave, and Disco Dean all have one goal in mind: to finally dethrone the golden boy and to win the ultimate championship trophy." And after what happened to Kye Kelley and Lizzy Musi in the episode on Monday, Dec. 19, fans are wondering if their relationship has flamed out.
Article continues below advertisement
The couple got engaged in July 2021. "My answer to him was 'yes!'" Lizzy said at the time, per Dragzine. "I want to marry my best friend!"
A Zola wedding website in Kye and Lizzy's name says the couple was due to be married on Nov. 19, 2002, in Kentwood, La., but one month hence, and we haven't heard anything about nuptials. And it's a little worrisome that Lizzy said on Monday's No Prep Kings episode that her relationship with Kye is "gone."
What happened to Kye Kelley and Lizzy Musi?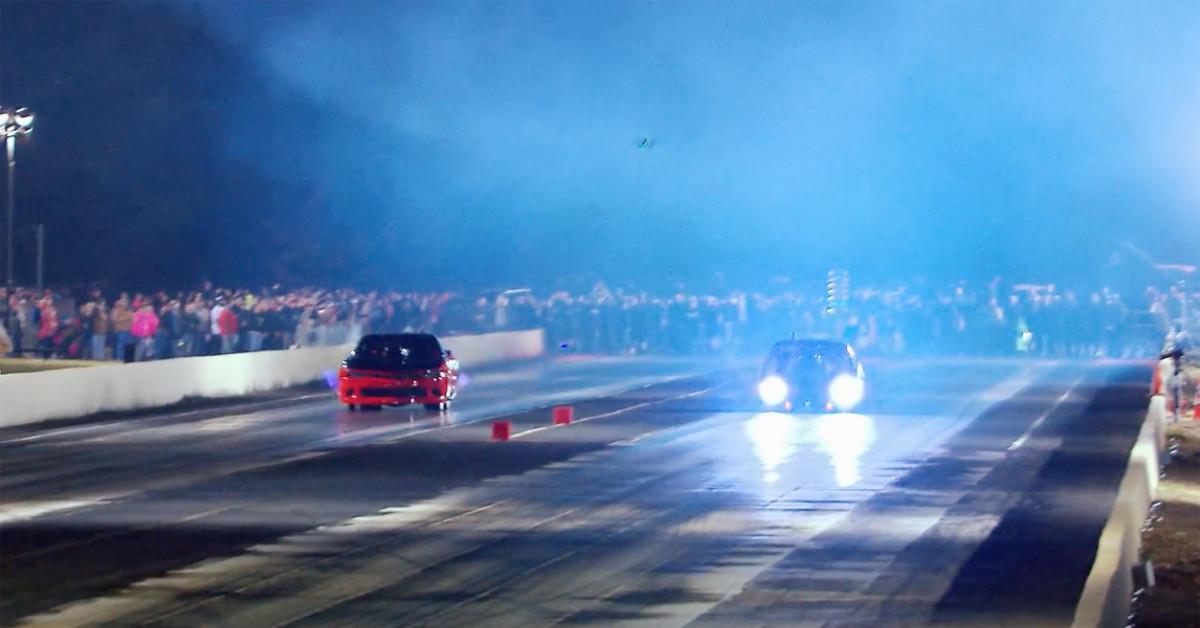 Discovery's Twitter clips from Monday's episode of Street Outlaws: No Prep Kings show what happened when Kye and Lizzy raced one another in the so-called "Battle of the Household." Kye and Lizzy were all smiles with one another before the showdown, but then Lizzy crossed the finish line first and "[put] Kye on the trailer in the first round of the Great 8," as the announcer said in one clip.
Article continues below advertisement
In another clip, Kye struggled to understand why Lizzy beat him. "I just said, 'You can have the money, I need the points,'" he said. "I just got beat on the ego, is all I can think."
And in a confessional on the show, Lizzy expressed concern over the race results. "I have a lot of people that are on my side that I've talked to. They've seen the emotions that I dealt with this weekend, and it's just a lot on me," she said. "Like, literally, our relationship is gone over this deal."
Article continues below advertisement
On Twitter, fans called out Kye's behavior. "Kye Kelly is a total ass," one person tweeted on Monday, Dec. 19. "Quit blaming Lizzy and look in the mirror to see why you lost."
Another viewer tweeted, "Lizzy did nothing wrong. Kye Kelly is just a crybaby."
Someone else wrote that Kye "talks behind her back and shows poor sportsmanship, saying she beat him out of ego," while a fourth fan said that he "just lost the best thing that ever happened to him over a car race."
Article continues below advertisement
Are Kye and Lizzy still together?
Despite the drama of their reality TV show, it seems Kye and Lizzy are still an item. On Nov. 28, Kye posted an Instagram photo of him and Lizzy in the kitchen as they celebrated a "little Thanksgiving away from home."
In another post, he wrote, "We may or may not have ruined Lizzy's collard greens."
Plus, Kye's profile pic on Instagram is a photo of himself with his arm around Lizzy.
So yes, we think the relationship drama you saw on Street Outlaws: No Prep Kings might have been drummed up for entertainment value!
Street Outlaws: No Prep Kings airs Mondays at 8 p.m. ET on Discovery and streams on Discovery+.