Every Nightmare You Have About Airbnb Rentals Comes to Life in the Movie 'Barbarian'
In the movie 'Barbarian,' we're taken on a horrifying ride that touches on some of our worst travel fears. What is 'Barbarian' about? Pure terror.
Traveling is featured heavily in a lot of horror movies. From Evil Dead to Hostel and as recently as Midsommar, the inherent creepiness of being in an unfamiliar place completely out of your own element lends itself easily to a scary movie. While Halloween introduced the idea that suburbia can be a dangerous and horrifying place, films like The Hills Have Eyes taught us that perhaps staying home is, in fact, the safest bet.
Article continues below advertisement
In Barbarian, something most seasoned travelers don't think twice about using is suddenly the source of unspeakable nightmares. The trust we put in modern conveniences is weaponized against us in a movie that asks the question: Should you check in? So, what is Barbarian about? Let's check it out.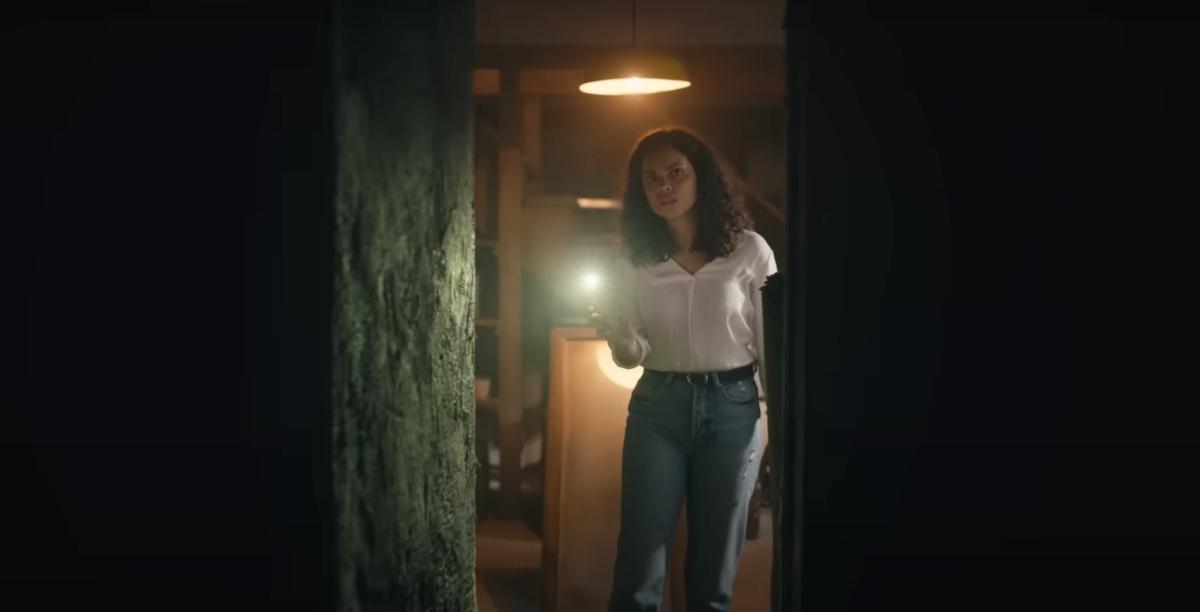 Article continues below advertisement
What is 'Barbarian' about?
In 2022's Barbarian, writer Zach Cregg (The Whitest Kids U'Know) begins the film with a simple mistake. Two people have accidentally booked the same Airbnb outside of Detroit. It's important to know that the neighborhood where it's located is described as less than ideal. Tess (Georgina Campbell, Apple TV's Suspicion) arrives at night — when it's pouring outside, of course. After discovering the key to her Airbnb is not in the lockbox, she rings the doorbell. A confused Keith (Bill Skarsgård, IT) answers.
Once they realize what happened, Keith immediately shifts into nice guy mode, offering Tess the bedroom while assuring her there are locks on every door. Remember the bad neighborhood? Well, that convinces Tess to stay. She reluctantly crashes in the bed, only to be woken up by footsteps down the hall while her door swings slowly open. From there, things become increasingly strange, vacillating between a Saw-esque movie that feels like a test, and a walk through Tess's trauma that will be cracked wide open later.
Article continues below advertisement
The movie switches over to AJ (Justin Long, F Is For Family), the owner of the mysterious Airbnb. He's a smarmy actor who's just learning that he's being accused of sexual assault. Like Armie Hammer, we watch as he's dropped from various projects as well as his agent. In this movie, an abusive, entitled white guy is also the monster. It's both vindicating and depressing. Soon these stories converge, and a third act reveal will leave you gasping for air. Trigger warning for everyone.
Article continues below advertisement
Is 'Barbarian' available to stream?
Barbarian is getting a theatrical release on Sept. 9, 2022, with no plans to stream just yet. Because it's a 20th Century Studios film, it could end up on Hulu first, provided that it's available to stream in 2022. According to a November 2021 piece in Variety, "HBO Max will get its hands on Fox's film slate for one final year — under an unusual deal to share streaming windows with Disney Plus and Hulu for half the studio's titles."
We can't see a gruesome horror movie landing on Disney Plus (though we're holding out for this), so Hulu seems like the best bet. This deal also states that "HBO/HBO Max will share co-exclusive rights with Disney Plus and Hulu to a selection of titles from 20th Century Studios and Searchlight Pictures. HBO/HBO Max will retain pay-one TV window exclusivity on approximately half the slate through 2022."
In all likelihood, Barbarian won't be retroactively applied to this deal, so we'll have to hope a new deal is struck for 2023 and beyond.