What You Should Know About SPILL: The Popular App That's Replacing Twitter
SPILL is the social media app that's replacing Twitter. Here's everything you need to know about the invite-only app and how to join!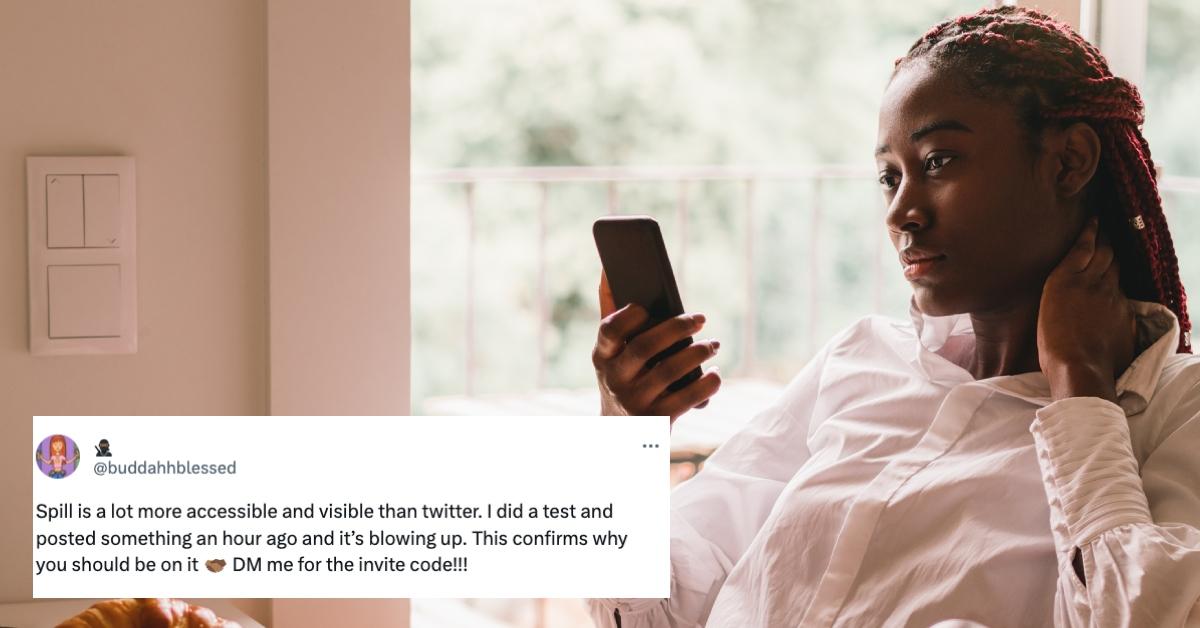 I, for one, am a strong supporter of gatekeeping. Not everything is for everyone — and if you know, you know…
Now that Elon Musk has gone Defcon 3 and left Black Twitter, there are very few corners of the internet that cater to our community.
Article continues below advertisement
But out of adversity comes opportunity; just ask Alphonzo "Phonz" Terrell and DeVaris Brown, who have revolutionized social media with an app called SPILL.
The platform is simple, yet engaging. Since its inception, the app has gained massive popularity. But it's not so easy to join … Here's the scoop on SPILL!
Article continues below advertisement
What is the SPILL app? What you need to know about the exclusive online community.
If there's one thing Elon Musk will always have, it's the audacity.
First, Elon cleaned house at Twitter headquarters. Next, the Tesla CEO switched up Twitter's business model and imposed fees on what used to be a totally free platform. Now, he's taken his quest for world domination one step further.
In mid-2023, Twitter users learned that their daily activity would be limited. With this, Black Twitter ventured off to explore new territory. And SPILL's launch in June of 2023 was perfect timing.
Although SPILL was the best-kept secret on the internet for a few weeks, it wasn't long before the app became a social media phenomenon. Some users even say it's better than Facebook, Twitter, and Instagram combined.
Article continues below advertisement
Alphonzo and DeVaris, former Twitter employees, developed the app from scratch. Thanks to them, Black people have a safe space free of MAGA hats and advertisements, and the world is a better place for it.
So, how can you join? Read on to find out!
Article continues below advertisement
Here's how to join SPILL.
Although SPILL's policy says that the app is for everyone, it was created with POC or as the company's thesis says — culture drivers — in mind. It's for this reason that the app is invite-only, much like Clubhouse, which is how it manages to maintain its exclusivity.
While many SPILL users applaud that the company is for us and by us, others accused the co-founders of pandering.
"The co-founder and CEO of SPILL has made it clear that SPILL. is not a platform exclusive to Black folks," @His_Majesty13 wrote on Twitter. "It is apparent that he and his team are using Black folks to build up the platform; make it look cool so that it will eventually appeal to Non-Black folks."
That said, I'm still here for SPILL's contribution to the culture — power to the people.