Megan Park Got to Film 'A Royal Queens Christmas' Near Her Hometown
Article continues below advertisement
In the movie — which debuts tonight, Saturday, Dec. 11, at 8 p.m. ET on Hallmark — Megan plays Dee Dee, an Army vet who is royally romanced after a chance encounter with an incognito price.
Here's the scoop on A Royal Queens Christmas' plot, cast, and filming location…
'A Royal Queens Christmas' is your typical baker-meets-prince story.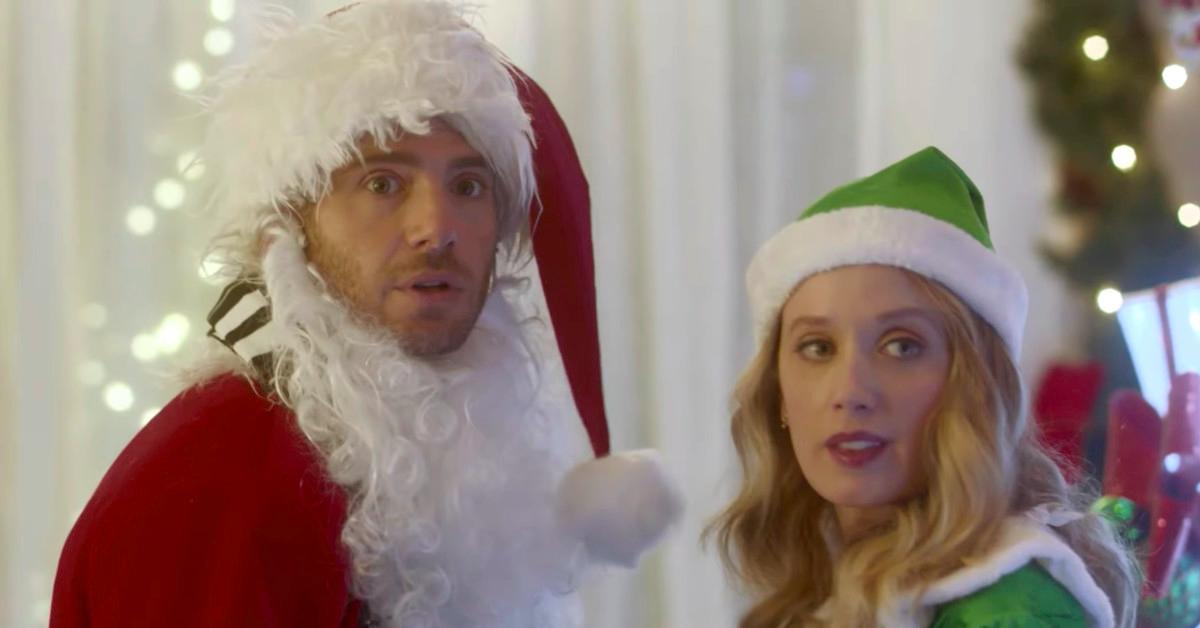 As Hallmark explains in a press release, Dee Dee works at a bakery in Queens, N.Y., and when that bakery is hired to cater desserts at a Christmas gala, Dee Dee heads to a Manhattan hotel for the event.
And it's there that Dee Dee literally runs into a dashing man named Colin, played by Julian Morris. Their collision sends Dee Dee's tray of pastries crashing to the floor. But Dee Dee has an idea of how Colin can make it up to her: She enlists Colin to play piano at her community's Christmas show.
Article continues below advertisement
All the while, Colin is going undercover. "Dee Dee assumes he works for the hotel but really… he's a prince!" Hallmark adds. "Colin conceals his identity, as he feels at home in the Bayside community among Dee Dee's family and friends, participating in the neighborhood's holiday activities. All is going well until his parents, the King and Queen of Exeter, show up in New York with a princess they hope Colin will marry, ruining Colin's cover story."
The film stars Megan Park and Julian Morris, two veterans of ABC Family teen dramas.
Megan is perhaps best known for her five-year role as Grace Bowman on the ABC family teen drama The Secret Life of the American Teenager. The 35-year-old also wrote and directed this year's film The Fallout, which won the Narrative Feature Competition Grand Jury Award and the Narrative Feature Competition Audience Award at this year's South by Southwest Film Festival.
Article continues below advertisement
And Julian is no stranger to teen dramas, either: He played Wren Kingston on ABC Family's Pretty Little Liars. His other television credits include recurring roles on Once Upon a Time and New Girland guest spots on The Morning Show and The Good Fight. The 38-year-old also made headlines earlier this month when he revealed his 18-year relationship with Los Angeles-based artist Landon Ross.
'A Royal Queens Christmas' filmed in Ontario, Park's hometown.
Though it's set in New York City, A Royal Queens Christmas actually filmed more than 500 miles away: IMDb notes that the movie filmed in Toronto, Ontario. That almost makes it a hometown production for Megan, who was born in Lindsay, Ontario, and went to school in London, Ontario, according to her IMDb bio.
And in November 2019, Megan and her husband, actor and musician Tyler Hinton, told ET Canada that they were planning to move to Canada for half of each year.
"My whole family is Canadian and everyone's here, and there's a really vibrant film and television scene, as well as music, so we love it," Megan explained. "We're in a nice position now where we can be away and still be working, especially now that I'm doing a lot of writing. So, we're really looking forward to spending more time here… although we're going to strategically avoid the winter!"