Leaked Bodycam Footage Shows Joseline Hernandez Attacking Police in Big Lex Fight
Joseline Hernandez's fight with her 'Cabaret' co-star Big Lex resulted in her violently attacking South Florida police officers. Here's what happened.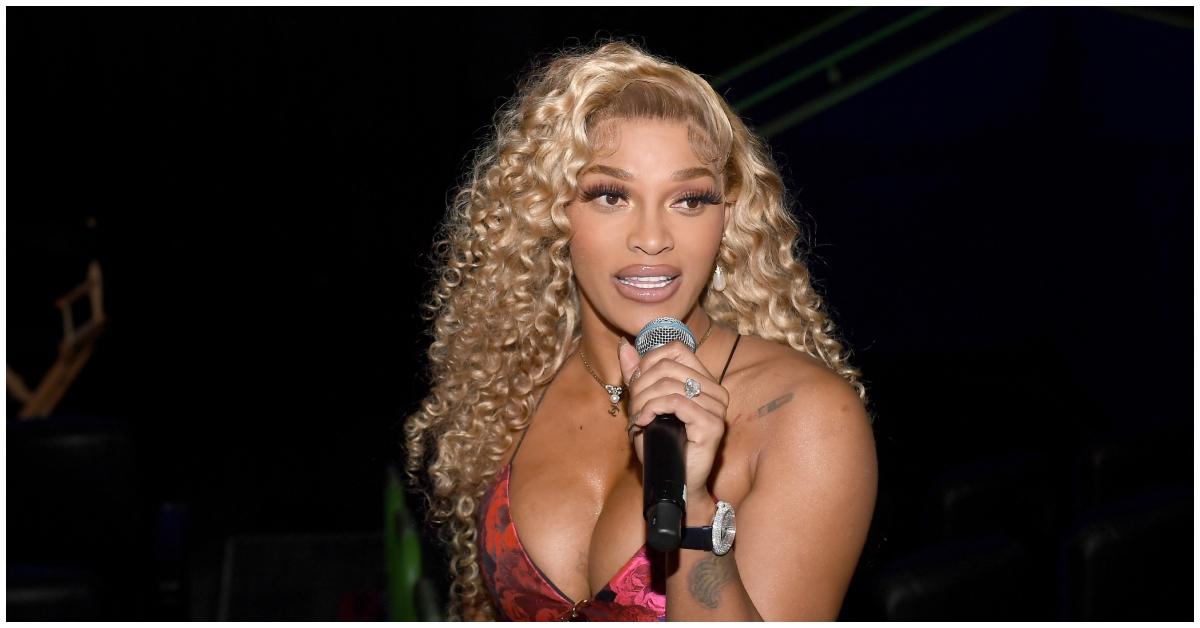 Article continues below advertisement
Following the fight, police arrested Joseline on multiple charges. Since then, numerous videos and audio have circulated showing how Joseline ended up in jail. There's also body cam footage of the former VH1 star threatening to put the police who arrested her next on her hit list.
Let's dive in and see what went down between Joseline and Big Lex.
Article continues below advertisement
Why did Joseline fight Big Lex?
After Big Lex left Joseline's Cabaret in Season 2, multiple reports stated that Big Lex was talking trash about Joseline online for months before they were in the same room together for the eventful smackdown.
On June 11, 2023, Joseline and Big Lex both attended the Mayweather and Gotti fight. At some point in the night, Joseline charged at Big Lex, which started their battle.
Article continues below advertisement
In a video of the altercation, Joseline, who wore a light blue dress, began swinging at Big Lex as others tried to get them off of each other. Joseline continued striking Big Lex, eventually leaving her topless as she defended herself.
Article continues below advertisement
TMZ reported that two other men with Joseline eventually jumped in to join her in beating up Big Lex. It was later clarified that the friends were actually Joseline's pal and Mimi Faust's ex, Melissa Scott, and Joseline's fiancé, DJ Ballistic Beats.
Article continues below advertisement
Additional footage shows Joseline saying that the police who arrested her wanted to "kill" her.
After the fight, Big Lex called 911 to press charges against Joseline and her crew. During the leaked 911 call, Big Lex confirmed she was jumped and said they "beat me real bad."
On June 12, the day after the call, Joseline and Big Lex's battle began making its rounds online. One month later, TMZ released more footage of what went down before Joseline was put in handcuffs. The footage showed Joseline violently attacking a white man who tried to calm her down.
Article continues below advertisement
Joseline threw her phone at the gentleman and screamed she didn't want any white men touching her. When the cops stepped in to break the incident up, Joseline shoved one of the officers, resulting in them arresting her and putting her on the ground.
Article continues below advertisement
The camera showed Joseline screaming racial and homophobic slurs at the police. She repeatedly accused the cops of trying to "kill" her and explicitly stated she didn't want the white cop to touch her. Joseline continued screaming and kicking at the officers before they put her in a police car.
The College Hill: Celebrity Edition star was charged four charges — two for trespassing and battery.
Article continues below advertisement
Rumors circulated that Joseline may have been using cocaine during her and Big Lex's fight.
In the months following her and Joseline's public dispute, Big Lex kept quiet and stayed off social media. However, the rest of the world didn't and has discussed the fight on various platforms.
Article continues below advertisement
Many social media commenters suspected Joseline was under the influence of alcohol or drugs before she and Big Lex got into their fight.
One woman who claimed Joseline also attacked her that night insinuated she used cocaine at some point before the chaos began. In an Instagram comment obtained by The Neighborhood Talk about the altercation, the woman wrote, "Cocaine is a helluva drug," sparking fans to beg Joseline to seek help for her alleged substance abuse.
Joseline cleared up the drug rumors in a June 2023 interview with The Breakfast Club. The "Vegas" singer stated on the show that she only had "one or two drinks" at the event and claimed she had been sober from hard drugs for a while before fighting Big Lex, stating, "I don't have to have nothing in my system, I wake up with the bulls--t."
Article continues below advertisement
Joseline also claimed that her fiancé never hit Big Lex.
During the same interview, Joseline also denied claims that her fiancé, DJ Ballistic Beats, hitting Big Lex, despite footage showing him involved in the fight.
Article continues below advertisement
The reality star also said she "doesn't know" Big Lex, who, again, is her former Joseline's Cabaret co-star, and she only fought her in self-defense.
"I can't speak too much on that, but what I can say is that I'm always gonna protect myself," said Joseline. "If you see me out here in the streets and you know I'm just making sure that I'm straight and no one hurts me. The media only shows you one thing, it looks like a whole lot of chaos, but you might not know what happened before that chaos."
"Because it's me, it's always bigger than it actually is," she concluded.