Last Man Standing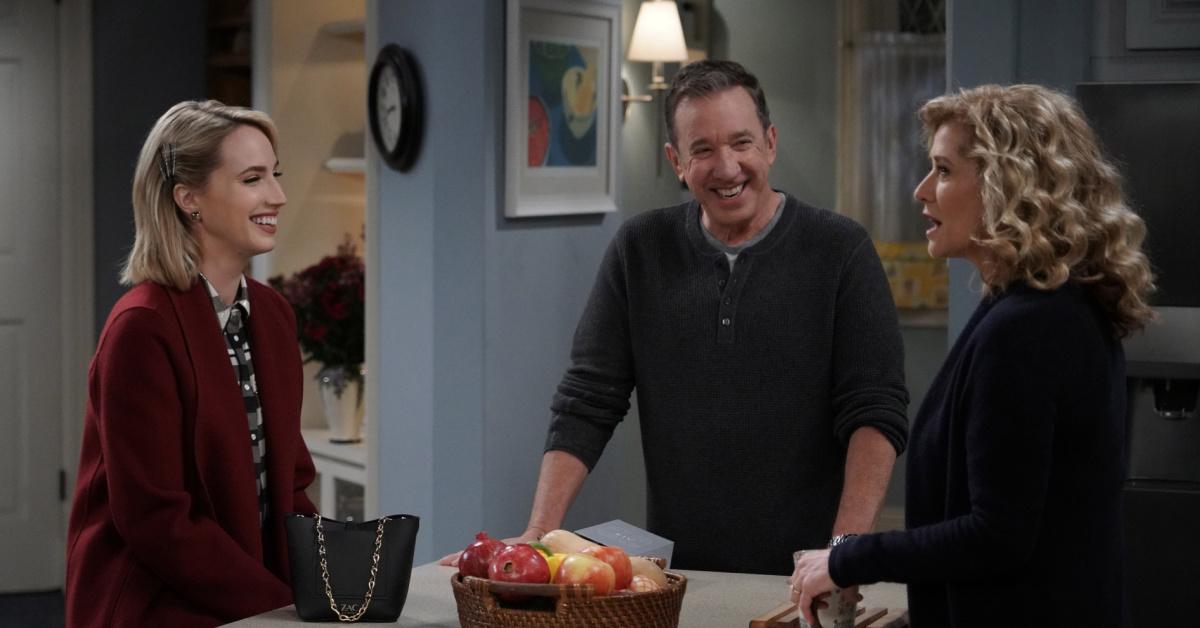 If you've ever found yourself muttering under your breath about "kids these days," then you'll probably enjoy settling in for a few episodes of Last Man Standing. The series stars Tim Allen as Mike Baxter, a super manly man who finds himself unimpressed with the younger generation (especially when it comes to their failure to stick to traditional roles and values).
Mike begins the series as the odd man out, living with his wife and three daughters and being constantly overwhelmed by the drama he feels they bring to his life. He tries to find respite at work as the marketing director of a super manly sporting goods store and eventually starts spouting off his opinions on a company vlog. Before long, Mike begins to gain popularity for not being afraid to tell it like it is.
Meet the Last Man Standing cast:
Tim Allen as Mike Baxter — The marketing director of a sporting good store called Outdoor Man who is often disappointed with the way the world has changed in recent years.
Nancy Travis as Vanessa Baxter — Mike's wife. At the beginning of the series, Vanessa works as a geologist in the energy industry. In Season 4, she quits in order to become a science teacher at the local high school and eventually starts her own tutoring business.
Amanda Fuller as Kristin Baxter — Mike and Vanessa's oldest daughter and single mother to Boyd. (Played by Alexandra Krosney in Season 1.)
Molly McCook as Amanda "Mandy" Baxter — Mike and Vanessa's middle daughter, who's passionate about fashion. (Played by Molly Ephraim in Seasons 1–6.)
Kaitlyn Dever as Eve Baxter — Mike and Vanessa's youngest daughter (and definitely Mike's favorite). Eve loves school and sports. She also has plans of joining the military.
Jet Jurgensmeyer as Boyd Baxter — Kristin's son, whom she had with her boyfriend (and later husband) Ryan when she was a teenager. (Played by twins Evan and Luke Kruntchev in Season 1 and by Flynn Morrison in Seasons 2–6.)
There have been several Last Man Standing cast changes over the years.
As you can probably tell from the above cast list, the Last Man Standing cast has changed quite a bit over the course of its nine seasons. Some changes happened when ABC declined to renew the series after Season 6 and the show ended up moving to Fox for a revival. Mandy, Boyd, and Carol (Mike and Vanessa's neighbor) were all recast at this time.
Did Last Man Standing get canceled?
Fans of Last Man Standing — as well as its cast members — were shocked to learn that ABC would not be renewing the show after Season 6, despite it being the network's second-highest rated sitcom that year. Tim Allen wrote that he was "stunned and blindsided by the network I called home for the last six years."
Luckily, the show was eventually picked back up at Fox, but there's more bad news: Season 9 has officially been announced as the show's final season.
Is Last Man Standing on Netflix?
Unfortunately, Last Man Standing is not currently available to stream on Netflix, but don't panic! All nine seasons of the show are currently available to stream on Hulu. You can also purchase individual episodes or complete seasons from your VOD provider of choice. It's nice to know you can still enjoy the show even when it's no longer on the air.
Latest Last Man Standing News and Updates