Airline Allegedly Bumps Woman With Parkinson's From First Class — What the Heck Happened?
A TikTok creator claims her mom, who has Parkinson's, was booted from her first-class airplane seat. Here's her account of what happened.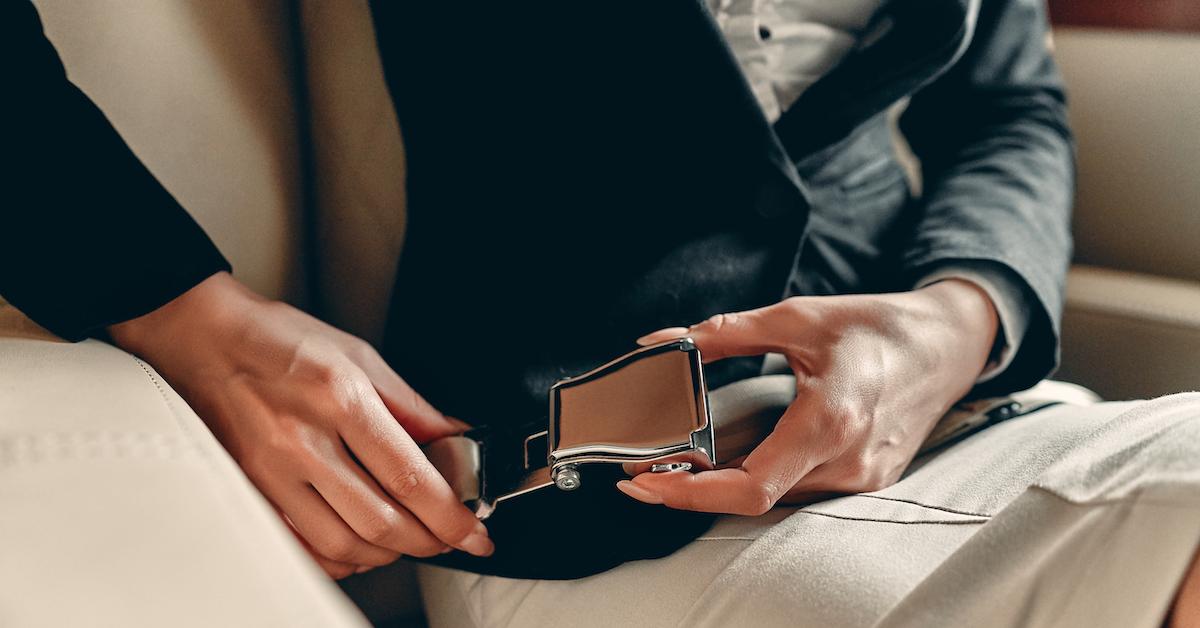 A woman who shares content on TikTok using the handle @clumsyophelia has accused Delta Air Lines of bumping her mom with Parkinson's out of first class in a viral video.
Their trip was meant to be celebratory, with the family of eight traveling to Italy for the TikTok creator's parents' 50th wedding anniversary.
Article continues below advertisement
However, according to the creator, her mom — who was meant to sit with her dad, who "recently had heart surgery" — was ultimately booted from her first class seat, which she "splurged" on quite some time ago. What happened? Read on for details.
So, why did the airline bump a woman with Parkinson's from first class?
According to the irate TikTok creator, her mom with Parkinson's was booted from her first-class seat on Delta at the gate because a pilot needed the seat.
Even though the woman paid for the first-class seat, she was bumped to coach, with her adult daughter explaining that her condition makes it challenging for her to sit in confined spaces.
Article continues below advertisement
Even though the woman and her sister attempted to explain their mom's circumstances, according to the creator, the airline attendant refused to speak to them when the sister was "emotional."
The creator grew very upset as she recounted how her mom was in "a massive amount of pain" sitting in the Comfort Plus seat, which she called "barely better than coach," and that her husband gave up for his mother-in-law, while he sat in the back of the plane.
Article continues below advertisement
She added that her father, who'd recently endured the heart surgery, ended up being under a lot of stress, and the rest of the family felt very upset about the situation. To add insult to injury for the creator, she added that her bag was left in Atlanta.
The "livid" passenger finished her tale by saying Delta will not refund her mom's ticket, nor would the airline provide a clothing budget for her while she waits for her lost luggage.
In the end, the woman curses out Delta and seethes how the company has "ruined the entire first day" of the family's "once-in-a-lifetime trip."
Article continues below advertisement
Commenters fly off the handle with their take on the first-class airline disaster.
While many commenters on another TikTok that the enraged creator shared urged Delta to "do better," and offered up their own horror stories about airlines behaving badly, some were definitely not on board with the woman's take on the situation.
One person noted that the seat was given to a pilot, who is "literally flying planes." Indeed, several commenters pointed out that airlines are bound by FAA rules stipulating pilots sit in seats where they can get rest for their next flight.
Others were curious why the creator turned the comments off on her original post (more on that in a moment), and piled on about how there must be more to the story that she is not currently sharing.
One commenter feigned sympathy for the family who was "just in Comfort Plus now."
Article continues below advertisement
Meanwhile, in an update post, the creator, who has certainly found her fair share of support over the situation despite some criticism, shared that she was turning off comments to her original post because she's on vacation and trying to enjoy the trip.
The woman also claimed to have found out that another disgruntled passenger was put on a no-fly list after going viral complaining about the airline. "I'm a little worried about that," she admitted.
Distractify has reached out to Delta for comment.