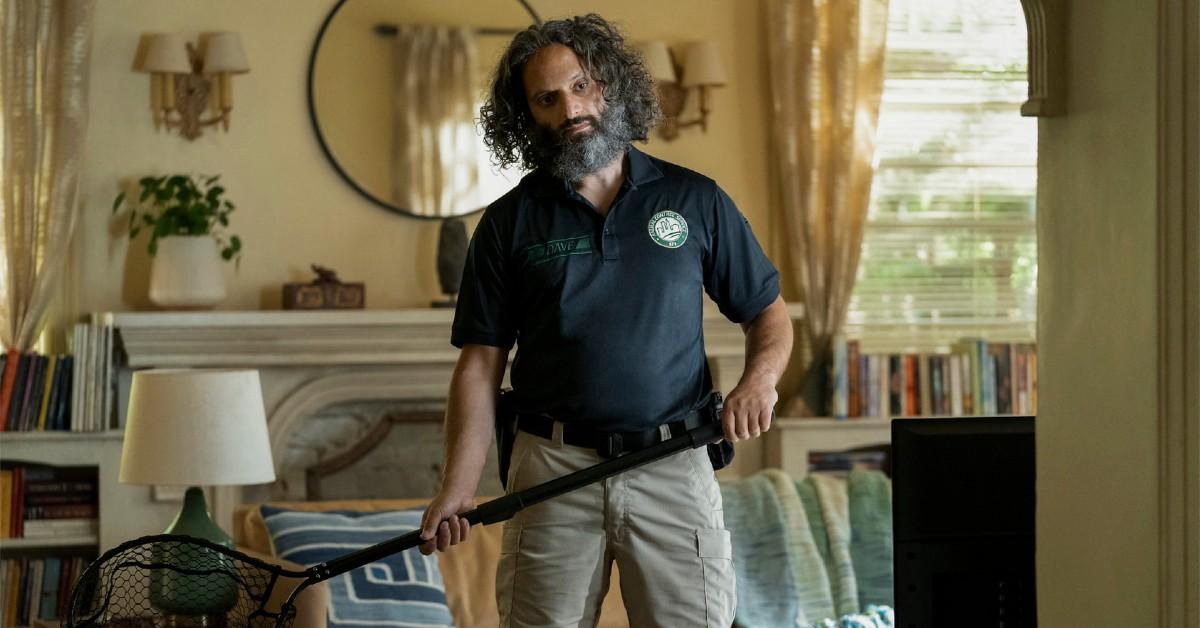 Who Does 'Big Mouth' Star Jason Mantzoukas Play in Apple TV Plus's 'Roar'?
Sometimes an award-winning familiar face can garner more intrigue than a genius concept or a seductive storyline. When it comes to Liz Flahive and Carly Mensch's highly anticipated Apple TV Plus series, Roar, its concept and cast are equally enticing. Based on Cecelia Ahern's 2018 book of short stories of the same name, Roar is a satirical feminist anthology series that focuses on "what it means to be a woman today," as described on Apple TV Plus's press release.
Article continues below advertisement
From maternal guilt to the complexities of abusive relationships, Roar offers insightful fables from a woman's perspective. Using surrealism and pitch-black comedy, each of the eight episodes highlights the trials and tribulations of a different female protagonist — most of which are played by renowned actresses. Whether it be Oscar winner Nicole Kidman (Big Little Lies), Oscar nominee Cynthia Erivo (Harriet), or Emmy nominee Issa Rae (Insecure), Roar is stuffed with diverse feminine talent.
The series is jam-packed with stellar guest stars as well. Actors Jake Johnson (Minx), Emmy nominee Nick Kroll (Big Mouth), Emmy nominee Hugh Dancy (Hannibal), and Jason Mantzoukas (The League) make appearances throughout the series, with Jason guest-starring alongside Merritt Wever (Unbelievable) in Episode 5, "The Woman Who Was Fed by a Duck." Let's discuss the hilarious comedy and Jason's quirky character.
Article continues below advertisement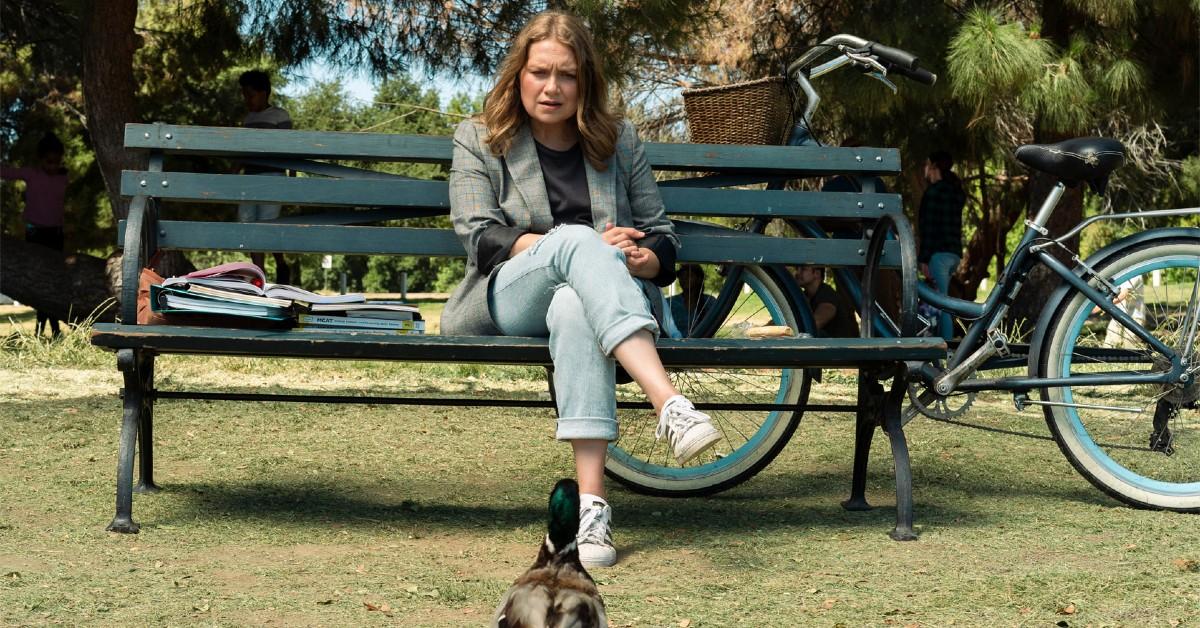 Jason Mantzoukas plays an Animal Control Service employee in Apple TV Plus's 'Roar.'
With Merritt Wever's Elisa — an aspiring doctor — as the protagonist, "The Woman Who Was Fed by a Duck" highlights the horrors of once-refreshing relationships that slowly become controlling, manipulative, and all-around abusive. Elisa has practically given up on dating in her thirties, because, as she tells her sister on a FaceTime call, "If a guy's still single, there's either something wrong with him or he's got baggage."
Article continues below advertisement
So when a mallard named Larry — voiced by Justin Kirk (Weeds) — starts chatting Elisa up at a park (speaking fluent English, might we add), she's instantly shocked. Though she never considered the taboo of bestiality, Elisa is strangely charmed by Larry the feminist duck, who initially comes off as a bit arrogant, but also insightful and empathetic. Upon returning home, Elisa finds herself daydreaming about the green-headed bird, which is, well, bizarre.
She heads back to her favorite park, in hopes of running into Larry once again, only to be approached by Dave, a very hairy Animal Control Service employee portrayed by Jason Mantzoukas.
Dave is a little awkward as he asks Elisa if she's seen an off-leash cattle dog nearby who "answers to the name 'Gary.'" It turns out a nasty storm is headed their way, and Dave wants to make sure Gary is taken in before then. This gets Elisa thinking that she should bring Larry the duck back to her place before the storm hits, too.
Article continues below advertisement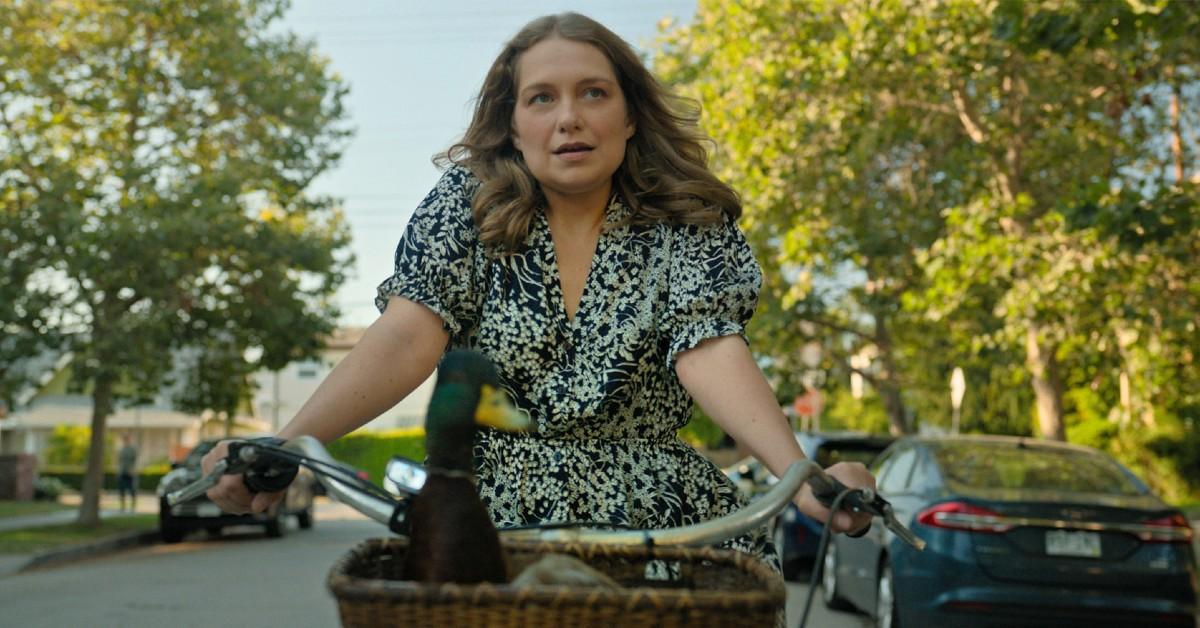 Although she ostensibly brings Larry to her apartment to keep him safe, the two embark on a strange-yet-relatable interspecies relationship, one that has Elisa filled to the brim with butterflies. But it isn't long before Larry starts showing signs of being controlling, by keeping Elisa from seeing her sister and not letting her study for her MCAT exam. Her life spirals out of control before she even realizes it, leaving the lost 30-something-year-old trapped in an abusive relationship with a bird.
Article continues below advertisement
Comments about her weight turn into physical violence, eventually leaving Elisa no choice but to call up — you guessed it — Dave. The Big Mouth and Human Resources star's character turns out to be Elisa's knight in shining armor, so to speak, humanely catching Larry with a giant net and removing him from her apartment.
Article continues below advertisement
Not only does the oddly appealing "science nerd" Dave (we're clearly a sucker for Jason Mantzoukas in all forms) remove Elisa's abuser from her home, he also checks in on how she's feeling following the ordeal, which is extremely heartwarming.
After listening to her intently, Dave goes on to explain how "weirdly aggressive" ducks are by nature, specifically the males. We won't go into any other details about the ending, but let's just say that Dave gives both us and Elisa hope for the future. She's going to be OK.
All eight episodes of Roar are currently streaming on Apple TV Plus.