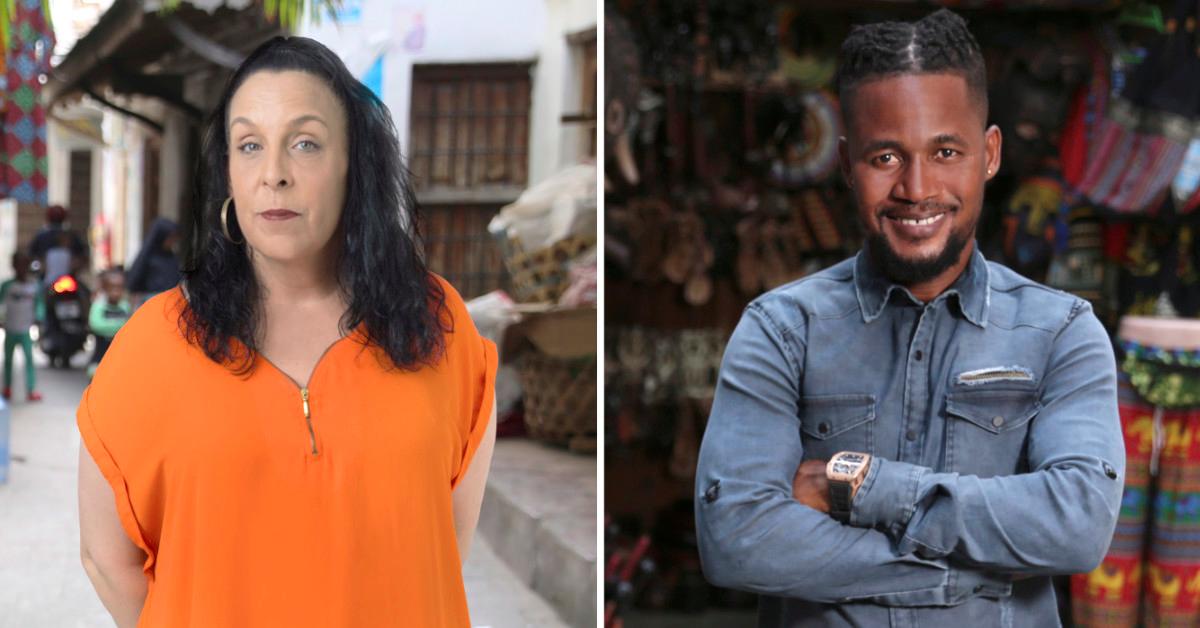 '90 Day Fiancé: Before the 90 Days' Star Kim Menzies Addressed That Ring on Her Finger
Kim Menzies says that she's "ecstatically happy right now," and she's been showing off a ring on Instagram — so does that mean Kim and Usman "SojaBoy" Umar are engaged after the events of 90 Day Fiancé: Before the 90 Days?
As fans have seen in the TLC show's fifth season, Kim is a 50-year-old divorcee who connected with Usman, a Nigerian musician, on social media. As they chatted and got to know one another, Kim found herself "head over heels in love," as TLC explains.
Article continues below advertisement
But Usman isn't sure if he wants to commit, especially his ex-wife is another American womanhe met online. So he invited Kim to Tanzania, where he was filming a music video, to feel out the relationship. "Kim is risking everything for love and heading to Tanzania in hopes that Usman will realize she is nothing like his ex-wife and decide to commit to taking their relationship to the next level," the cable network adds.
So, what about that ring?
Kim responded to the engagement rumors on Instagram.
Kim recently shared an Instagram photo in which she seems to be holding out the ring on her left ring finger for fans to see. "It looks like an engagement ring," one fan wrote, highlighting that photo on Instagram. "I find it odd how she's holding her hand up in that weird position."
Article continues below advertisement
A commenter agreed, writing, "Looks like an engagement ring to me." (Others, however, were skeptical. One commenter said Kim "probably bought it.")
For her part, Kim responded to the gossip in an Instagram comment on her original post, as Screen Rant reports. In all caps, she wrote, "FYI, the rings I am wearing were my mother's!"
Article continues below advertisement
She says she knows Usman wasn't going to propose right away.
In an interview with Us Weekly last month, Kim responded to fans who called her desperate for lavishing Usman with expensive presents during their Tanzania rendezvous, and she suggested that she was just joking around with him about wanting to be engaged on the spot.
"I knew he was not going to propose to me, people," she said. "I went to his room to give gifts. … It was a funny scene. And everybody's like, 'Oh, she's desperate.' Did I think he was really going to propose to me? … I was holding my hand out, and I was like, '[The ring] goes on this finger!' And we were dying. I mean, we were laughing so hard, I had tears coming down my eyes. That's what was so funny. And it was so misconstrued. … I wasn't even his girlfriend, you know? We were just hanging out."
Article continues below advertisement
She also said that she wouldn't have even accepted Usman's proposal if he popped the question right then and there. "No, not at that moment," she said. "No. Because it was our second day. Like, that's crazy. … I would've been like, 'Um, let's put this pin on this until, you know, later on.'"
Kim said she couldn't answer questions about the prospect of a future wedding, but she did reveal her mood. "I'm very happy right now," she said. "I'm ecstatically happy."