Juliette Lewis Brings Life to Denise Coughlan in 'Welcome to Chippendales' — Is She a Real Person?
Juliette Lewis stars as outspoken costume designer Denise Coughlan in Hulu's true-crime series 'Welcome to Chippendales.' Is she based on a real person?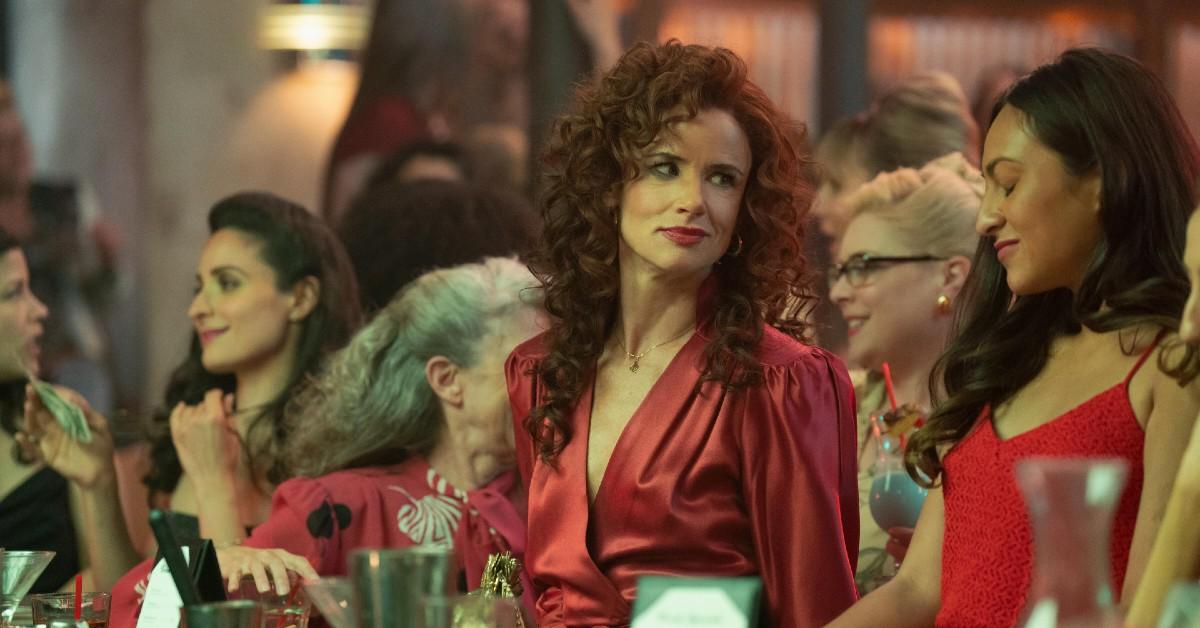 Before we get into it, we just want to profess our love for Oscar nominee Juliette Lewis. With an attraction to wacky characters, Juliette has killed it in electric films and TV shows like 1991's Cape Fear, 1993's Kalifornia, and Showtime's viral new mystery series Yellowjackets. Her performance in Hulu's scripted true-crime series Welcome to Chippendales is just as captivating.
Article continues below advertisement
From creator Robert Siegel — who also created true-crime series Pam & Tommy — Welcome to Chippendales centers on the lesser-known tale of the titular exotic male dance revue.
Furthermore, it "tells the outrageous story of Somen 'Steve' Banerjee (Kumail Nanjiani), an Indian immigrant who became the unlikely founder of the world's greatest male-stripping empire — and let nothing stand in his way in the process."
Among the many people Steve Banerjee hires to help elevate the Chippendales brand (infamously, his business partner, Nick De Noia, did not make it out alive) is Juliette Lewis's character, a scrappy costume designer named Denise Coughlan. But did she exist in real life?
Article continues below advertisement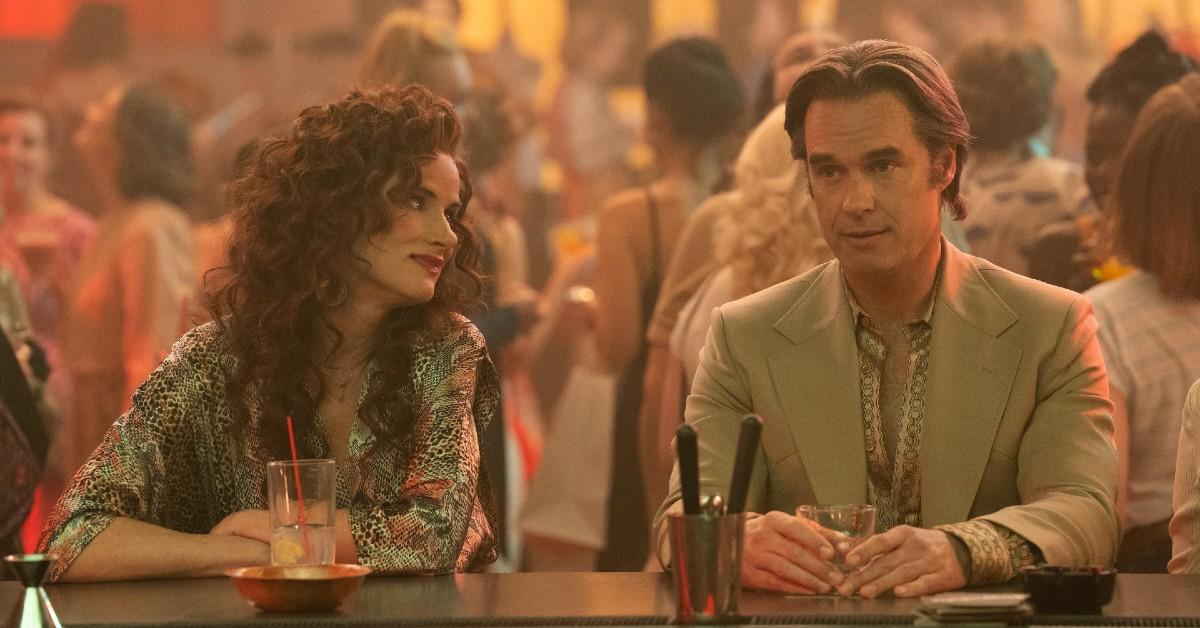 Much of Denise Coughlan's storyline is fabricated for 'Welcome to Chippendales.'
Per The Cinemaholic, "vision facilitator" and "costume designer" Denise Coughlin likely isn't a direct representation of any actual Chippendales employee. She does, however, seem to be an iteration of Chippendales' "den mother," Candace Mayeron.
In the series, as she spends night after night at Chippendales' L.A. club in the early 1980s — sipping on cocktails until words become difficult — Denise consistently tries to get the attention of Emmy-winning choreographer and creative director Nick De Noia (Murray Bartlett). She tells the uptight Chippendales employee how much she "f--king loves this place" until he finally bites.
Article continues below advertisement
"This could be huge. This could be global. Chippendales — this could be a chain! Anywhere that there are women who want to cut loose and finally take control of things, like men, for a night? Huge!" she tells Nick in Episode 2.
After spewing nonsense about fate, she practically begs for a job. "I custom stud, I appliqué jackets, capes, I even had my own clothing line for a while," she exclaims.
Still, Nick thinks she's just another drunk gal word-vomiting into his lap. But when she critiques the dancers' lackluster costumes, Nick perks up. Denise deems the skimpy costumes as generic and unoriginal; they're missing that "wow factor."
Article continues below advertisement
Everything changes when she presents Nick with her invention: breakaway pants. She's then hired on the spot and the two eventually form a close bond.
As for the real-life Candace Mayeron, there's no evidence that she was a costume designer. She did, however, act as the show's associate producer from the early 1980s to 1987, according to her interview with Elle.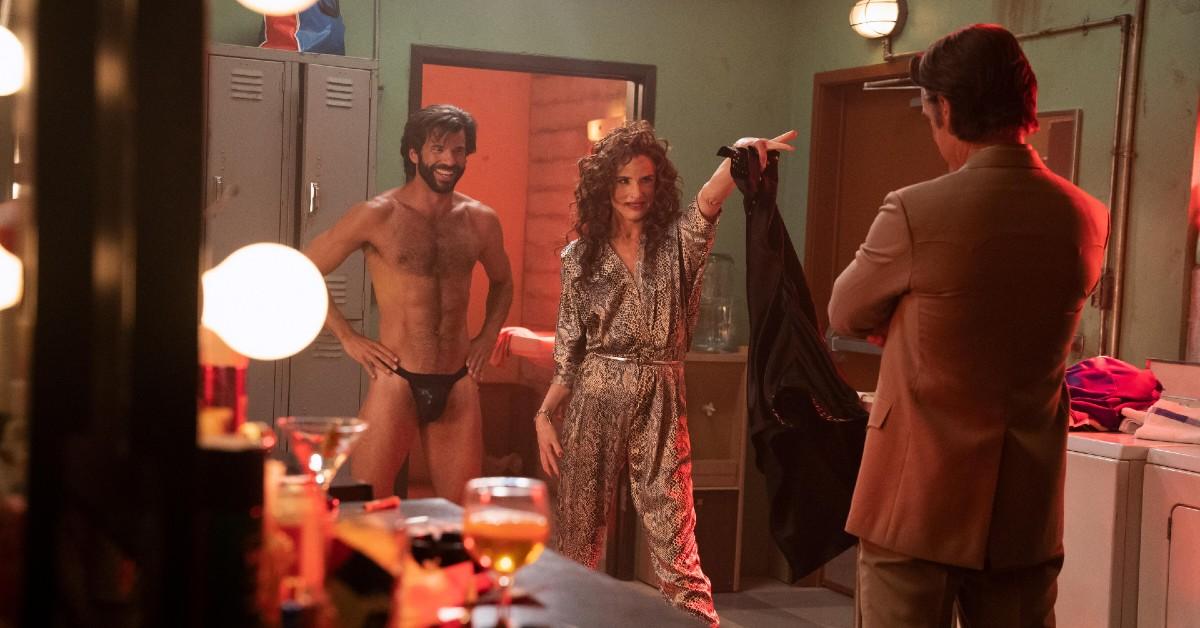 Article continues below advertisement
"I ran a tight ship, because I wanted our people to be respected and to act in a manner that would cause us to be respected. I helped Nick De Noia, our brilliant producer and choreographer, turn our guys into Chippendales men. I helped him hire men, do bookings, and manage the dancers," Candace said of her role.
She also aided in shooting photos for the Chippendales calendar, handling merchandising, and hiring and training hosts and waiters.
Aside from Denise's appearance mimicking Candace's, the main similarity between the two pertains to their relationship with Nick.
"I asked one of the waiters, 'Who is the genius behind all this?' He pointed to a very attractive silver-haired man standing in the back of the room. It was Nick De Noia. Our relationship evolved organically," she said.
Article continues below advertisement
Shockingly, Candace believes she was on the phone with her close friend Nick minutes before he was killed by a hitman that Steve Banerjee had hired.
"I was on the phone with Nick when he suddenly said, 'I can't talk, I got to go.' That was our last phone call ever. I believe we were actually talking when his murderer walked in."
Article continues below advertisement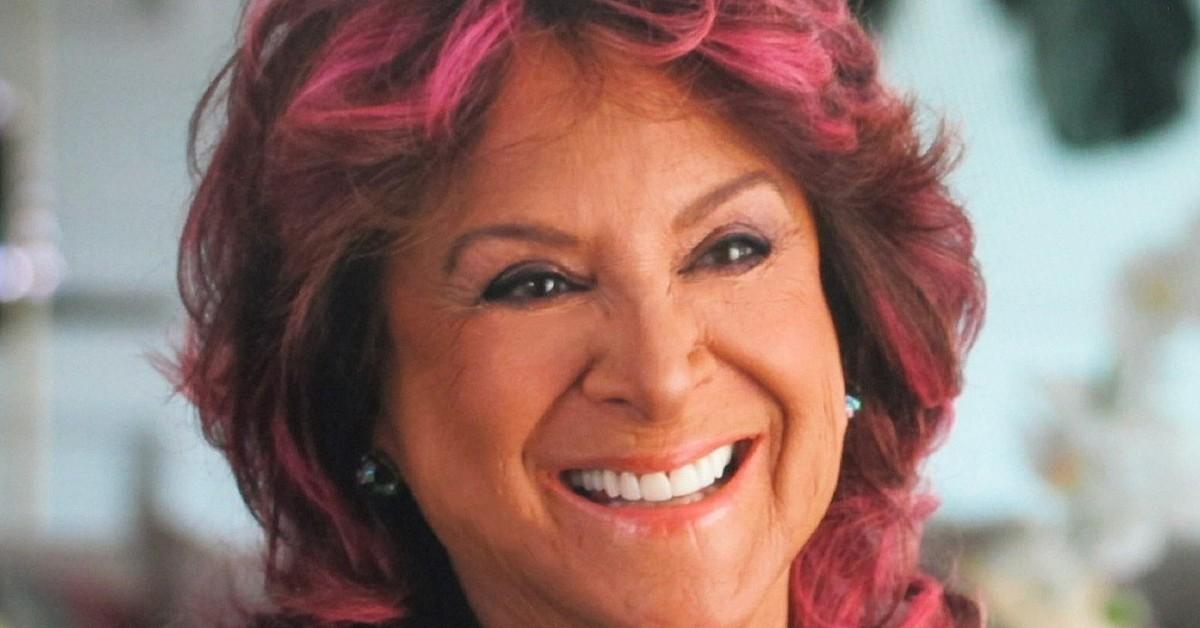 Where is Candace Mayeron now?
Candace initially happened upon Steve's establishment back when it was a floundering backgammon nightclub, as she possessed a love for the game.
Today, she's still a fierce competitor, acting as the tournament producer of Gammon Associates West. The Cinemaholic mentioned that the U.S. Backgammon Federation even honored Candace with a Lifetime Achievement Award in 2021 for her long-held dedication to the two-player board game.
Article continues below advertisement
The organization recognized her for her "innovative leadership in bringing show-business glamour and excitement to backgammon events with Oscar-like awards, banners and backdrops, red carpets, and raffles."
Aside from that, Candace has been the vice president of Him & Her Productions since 2008, as detailed by her LinkedIn account.
Though she'll post the occasional Facebook photo of herself alongside a man who appears to be her husband, not much else is known about Candace's personal life post-Chippendales.