Does Joseph Quinn Really Play Guitar? Eddie's Metallica Solo in 'Stranger Things' Was Epic
Does Joseph Quinn Really play guitar in 'Stranger Things'? Learn more about the actor who plays Eddie on the Netflix series and his musical abilities.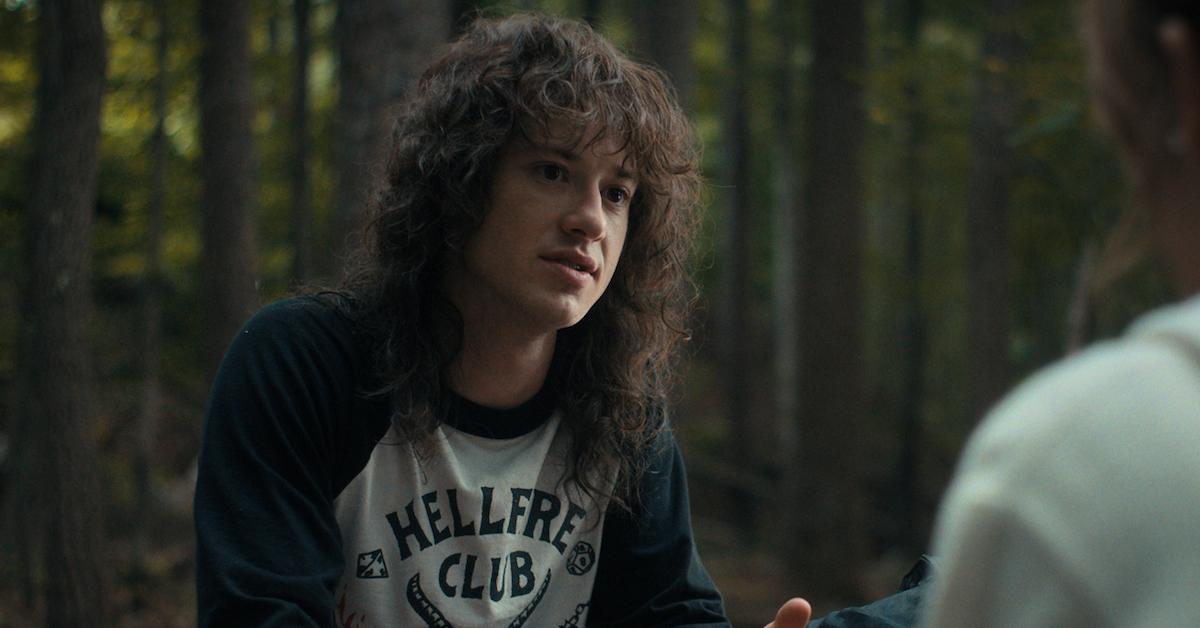 Spoiler alert: This article contains spoilers for Season 4, Vol. 2 of Stranger Things.
English actor Joseph Quinn stole the hearts of Stranger Things fans in Season 4 with his portrayal of Eddie Munson, the Hellfire Club leader/spirited high school social outcast. Unfortunately, in typical Duffer brothers fashion, the new and incredibly likable character was killed off by the end of the season. Before he met his untimely demise, Eddie was featured in a scene during which he played the guitar, prompting viewers to wonder: Does Joseph actually play the instrument IRL?
Article continues below advertisement
Does Joseph Quinn really play guitar?
He does! Not only does Joseph Quinn play the guitar, but he really was the one shredding during that epic Stranger Things 4 scene. You know, the one where Eddie absolutely destroyed Metallica's "Master of Puppets" in the Upside Down in order to lure the demobats so that Steve, Nancy, and Robin could kill an unsuspecting Vecna?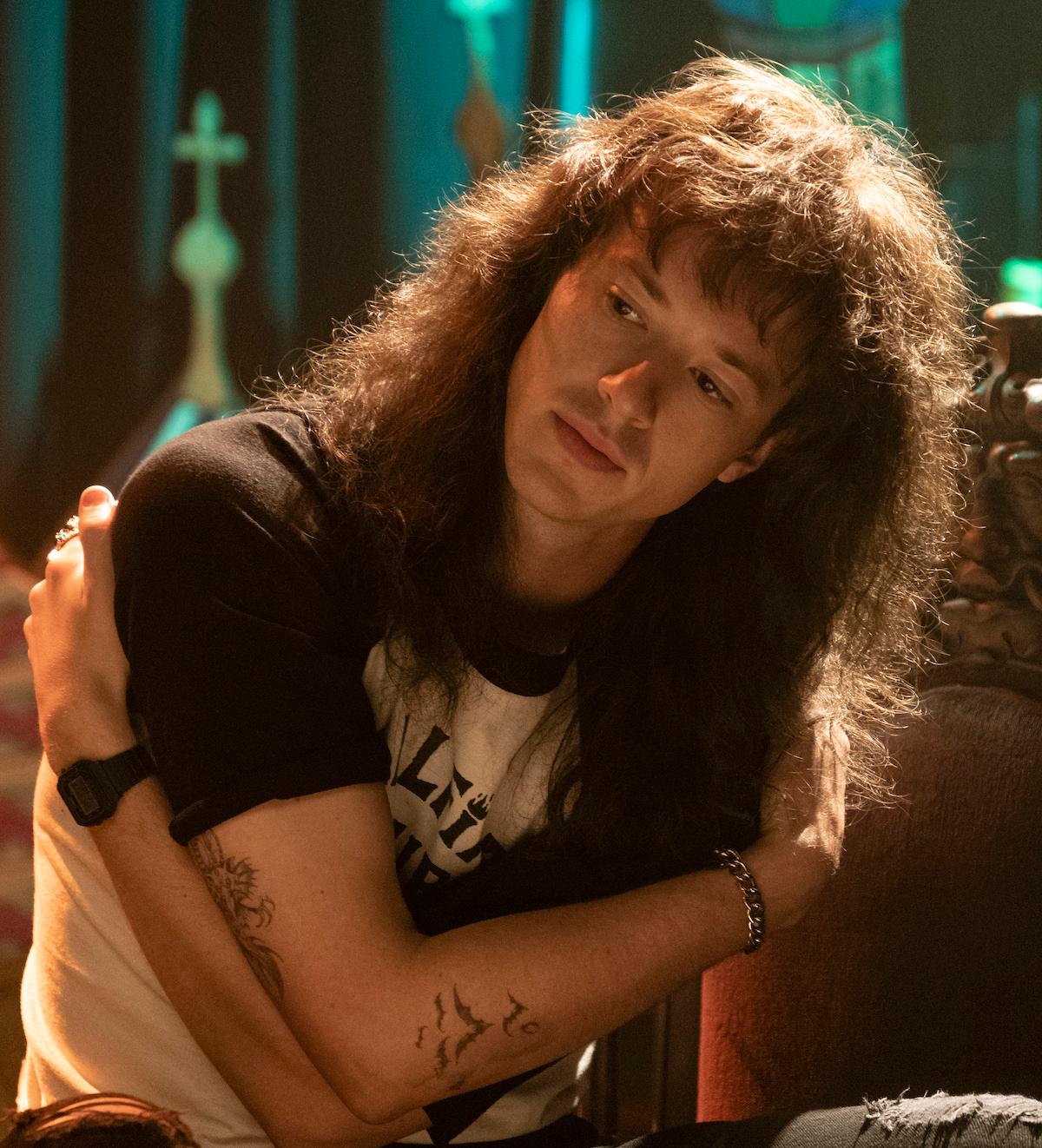 Article continues below advertisement
Joseph recently opened up about how the Duffer brothers texted him, asking if he could play guitar. However, he didn't realize how big of an undertaking it would be until he read the script.
"They texted me and they said, like, can you play the guitar?" Joseph told RadioTimes.com. "I said yes. That was about two months into the pandemic, maybe three months, and then a month later, they sent me the last script."
Article continues below advertisement
He continued: "I was like, 'Are you serious?' They were like, 'Yeah.' And I thought 'OK.' So I went and bought a guitar and then practiced manically for months until we ended up shooting the thing."
Article continues below advertisement
Did Joseph Quinn play the guitar during Metallica's "Master of Puppets" on 'Stranger Things'?
During the same interview with RadioTimes.com, Joseph confirmed that it was mostly him playing "Master of Puppets" in Stranger Things 4.
"I was trying to be realistic with kind of what I could do," he told the publication. "Like I've been playing since I was a kid but I'm no virtuoso. So I had most of the song down, but for the solo, we had to fly someone, a black belt metal guitarist, in to help with that. The rest of it? I had a stab at it, yeah."
Joseph added: "It was so thrilling to do on the day — me and Gaten were on top of the caravan in the middle of the Upside Down playing Metallica. And it was great fun!"
Stranger Things fans thought the scene was pretty memorable, too.
Article continues below advertisement
Article continues below advertisement
Joseph Quinn recently opened up about his American accent for 'Stranger Things.'
Those who are unfamiliar with Joseph outside of his Stranger Things character might be surprised to learn that Joseph has a British accent when he's not portraying Eddie. Much like Charlie Heaton (Jonathan Byers) and Millie Bobby Brown (Eleven), the actor pulls off a convincing American accent.
Article continues below advertisement
However, Joseph told Inverse it was challenging "doing this voice that doesn't feel normal in your mouth." To prepare for his role as Eddie, he would practice his American accent while off the clock — including at restaurants.
"You just feel like a sociopath," he told Inverse. "I just feel like an idiot, but you kind of have to do it. There's no way around it."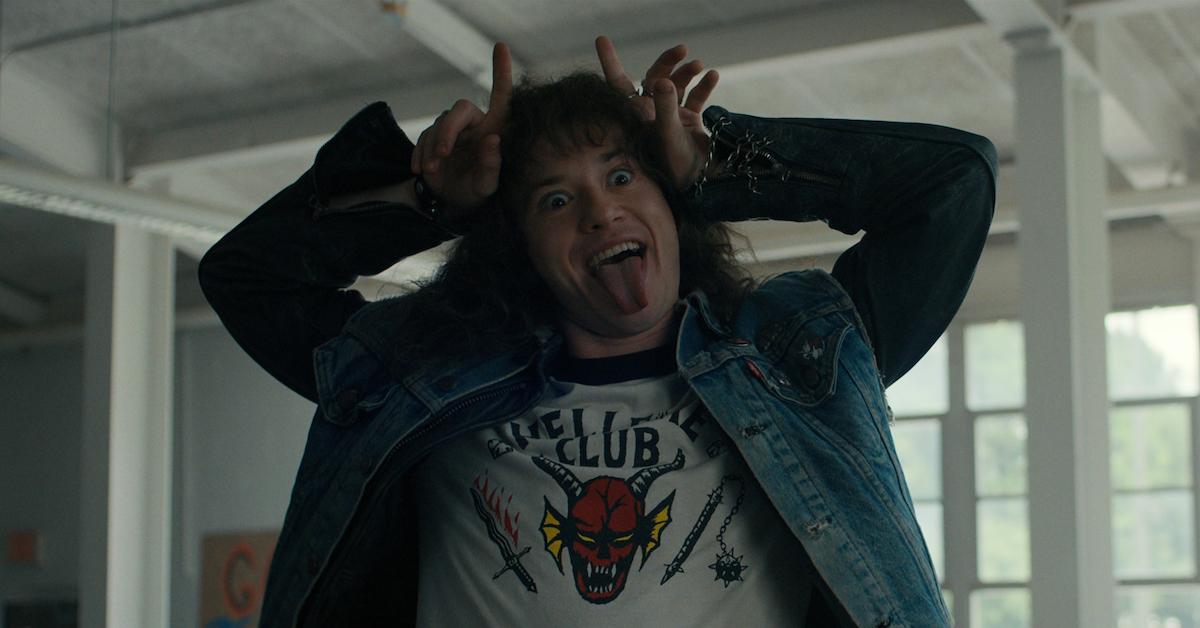 Article continues below advertisement
Although Eddie was fatally attacked by demobats, some fans still theorize that because he died in the Upside Down, there's still hope he could be saved when Vecna is destroyed once and for all. (The chances of that playing out in Season 5 seem slim at this point, admittedly.) We, along with plenty of other viewers (and Dustin!), would love to see this happen. But alas, we'll have to wait until 2024 to find out how the series ends for sure.
What we do know is this: Joseph worked hard on both his guitar skills and his American accent in order to bring the beloved Eddie Munson to life. (That, and Eddie's wig was absolutely magnificent.)
Season 4 of Stranger Things is now streaming on Netflix.