Petticoats Go Flying in the Steamiest 'Bridgerton' Scenes — Is the Netflix Period Drama Rated R?
Chris Van Dusen's equally charming and steamy period drama 'Bridgerton' is known for its passionate sex scenes. Has this led the series to be rated R?
Ever since its 2020 premiere, Chris Van Dusen's charming and diverse period drama Bridgerton has stolen the hearts (and upped the libidos) of millions of Netflix viewers around the world. Based on New York Times bestselling author Julia Quinn's historical romance book series of the same name, Bridgerton centers on the eight siblings of the high-society Bridgerton family during England's Regency era as they seek out love and strive to find their place in the world.
Article continues below advertisement
Specifically, Season 1 focuses on Daphne Bridgerton's (Phoebe Dynevor) mission to find a suitable husband without settling for rubbish. But when she's deemed "ineligible" for marriage by the gossipy Lady Whistledown's Society Papers, Daphne and a certain handsome playboy — aka Duke of Hastings Simon Basset (Regé-Jean Page) — pretend to be a couple in order to earn her attention from desirable suitors and get "every presumptuous mother in town" off Simon's back. What starts out as a scheme turns into something more, something deeper.
Bridgerton's Emmy-nominated freshman season showcases a profusion of steamy, graphic shagging scenes between characters like Daphne and Simon (ones that have us fanning our sweaty skin and loosening our corsets). While Season 2 — which focuses on the romance between Anthony Bridgerton (Jonathan Bailey) and newbie Kate Sharma (Simone Ashley) — is surprisingly tame in comparison, viewers are still curious if Bridgerton is R-rated.
Article continues below advertisement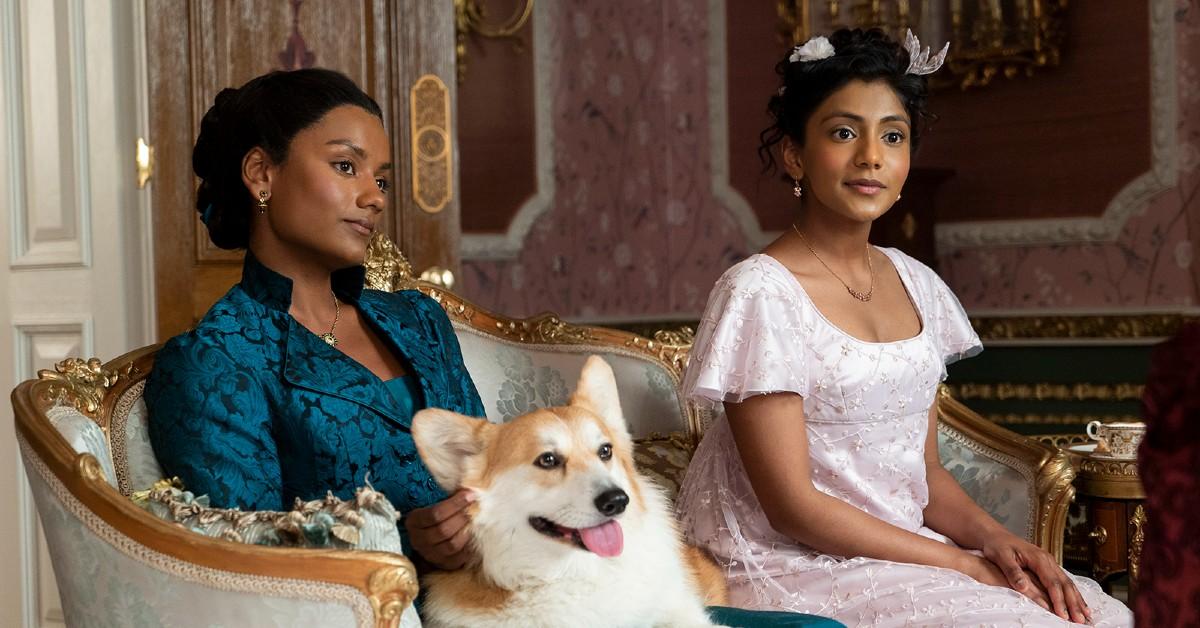 Known for its mature sexual content, is 'Bridgerton' rated R?
We'll start out by detailing that an R rating — which stands for "Restricted" — is part of the MPAA rating system, which is applied to movies. As mentioned by Michigan State University, "children under 17 require accompanying parent or adult guardian" to view an R-rated movie at a theater. However, it depends on the movie theater (some of those theater employees wouldn't bat an eye if you brought a bloody giraffe into the movie with you).
Article continues below advertisement
An R rating is only second to NC-17. According to the rating system, a theater shouldn't allow anyone under the age of 17 to view an NC-17-rated film, no matter who is accompanying them.
Bridgerton is rated TV-MA, which is the most restrictive television and broadcasting rating that exists. Netflix states that Bridgerton is rated TV-MA for featuring "substances, language, sex, nudity, sexual violence, [and] smoking."
Article continues below advertisement
Creator and showrunner Chris Van Dusen discussed why 'Bridgerton' Season 2 has fewer sex scenes.
Without being too crass, the content from Bridgerton Season 1 doesn't stray too far from that of softcore porn. And we mean that with the best of intentions. We're also exaggerating a tad bit.
Diehard fans immediately noticed a shift in Season 2. With lots of talk about it having fewer intimate love scenes, Chris Van Dusen weighed in. In an interview with Digital Spy, Chris described Anthony Bridgerton and Kate Sharma's romance as "incredibly fraught and charged" and that it's a "sexy enemies-to-lovers love story."
"I wouldn't necessarily call it a more subdued approach," he stated, clearly disagreeing with the consensus view. "I think our approach to intimacy and sex on the show really remained the same from Season 1," Chris said, before explaining that all sex scenes are choreographed via the assistance of an intimacy coordinator.
"The steamy moments are just as sexy and scandalous as Season 1, as far as the longing looks across the room and the near finger and grazes and the hand touches."
Chris Van Dusen considers all those little butterfly-inducing moments to be important for building sexual tension. Whether you find this approach sweet or excruciating, you can always re-binge Season 1!
Seasons 1 and 2 of Bridgerton are currently streaming on Netflix.