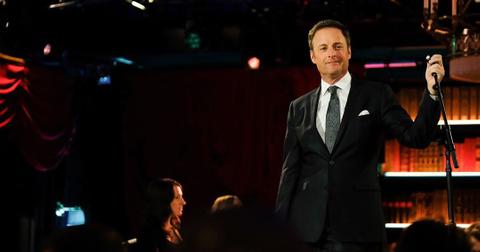 Chris Harrison Will Reportedly Be Absent During This Season of 'The Bachelorette'
By Sara Belcher

Aug. 17 2020, Published 5:21 p.m. ET
This upcoming season of The Bachelorette promises to be the most dramatic one yet (for real, this time). Clare Crawley is reportedly being replaced partway through the season with Bachelor in Paradise alum Tayshia Adams, and the entire season is being filmed in one location to adhere to social distancing and travel guidelines.
But the drama doesn't stop there. Chris Harrison will also reportedly be absent for part of this upcoming season. Does this mean he's leaving the Bachelor behind?
Article continues below advertisement
Is Chris Harrison retiring from 'The Bachelor'?
According to Variety, Chris will apparently be replaced for part of the upcoming season. As rumors of this new host began circulating, some wondered if this meant the franchise's longtime host would finally be leaving for good.
However, Chris's absence will only be temporary. For this upcoming season, everyone involved in production is currently on-site at the La Quinta Resort in Palm Springs. The entire resort has reportedly been rented out for production.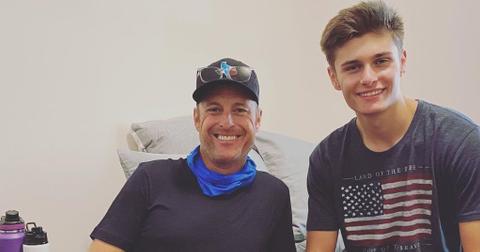 Article continues below advertisement
To ensure the cast and crew remain healthy and avoid potential exposure to COVID-19, everyone must quarantine before filming. While ABC did not confirm the details, Variety reported that Chis will be absent due to a short excursion he had to go on outside of the resort.
According to Chris's Instagram, he recently left the resort to drop his son off for his first year at college. He shared a shot of him and his son in his son's new dorm room.
"Just like that he's gone," Chris captioned the post. "Thought dropping the big man off at college @texaschristianuniversity today was going to crush me but all I could feel is pride and excitement. Especially now, so grateful that they have this opportunity. Now go take on the world and have the time of your life my boy."
Chris later shared a few staged photo of him arriving back at the resort, implying that he's not allowed back on set until he's quarantined.
Article continues below advertisement
"The most dramatic season ever!" Chris joked in his caption.
This is the first time in Bachelor history that Chris will be absent as a host. For now, it seems Chris' tenure on the show is safe, as he has yet to reveal any serious plans to retire.
Article continues below advertisement
Who will host 'The Bachelorette' in Chris Harrison's place?
According to Variety, former Bachelorette JoJo Fletcher will be substituting as the host for the few episodes that Chris has to be away from the show. JoJo was the star of the show's 12th season, ultimately choosing Jordan Rodgers as her final rose recipient. The two are still together, though their wedding has been postponed to 2021.
JoJo has been active in Bachelor Nation since her season ended, but this is the first time she has ever hosted an episode of The Bachelorette. At this time, it's currently unclear how many episodes JoJo will appear as a host for.
The Bachelorette is currently planned to return to screens on Tuesday nights in fall 2020.