Is Scheana Still Friends With Tom Sandoval? A 'Vanderpump Rules' Shakeup
Scheana Shay, like many 'Vanderpump Rules' stars, was shocked about Tom Sandoval and Raquel Leviss' affair. But is she still friends with him?
The Gist:
Scheana Shay and Tom Sandoval have stared on Vanderpump Rules since Season 1.
Katie Maloney warns Scheana that if she continues to be friends with Tom, his ex Ariana Madix will cut her off.
Tom received negative media attention after it was revealed he had been cheating on Ariana with their co-star Raquel Leviss.
Article continues below advertisement
Season 11 of Vanderpump Rules is gearing up for its January 2024 premiere, and it will be like no other due to a publicized split that the media called "Scandoval." Reality star Tom Sandoval appears upset during the Season 11 first look, while Scheana Shay looks nervous and heartbroken when learning that their friendship may jeopardize another.
Sheana is good friends with co-star Ariana Madix, who dated Tom from 2014-2023. Ariana and Tom's breakup happened after it was revealed Tom had been having an affair with co-star and Ariana's friend, Raquel Leviss. Based on the trailer, Ariana and Tom are not on the best terms, but Tom and Scheana seem to be doing alright.
Is Ariana and Scheana's friendship in trouble? How does Scheana feel about Tom? Here's everything we know.
Article continues below advertisement
Another 'Vanderpump Rules' star warns Scheana what could happen if she stays friends with Tom Sandoval.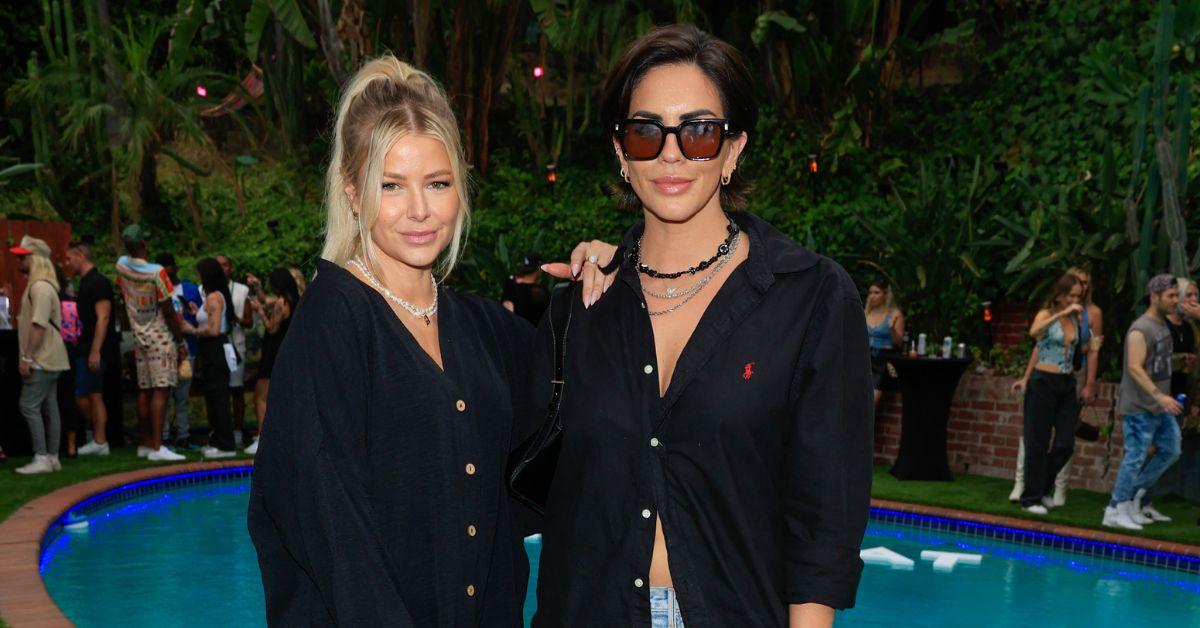 Former SUR server Katie Maloney isn't afraid to speak her mind to an emotional Scheana. Katie doesn't appear to be taking sides, but her warning to Scheana about maintaining a friendship with Tom suggests that she may be leaning more toward supporting Ariana.
"You know if you're going to be friends with him, she's going to f*****g cut you off — so think about your next move very carefully," Katie says in the trailer.
Scheana and Tom are seen hugging in the Season 11 sneak peek, but an interview with Scheana last month hints that she did cut ties with him.
"He had always been a good friend to me, and that's what was the hardest part about this is because I've always been someone who's like, 'Well, you didn't do it to me, but there was just something different about this where it did feel more personal,'" she told Us Weekly.
Article continues below advertisement
Is Scheana still friends with 'Vanderpump Rules' star Ariana Madix after her breakup with Tom Sandoval?
Tom and Raquel's affair appears to have left irreparable damage in its wake, but luckily, that fallout does not include Scheana and Ariana's friendship. The two of them in fact appear to still be super close.
Scheana has been watching Ariana compete on Season 32 of Dancing With the Stars, and shared an Instagram post on October 24 supporting Ariana in the competition.
"My dancing queen will be back in the ballroom tonight for her most memorable year!" she wrote in the caption.
The two of them also appeared to be smiling and laughing together on an Instagram story shared by Scheana while at BravoCon 2023 in Las Vegas.
So, it appears that Tom's actions were not enough to end Scheana and Ariana's friendship — but the affair strained his friendship with Scheana, at least for now.