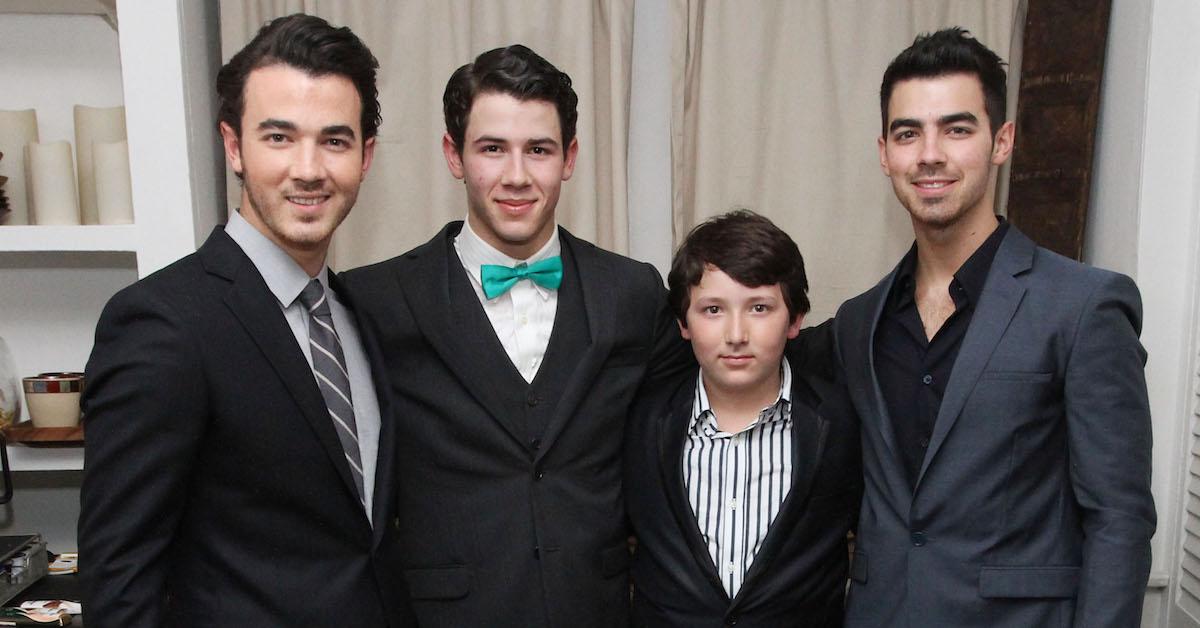 What's the Current Net Worth of the Jonas Brothers? Here's What We Know
It's true that the Jonas Brothers took a break from being a band because of creative differences, but now they're back together and better than ever. People have been buzzing about the Jonas Brothers and their undeniable talent since their first album, "It's About Time," dropped in 2006.
Article continues below advertisement
No one will ever forget when they ventured onto Disney Channel with their own self-titled sitcom and the Camp Rock movie franchise with Demi Lovato. There's a lot to say about this talented group of brothers! Here's a breakdown of their net worths.
Article continues below advertisement
Frankie Jonas is the "Bonus Jonas" with a net worth of $20 million.
Although Frankie Jonas isn't considered part of the actual boy band with his older brothers, he's been rising in popularity on TikTok recently. According to Idol Net Worth, he's got a net worth of $20 million as it stands today.
He worked with Noah Cyrus on the animated movie Ponyo as a voice actor back in 2009, which was a great start for his career. One of the famous people he's been associated with recently is YouTuber Tana Mongeau. He even got her name tattooed on his leg as a prank.
Article continues below advertisement
Kevin Jonas is the oldest brother. He has a net worth of $40 million.
One thing fans of the Jonas Brothers notice most about Kevin Jonas is that he's the brother who sings the least. He spends time strumming away on his guitar way more often than he spends time holding onto a microphone! Singing songs with his band was never a necessity for Kevin since he has two other brothers to take charge of that responsibility.
Article continues below advertisement
Outside of the music industry, Kevin's tried his hand at real estate development by launching a company called JonasWerner. He also serves as CEO of a social media firm called The Blue Market Company, and he founded a food app called YOOD back in 2015. Because of everything he's involved with, Kevin currently has a net worth of $40 million, according to Celebrity Net Worth.
Article continues below advertisement
Joe Jonas is the second-born brother. He also has a net worth of $40 million.
As one of the two lead singers in the Jonas Brothers band, Joe Jonas has had a very memorable career so far. On their way up to the top, the brothers worked with other celebrities like Jesse McCartney and Kelly Clarkson, which was helpful for Joe in establishing total confidence in the music industry.
Even after the Jonas Brothers were dropped from their original label, they were able to get picked up once again, and their band came out stronger on the other side. Joe is currently married to actress Sophie Turner, with whom he shares his daughter Willa Jones. As of now, he's got a net worth of $40 million.
Article continues below advertisement
Nick Jonas is the third-born brother, and his net worth is an impressive $70 million.
Nick Jonas has the highest net worth of any of his brothers, and it's likely because his solo music career has been just as incredible as his joint music career with the Jonas Brothers.
Nick's net worth is currently standing at $70 million thanks to his time on Disney Channel, solo projects, and more. He's married to his wife Priyanka Chopra. They tied the knot in 2018, and they appear to be doing well. Nick's professional life and personal life seem totally on track.