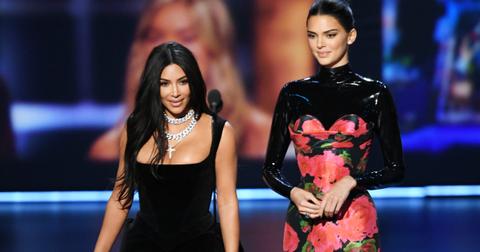 The Emmys Crowd Actually Laughed at Kendall and Kim and It Was Just So Awkward
By Nakeisha Campbell

Updated
Kendall Jenner and Kim Kardashian looked as stunning as ever when they took the stage to present the award for Outstanding Reality TV at the 2019 Emmys. But as they delivered their lines, the audience legit cracked up in the middle of their introduction. And no, they weren't telling any jokes.
Why were Kendall Jenner and Kim Kardashian laughed at?
Kim started off with her statement: "Our family knows firsthand how truly compelling television comes from real people just being themselves." Then her sister continued: "Telling their stories, unfiltered and unscripted."
Right after Kim spoke, the audience chuckled. Then when Kendall mentioned stories being "unfiltered and unscripted," the laughter got even louder. Talk about a savage crowd!
The two sisters moved forward as if nothing happened, but the awkwardness was so palpable that we legit felt embarrassed for them.
As expected, viewers on social media quickly caught on to the cringe-worthy moment. While some believed that it was rude and uncalled for, others pointed out how incredibly awkward it was to watch.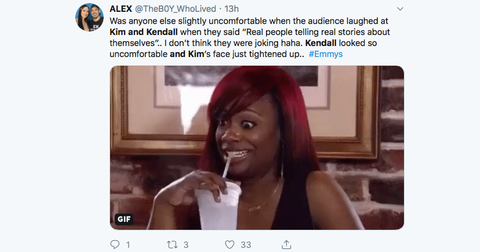 Is Keeping Up with the Kardashians scripted?
While the show has been a major success for years, it's no secret that the series is far from "unfiltered and unscripted," and there's actual proof. 
In 2014, producer Russell Jay revealed in his deposition that scenes have been reshot and scripted, including Kris Humphries' proposal scene with Kim. It was also revealed that Kim uses a "tear stick" to cry and that certain scenes were created from scratch. 
For instance, fans found it pretty suspicious that, right when KUWTK's ratings started to plummet, the news of Jordyn's cheating scandal came to light.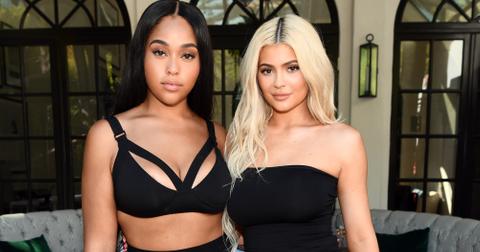 As if to confirm everyone's suspicions about Kris Jenner planning the whole thing, the family dropped a new trailer on social media and it centered, of course, on Khloé's reaction to the cheating scandal. Even though all the drama went down a mere few days before that footage was released. 
It's worth noting, however, that former BFFs Jordyn and Kylie haven't been as close like before, so these events just might be real. Still, we wouldn't put it past the Kardashians to spin this drama into something even bigger.
Does this mean that everything on Keeping Up with the Kardashians is fake?
Well, not everything. We're sure that the series includes its fair share of genuine moments, but fans have good reason to believe that the family has gone to great lengths to boost their ratings. 
Aside from having scripted scenes and massive scandals conveniently addressed on the show, it turns out that the Kardashians also play a huge role in the show's editing process. In fact, Kim revealed in an interview that she watches and approves every single scene before they hit the airwaves.
She said: "I'm not in the actual editing room but I watch every cut and every edit. And that, I think, has always been the magic to being ourselves and showing everything, because we know that we could really have a say in it." 
Hmm. It's no wonder why the Emmys audience chuckled at the mention of "real people just being themselves."