Fans Are in Shambles Over 'Infinity Pool' Star Mia Goth's Actual Speaking Voice
Ahead of the release of 'Infinity Pool,' fans on social media are pointing out and making memes about star Mia Goth's oddly high-pitched voice.
Unlike her character in the 2022 slasher Pearl, Mia Goth really is a star.
The 29-year-old scream queen has cemented herself as a modern horror icon, commanding the screen with starring roles in Ti West's elevated slasher trilogy comprising the movie X, its prequel Pearl, and the upcoming final installment MaXXXine. Now, she's taking her talents to yet another horror film, Brandon Cronenberg's Infinity Pool.
Article continues below advertisement
Ahead of the sci-fi horror flick's theatrical release, the entire cast has been making appearances and promoting it through the media. While most of us can barely contain our excitement for the sickening and seductive movie, others are stunned because they can't believe what Mia's speaking voice actually sounds like.
Stick around to see some meme-worthy social media reactions to Mia's voice!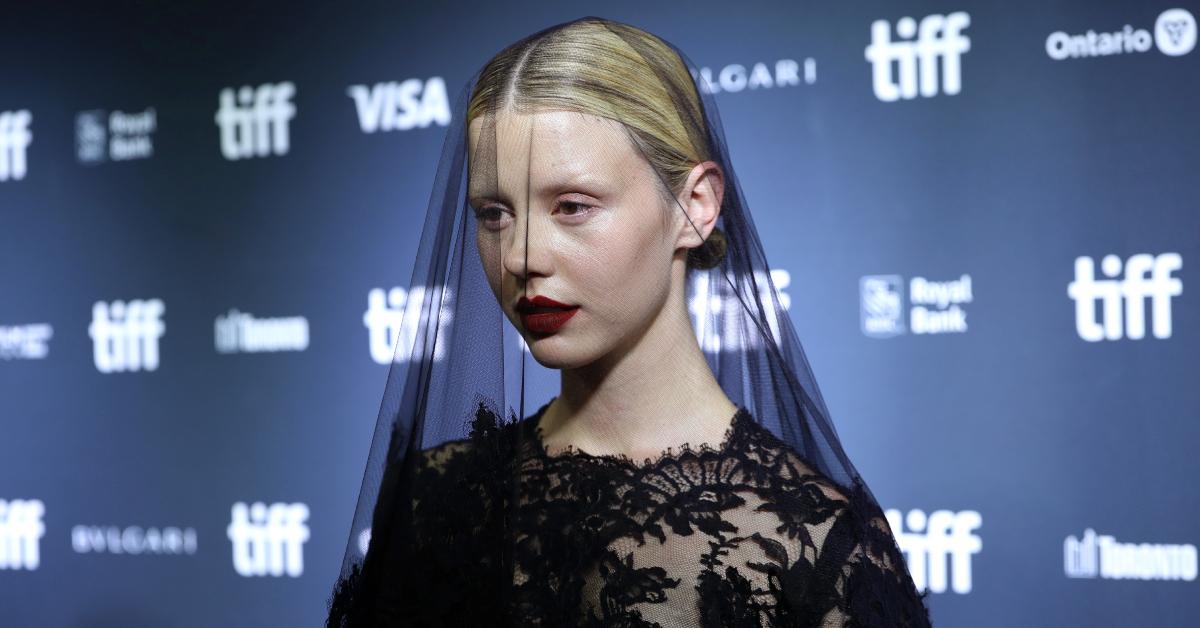 Article continues below advertisement
Fans are losing it over Mia Goth's real voice.
Despite watching Mia's entire filmography, many fans have never actually heard the English actor speak in her real voice until quite recently. On Nov. 8, 2022, a fan account for the High Life star shared an old interview clip from 2016 in which she reveals what she would be doing if she weren't a performer.
Although we are totally obsessed with her answer (we really hope she opens that blueberry-themed bakery one day), her real voice ultimately steals the show. The clip has since been deleted from Twitter (it is available to view here), but it accumulated millions of views and hundreds of hilarious responses relating to her adorably high-pitched voice.
Article continues below advertisement
Many social media users have made memes about Mia's voice.
In response to the since-deleted clip, many fans reacted to Mia's voice in a hilarious and meme-worthy fashion.
One person said, "Mia Goth has the voice and mannerisms of someone who would faint in the presence of blood and then gets on screen and is the creepiest little f--k you've ever seen. Now that's some goddamn acting." Another wrote, "she has the voice of a child who pickpockets wealthy people on the streets of London in 1894."
Article continues below advertisement
A third individual was oddly specific, stating, "TBH even if this wasn't her real voice I don't care. If Mia Goth wants to talk like an extremely posh little orphan boy sent to live with his uncle after [his] mummy was hit by a double-decker bus, that's her right." On the other hand, someone else said, "erm I did not expect her to sound like Peppa Pig."
OK, rude much?!
Article continues below advertisement
Now that Mia is back in the spotlight with Infinity Pool, more and more social media users are pointing out and making memes about her, in our humble opinion, soothing and lovely voice.
One person tweeted, "Why does Mia Goth speak with the voice of the ghost of a creepy Victorian child who died of consumption in a workhouse." We feel this next Twitter user hit the nail on the head: "The only way I can describe Mia Goth's voice is Tea and Crumpets." Wow, that's seriously so accurate, but in all honesty, Mia has such a sweet voice and it makes us love her even more!
Infinity Pool hits theaters on Friday, Jan. 27.