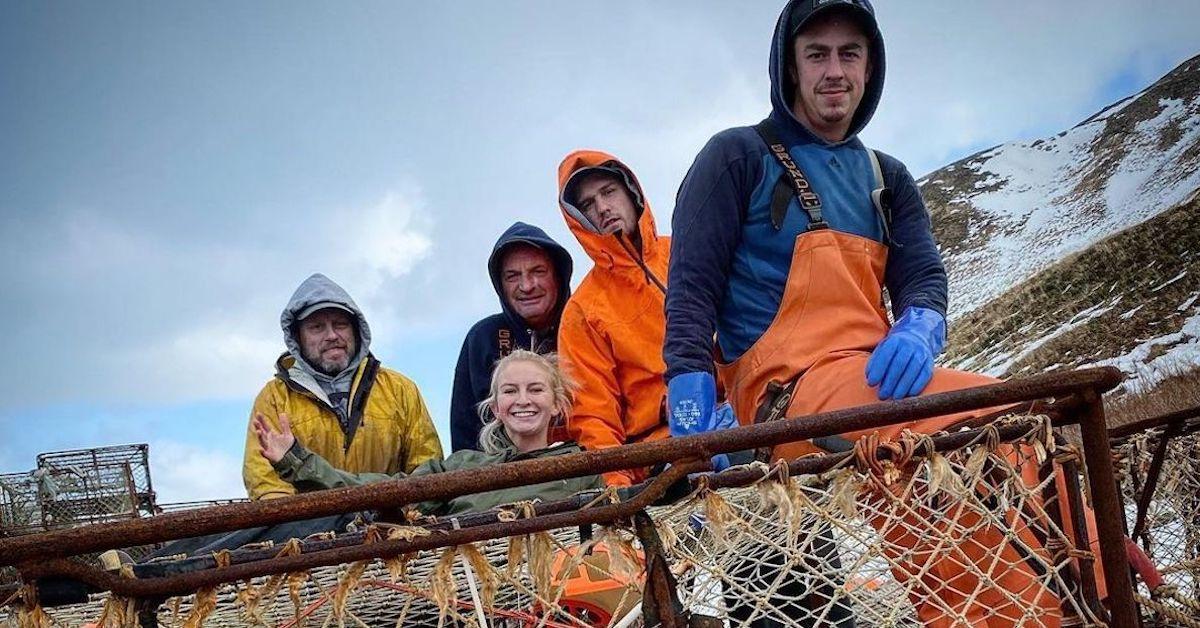 Sig Hansen and His Brothers Are *Literally* Making Waves
After their success on Deadliest Catch, the Hansen family is taking charge of a new vessel out in Norway. Yes, Captain Sig Hansen and his family are heading back to the homeland in a new series called The Viking Returns. The new Discovery series features Deadliest Catch's best captain out on new waters, fishing on the coast of Norway after the Alaskan Red King Crab fishery is shut down.
Article continues below advertisement
Not only is Sig Hansen out in the Norwegian waters, but he takes his family with him, including his daughter, 27-year-old Mandy. Did Sig leave his brothers behind, or are they out in Norway with him? What happened to Norman and Edgar Hansen? And who else is in Sig Hansen's family?
Article continues below advertisement
Sig Hansen's brothers, Norman and Edgar Hansen, have worked with Sig their whole lives.
Sig and his brothers come from a long line of Norwegian fishermen. He's the oldest of the three Hansen siblings, and began working on their father's boat when he was just 14-years-old. Their father, Sverre Hansen, was descended from a long line of Norwegian-ancestry fishermen, and actually spoke Norwegian with his three sons. In the summers, Sig and his brothers would sometimes travel to Norway with their father and grandfather to catch mackerel and cod.
As they got older, Sig took over the family crabbing business, and by age 22-years-old he became a "relief skipper" on the Northwestern, and by 24-years-old, Sig was running the Northwestern full-time. His brothers, Norman and Edgar, were the deckhand and deck boss of the Northwestern, respectively. However, the whole family has recently gotten into some hot water.
Article continues below advertisement
While Norman hasn't gotten into any trouble with the law, like his brothers, Norman did have a seizure while onboard the Northwestern. Apparently, Norman had a head injury that caused the seizure, and while he did well after recovering, he may not spend much more time fishing in the dangerous conditions of the unruly Alaskan (or Norwegian) waters.
Article continues below advertisement
Edgar, on the other hand, will likely never come back to the Discovery Channel. In July 2018, he pled guilty to fourth-degree sexual assault. Basically, a 16-year-old Mountlake Terrace resident revealed that Edgar sexually assaulted her in fall 2017 to her therapist, so Edgar pled guilty and received a 364-day suspended jail sentence. He apologized in court, "I am very sorry for that conduct, and I have commenced treatment to ensure that nothing like this assault ever happens again."
Article continues below advertisement
While Edgar is no longer on Deadliest Catch, some longtime fans think he may still work on the boat off-screen and in the background. But Edgar isn't the only Hansen brother who's had run-ins with the law. Sig himself had an incident with an Uber driver when he was out partying with his family. When the driver wouldn't accept cash, Sig yelled at and spat at the driver, and then kicked a door, causing $1,800 of damage to the car.
Sig was given a year of probation, and stated shortly after his arrest, "I am terribly sorry for my behavior and am very embarrassed by it. I owe a bunch of people apologies ... I have no excuse, and accept responsibility for my actions. I made a boneheaded move last night, and I am sorry."
Article continues below advertisement
Now, Sig is out on the open waters of Norway with his adopted daughter, Mandy, who also speaks Norwegian. Mandy's daughter, Sailor Marie, also spends some time with Sig on-screen, although she's not quite old enough to work on the ship yet. In the new series, much of it shows Sig passing the baton off to Mandy, so not only are we gearing up for a new world of fishing in Norway, but perhaps a new Deadliest Catch captain.
Deadliest Catch: The Viking Returns airs every Tuesday at 9 p.m. EST on Discovery.