Can't Wait to Edit or Unsend Text Messages? iOS 16 Is Around the Corner
When will iOS 16 be released? Learn about the speculated release date and the new features of Apple's next operating system upgrade for the iPhone.
With all the new features coming to an iPhone near you, Apple users wanna know: When will iOS 16 be released? Well, the good news is we're only weeks away from that operating system upgrade.
Article continues below advertisement
iOS 16 stands to make your iPhone experience easier, more efficient, and more personalized, as you'll see below. The new operating system has tons of new features and capabilities, and we've rounded up some of the iOS 16 additions to which we're most looking forward. (And, yes, we have information on that highly-anticipated release date below, too!)
iOS 16 lets you personalize your lock screen.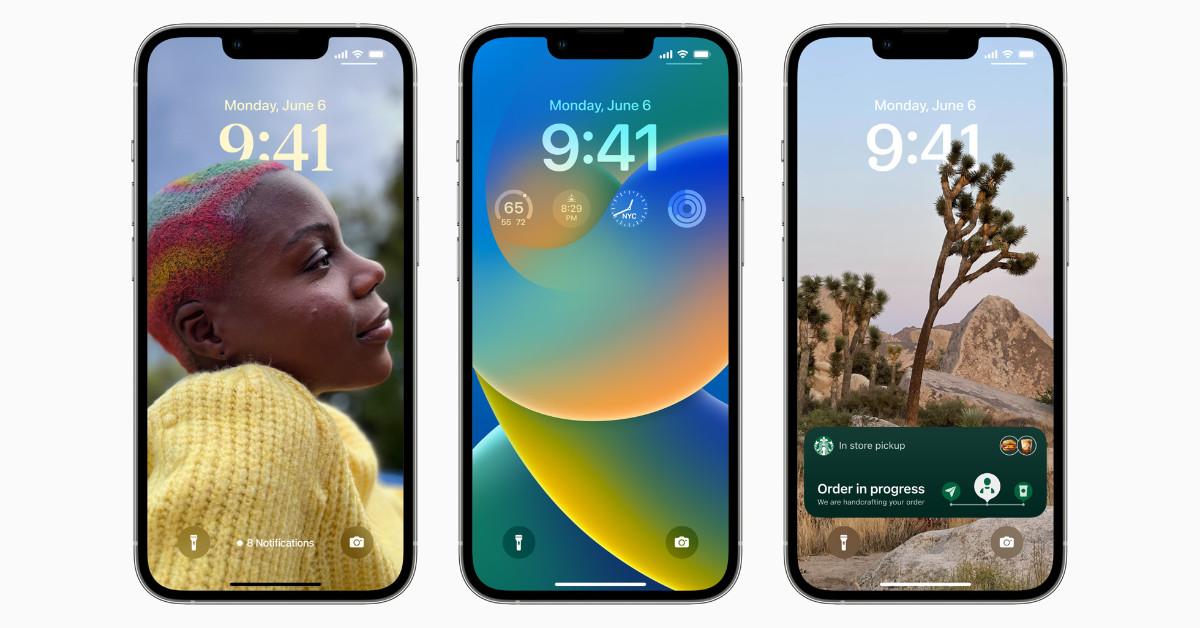 Get ready for a whole new lock screen with iOS 16. For the first time you'll be able to change the typeface of the lock screen clock, and you'll also be able to tuck the numbers of the clock behind the subject of a photo for a layered effect. You'll also be able to add widgets to your home screen — including ones displaying live activities like sports results or delivery statuses — and you'll be able to create multiple lock screens to toggle between.
Article continues below advertisement
Finally, you can unsend messages and emails.
With iOS 16, Apple is also letting us fix some messaging flubs with the Messages and Mail apps. For the first time, iOS users will be able to edit recent text messages or even unsend a recent message. And the Messages app will also let you mark a message as unread so that you remember to come back to it later.
The unsend feature is also coming to the Mail app, which will allow you to pull back an email you just sent. You'll also be able to schedule emails so that they're sent at a certain time. And if Mail detects that you've forgotten to include an attachment or add a recipient, it will nudge you to do so.
Article continues below advertisement
Apple Pay is getting Apple Pay Later.
With the new Apple Pay feature Apple Pay Later, you'll be able to pay for purchases in four installments over six weeks without interest or fees. And other new iOS 16 features include the ability to view receipts and track your Apple Pay orders in the Wallet app and the ability to share digital room or house keys in Wallet via Messages, Mail, and WhatsApp.
Article continues below advertisement
The release date may be only a month away.
So, when can we start using these new features? So far, Apple says only that iOS 16 is "coming this fall." But Macworld points out that Apple has released a new iOS version every September since iOS 6 in 2012. Since iOS 15 came out on Monday, Sept. 20, 2021, the site speculates that iOS 16 will come out on Monday, Sept. 19, 2022, or sometime that week. And both Macworld and MacRumors believe that Apple will release iOS 16 around the time it announces the next iPhone.
Apple says that iOS 16 will be compatible with the iPhone 13, iPhone 13 mini, iPhone 13 Pro, iPhone 13 Pro Max, iPhone 12, iPhone 12 mini, iPhone 12 Pro, iPhone 12 Pro Max, iPhone 11, iPhone 11 Pro, iPhone 11 Pro Max, iPhone XS, iPhone XS Max, iPhone XR, iPhone X, iPhone 8, iPhone 8 Plus, and the iPhone SE (2nd generation or later).