NBA YoungBoy Seemingly Goes After Lil Durk and Others With His New Track, "I Hate YoungBoy"
NBA YoungBoy's diss track targets Lil Durk, Gucci Mane, Lil Baby, and others. In the song, titled "I Hate YoungBoy," he also mentions Chinese Kitty.
On Tuesday, Feb. 22, 2022, NBA YoungBoy released his latest track, "I Hate YoungBoy."
The Baton Rouge rapper took shots at Lil Durk, who released "AHHH HA," the same day, Lil Durk's fiancé, India Royale, Gucci Mane, and others. NBA YoungBoy also mentioned Chinese Kitty, a rapper and Love & Hip Hop: Miami alum. So, what's going on between NBA YoungBoy and Lil Durk? What's the feud about — and why the new diss track?
Article continues below advertisement
NBA YoungBoy takes aim at Lil Durk and others with his new diss track, "I Hate YoungBoy."
In "I Hate YoungBoy," NBA YoungBoy seemingly takes a stance against the industry. "YoungBoy, they gon' kill you, you better stop dissin' 'em / Tell them [n-words] f--k 'em / Man, they know that I ain't scared of 'em," he raps, according to the lyrics by Offical Music Leak Geek.
He then goes on to drop a few mentions to Lil Durk and his fiancé, India: "How you talkin' s--t ... / He called me a b---h, that's India, that be your h-- [sic]."
Article continues below advertisement
Also in the song, NBA YoungBoy seems to allude to the death of OTF Nunu (aka Nuski and McArthur Swindle), Lil Durk's cousin. OTF Nunu lost his life after enduring fatal injuries during a shooting in the Chatham neighborhood of Chicago on May 31, 2014.
OTF Nunu reportedly signed a deal a few days before the shooting. "This was going to be his big breakout project," Merk Murphy, the co-founder of Cmplx Studios 2010, told ABC 7 Chicago a few days after the atrocity.
Article continues below advertisement
"I'm bumpin' "Wooski," turnt up with some groupies while at my home. Why'd you drop that whack a-- song? P---y b---h, you should have known," NBA YoungBoy proceeds to rap in "I Hate YoungBoy."
Other people mentioned in the song include Gucci Mane, Lil Meech, Boosie Badazz, Quando (aka Quando Rondo), and Lul Tim, the rapper previously accused of the murder of King Von. NBA YoungBoy made headlines in the summer of 2020 by trying to proposition Boosie Badazz's younger sister, Munchie, during an Instagram Live.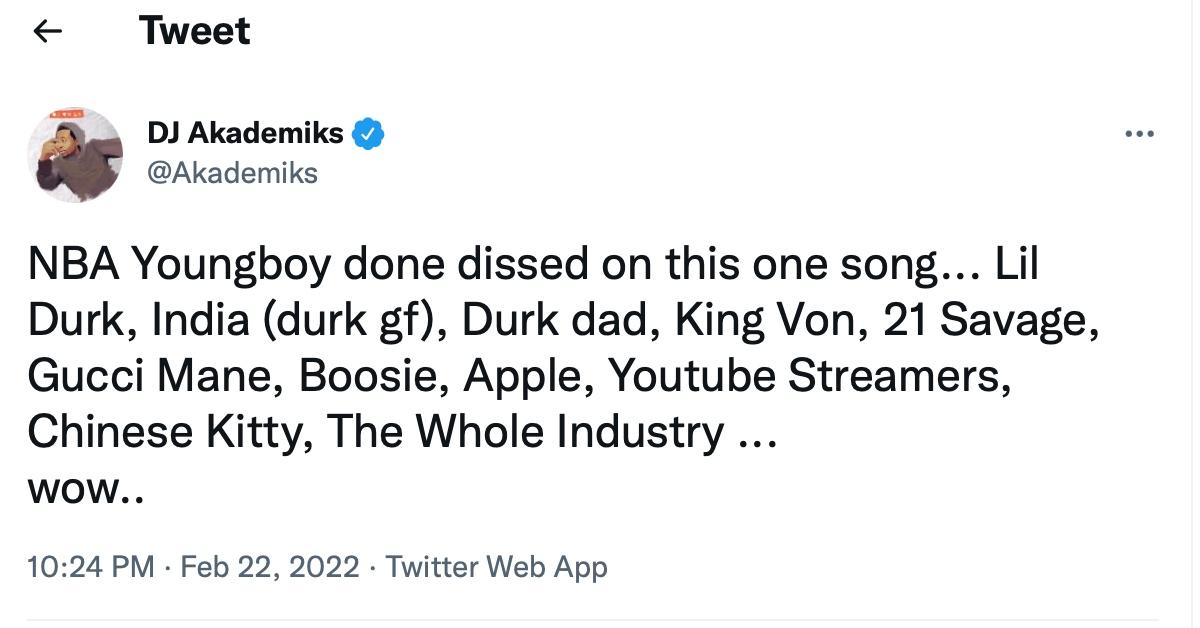 Lil Durk's father is also mentioned in NBA YoungBoy's track. Who is he and what did he do?
Elsewhere in the song, NBA YoungBoy seemingly alludes to Lil Durk's father, Dontay Banks (aka Big Durk). Banks was sentenced to life in prison in 1994. Many believe he lead a criminal group distributing Class A drugs like cocaine. Banks was released from prison in February 2019, having served 25 years.
"Your daddy hit the feds, f--k that [n-word], he's a b---h, too. Tell him sittin' on side your cousin's momma while that b---h grieve, too [sic]," the lyrics read.