Heather and Terry Dubrow Are the Proud Parents of Four Kids — Who Are They?
Heather Dubrow's children had an early introduction to fame. The four kids have already appeared on 'RHOC.' Read on to find out more about them.
When Heather Dubrow left The Real Housewives of Orange County in 2016, the cast of the show still featured stars like Vicki Gunvalson, Meghan King Owens, and Kelly Dodd.
Some sweeping changes have taken place since then. Vicki ended her 14-year run as a main cast member in 2020, Meghan married Joe Biden's nephew, Cuffe Biden Owens, and Kelly accused Heather's son, Nicholas, of infecting her with COVID-19.
So what is there to know about the Dubrow children?
Article continues below advertisement
Heather Dubrow's children have already had their first taste of fame.
A successful actress and television personality, Heather starred in popular TV shows like Life with Roger, That's Life, and Surviving Suburbia before first joining the cast of RHOC in 2012. She and Terry Dubrow, a plastic surgeon whose former clients include RHOC's Nicole James, have been married for around 22 years. Heather and Terry are the proud parents of four kids, most of them teens.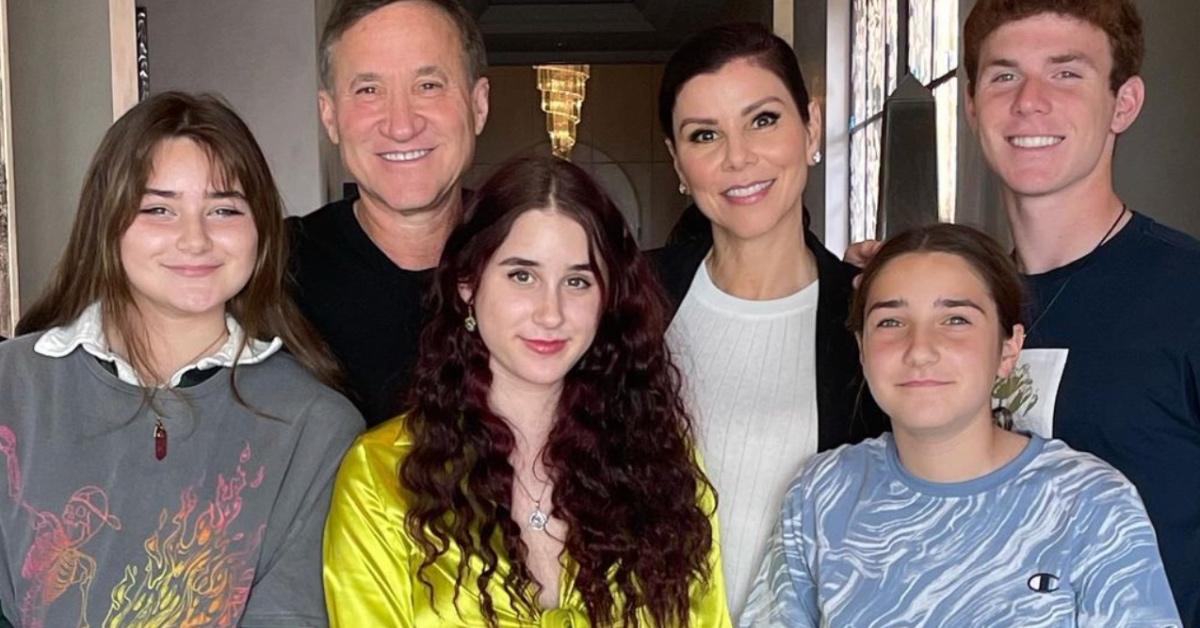 Article continues below advertisement
Their twins, Max and Nicholas, were born on Nov. 24, 2003. The middle child, Katarina, came into the world on Oct. 5, 2006. The youngest out of the four, Collette, was born on Dec. 17, 2010.
A keen Instagram user, Heather frequently posts updates about their latest adventures together. She seems to be particularly enthused about the holidays, going the extra mile to stylishly celebrate Thanksgiving, Christmas, and any other events that come her way. Heather often takes to social media to share proud photographs of her kids. Meanwhile, the kids tend to be more private, posting only sporadically.
Article continues below advertisement
Heather Dubrow's oldest daughter, Max, came out as bisexual in June 2020.
Max came out as bi on Instagram in June 2020. She also has a podcast, I'll Give It to You Straightish, where she aims to discuss issues she wishes parents were better able to understand. In previous episodes of the podcast, Max and her co-hosts discussed pop culture-related news like Trisha Paytas and Ethan Klein's fight captured on Frenemies, and other topics like alien government conspiracies.
Article continues below advertisement
As Max's dad, Terry, told Page Six, he has already offered to make a cameo on I'll Give It to You Straightish. Max, it seems, has yet to take him up on the offer.
"I mean, we dragged her on RHOC [when Heather was on it]. I put her on Botched," Terry said. "I think she made a couple of appearances when I did The Swan ... the least I could do is go on her podcast if she wants me!"
Max's book, I'll Give It to You Straightish, came out on Nov. 9, 2021.
Article continues below advertisement
Max graduated from The Pegasus School in June 2018. Now 18 years old, she currently attends JSerra Catholic High School in San Juan Capistrano, Calif. Her twin, Nicholas, has been accepted to Loyola Marymount University.
Katarina and Collette, the youngest two of the four siblings, have also appeared on a handful of RHOC episodes. They are slightly less active on Instagram, and they might be too young to get involved in PR-related activities. Collette will turn 11 this month.
Catch new episodes of RHOC every Sunday at 9 p.m. EST on Bravo.