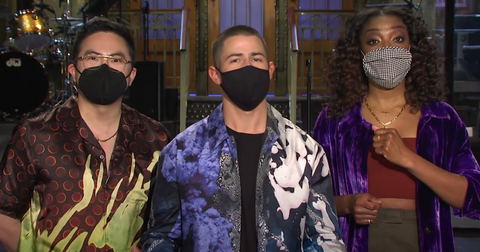 Is 'SNL' New Tonight? Nick Jonas Will Be the Guest Host and the Musical Guest
By Michelle Stein

Feb. 27 2021, Published 2:48 p.m. ET
Following a rollercoaster ride of an election season — during which the episodes practically wrote themselves — Saturday Night Live (SNL) officially returned on Jan. 30, 2021. John Krasinski kicked off the year as SNL's first guest host, while Machine Gun Kelly was the musical guest.
But will there be another new episode tonight, on Feb. 27? Let's take a closer look at what fans can expect from the current season.
Article continues below advertisement
Is 'SNL' new tonight, Feb. 27, 2021?
We have some good news to share for those who are diehard fans of sketch comedy series: SNL is new tonight! That's right, you won't have to wait much longer for your next dose of Kate McKinnon, Kenan Thompson, Michael Che, Colin Jost, Bowen Yang, and the rest of the gang.
The guest host for SNL on Feb. 27 is Nick Jonas — and he's the musical guest, too! Judging by a promo for the new episode, it's shaping up to be a memorable night.
Article continues below advertisement
A promo for the new episode on Feb. 27 features Nick Jonas and SNL cast members Bowen Yang and Ego Nwodim.
"Hi, I'm Nick Jonas, and I'll be the host and musical guest this week on SNL," the Jonas Brothers singer says in the clip.
"Hey, this is your big night!" Bowen says, hyping up Joe.
"If you make it here, you can make it anywhere!" Ego chimes in.
"It's your big shot!" Bowen adds.
"Don't blow it!" Ego says.
"Um, I think I've kind of like already made it because I'm a very successful music artist?" Nick responds, a little confused.
"Exactly, that's a great attitude!" Ego replies.
"Fake it 'til you make it!" Bowen agrees.
Article continues below advertisement
The Zillow ad on 'SNL' was a fan-favorite sketch.
"Are you bored? Looking for something to spice up your life?" the spoof ad begins, showing various members of the SNL cast making sensual facial expressions and body movements.
"Ohhhh yeah. You used to want sex, but you're in your late 30s now," Bowen Yang adds.
"And sex isn't really doing it for me anymore," Dan Levy says, as other people chime in, "You need something new, something exciting."
Article continues below advertisement
"Real estate is your sex now, and our listings are standing by waiting for you to browse them," the Zillow spoof, which made plenty of middle-aged viewers feel personally attacked, continues. This is followed by even more sensual posing and "suggestive" one-liners:
"An updated colonial with mature landscaping? Ohhh!"
"Unleash your passions."
"I wanna flip that!"
"Satisfy your every fantasy."
Toward the end of the sketch, the Zillow ad implores, "So what are you waiting for? Pick up your phone now, open the app, and tell us what you really want."
Article continues below advertisement
Who's hosting 'SNL' on March 6, 2021?
Unfortunately, it doesn't look like SNL has a new episode on its lineup for March 6, 2021. We'll let you know when more new episodes are coming, though!
Watch SNL on Saturdays at 11:30 p.m. EST on NBC.