Kandi Burruss Felt Like Her Longtime Friend Monyetta Shaw "Straddled the Fence" on 'RHOA'
Kandi Burruss's close friend, Monyetta Shaw, joined the 'RHOA' cast for Season 14, and their friendship has seen some ups and downs.
Many fans of The Real Housewives of Atlanta are now accustomed to Kandi Burruss sharing her life on the show. Through her RHOA storylines and numerous spinoffs, they've also met her husband Todd Tucker, her baby daddy Russell "Block" Spencer, and, of course, the Old Lady Gang, which includes Kandi's mother, Mama Joyce, and aunts Bertha and Nora.
Article continues below advertisement
Amid a Season 14 cast shakeup, Bravo hired Kandi's close friend, Monyetta Shaw, to join the show as a "friend of." Although it was Monyetta's first season, she and Kandi have been tight for several years. But their Season 14 trip to Jamaica may have caused issues in the relationship.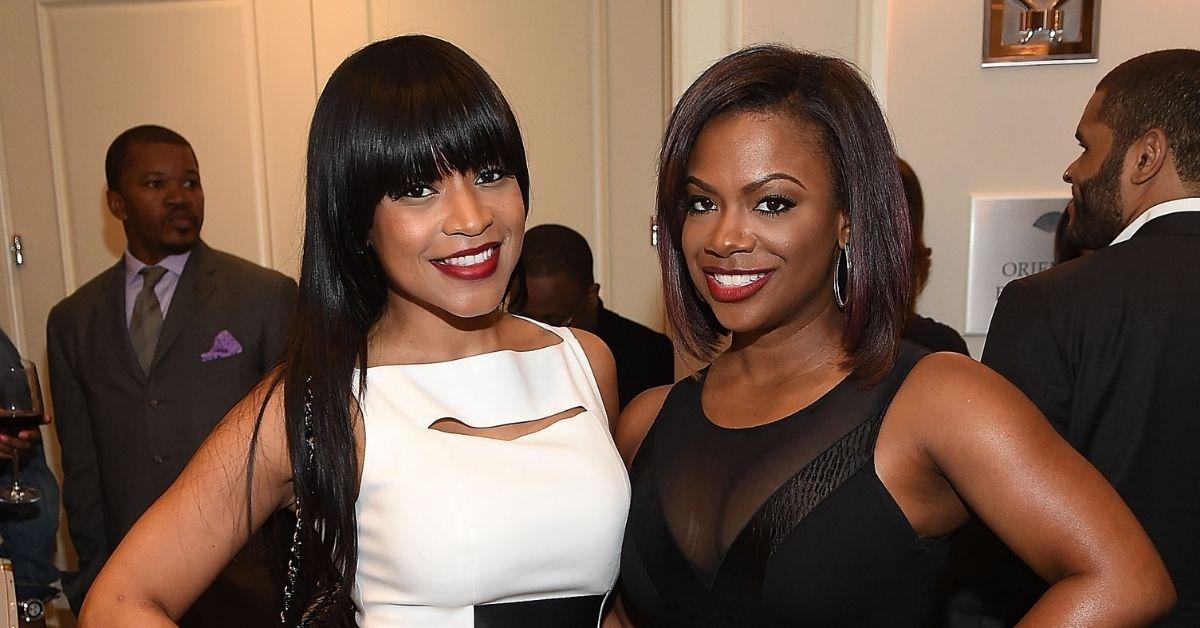 Article continues below advertisement
Kandi Burruss and Monyetta have seen each other through a lot.
Kandi and Monyetta became friends while each being a part of the entertainment industry in Atlanta. Monyetta is an actor and radio personality who has lived in the city for many years. Kandi's pal was previously engaged to Ne-Yo, and the pair share two children: Madilyn Grace and Mason Evan. Monyetta also has a background in reality TV, having previously starred in VH1's Atlanta Exes. The single-season series followed the lives of Monyetta and the ex-wives of Usher, CeeLo Green, Ray Buchanan, and Kevin Hart.
While Kandi and Monyetta are in similar professions, they don't feel the need to compete. They never miss a chance to support one another when something significant happens.
In 2014, Monyetta attended Kandi's bachelorette party prior to her wedding with Todd. Monyetta was also in attendance at the wedding, went to Kandi's 40th birthday, and joined multiple girls' trips. Additionally, Monyetta supported her friend when she and Todd welcomed their children, Ace and Blaze.
Article continues below advertisement
But the friendship is far from one-sided. In May 2022, Monyetta shared how Kandi has been by her side for many moments, including her marriage to Heath Carter. Kandi and Monyetta also confirmed on Kandi's show, Speak on It, that Kandi mentioned her friend's name to RHOA's producers.
Article continues below advertisement
Kandi Burruss felt like Monyetta Shaw didn't defend her against Marlo Hampton in Season 14.
After Monyetta's appearance at Kenya's party, she attended several more events with Kandi, including Marlo's Blue Ridge getaway. Monyetta and Heath joined the cast and their spouses in Jamaica for Sanya's couples trip. While there, she inadvertently got caught in the middle of Kandi and Marlo's ongoing feud.
On the trip, Kandi and Marlo argued after Kandi defended Drew Sidora's husband, Ralph Pittman, in front of the group. At the dinner, Marlo was offended when Ralph said he wasn't legally adopting Drew's child, Josiah. During their discussion, Kandi chimed in and asked Marlo if she should discuss Ralph's choices since she had recently sent her nephews, Michael and William, to live with her sister.
Article continues below advertisement
Marlo responded to Kandi's question by mentioning Kandi's husband, Todd's, issues with her mother, Mama Joyce. Marlo also accused her co-star of "taking care" of everyone in her life, including her man. Many RHOA fans know that discussing Kandi's family or relationships never ends well.
Following their fight, Marlo talked to Monyetta about her side of the altercation. During their chat, Marlo blamed Kandi for their dispute and claimed The Masked Singer winner had started the drama.
Article continues below advertisement
Monyetta seemingly didn't have much to say in defense of Kandi, and she addressed her friend on her YouTube show, Speak on It.
"I ain't like that Monyetta didn't go harder for me," Kandi shared in a live episode of Speak on It. "She was being too politically correct."
Kandi's other longtime friends, DonJuan Clark and Dj AONE agreed on Speak on It that Monyetta "straddled the fence" with Marlo and painted Kandi's nemesis in a better light. Although Kandi wasn't pleased with Monyetta's actions, she stated they were still friends. Kandi also added she might give Monyetta pointers shading her enemies when she's not around.
Catch new episodes of The Real Housewives of Atlanta Sunday nights at 8 p.m. EST.