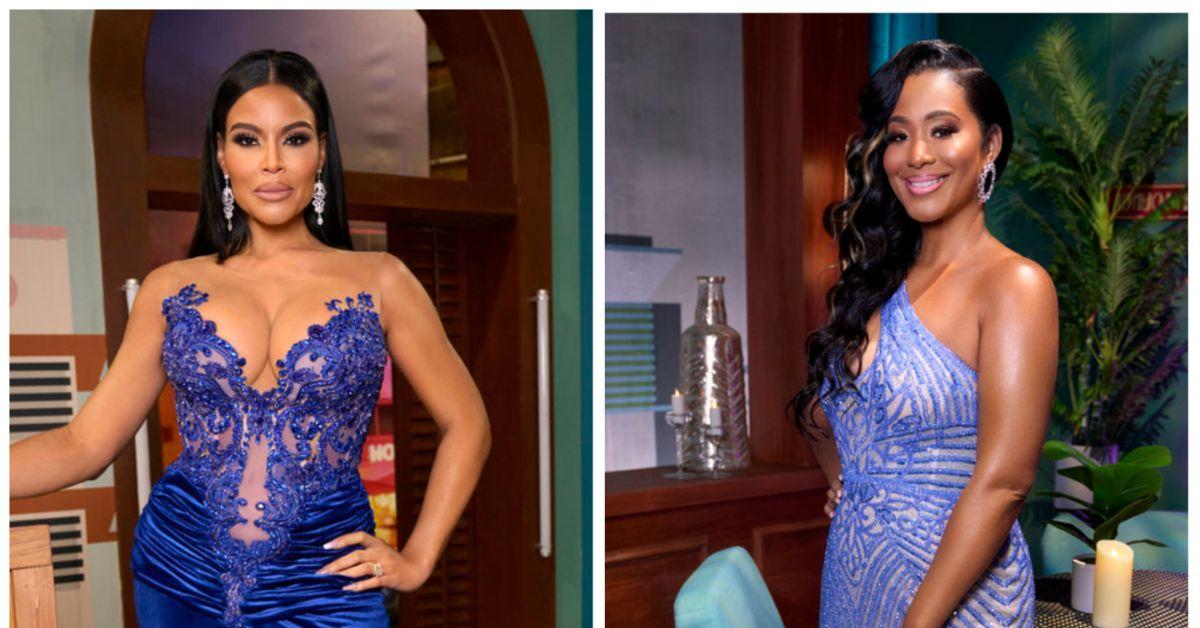 Mia Thornton and Jacqueline Blake's Feud Has Been on and off of 'RHOP'
Ever since Mia Thornton joined The Real Housewives of Potomac in Season 6, she has kept fans guessing about almost every facet of her life. From her nonmonogamous approach to marriage with her husband, Gordon "G" Thornton, to their financial and business woes, Mia hasn't always been every viewer's cup of tea. However, in Season 7 of the Bravo reality show, Mia planned for a better season with her best friend, Jacqueline Blake, by her side.
Article continues below advertisement
Jacqueline, Mia's childhood pal, joined RHOP as a "friend of" and started the season as the Housewives star's support system against several of her enemies. Unfortunately, as the season progressed, Jacqueline discovered what it was like being on the other side of Mia's wrath.
Here's how Mia Thornton and Jacqueline Blake's feud went down!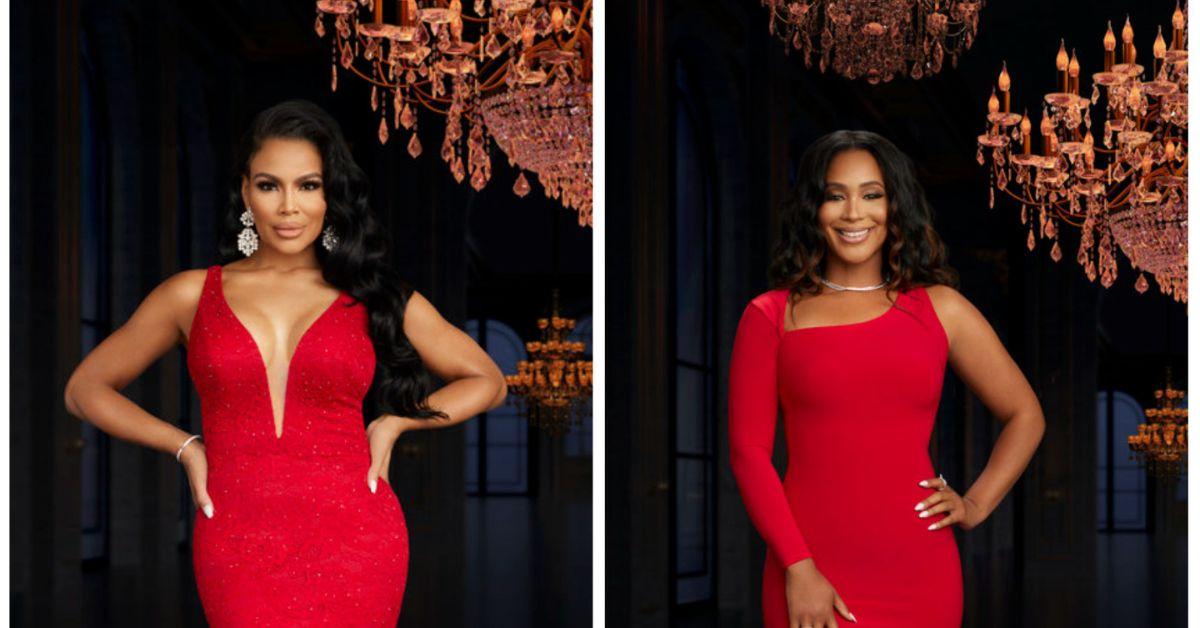 Article continues below advertisement
Mia Thornton and Jacqueline Blake's feud began after nearly 30 years of friendship.
Mia introduced viewers to Jacqueline at the beginning of Season 1. She shared on the show that the friends met in high school when they were 15 and had been "inseparable" ever since. Mia also said on the show that her stepmom and Jacqueline's mom were best friends, so they thought that meant their connection to be.
Jacqueline and Mia's bond lasted into their twenties and thirties, and by the time they became co-stars, they had been friends for 30 years. Mia and Jacqueline's friendship was so strong that the two didn't see a problem with showering together. The Joint Chiropractic owner frequently joked about Jacqueline and Gordon's relationship, saying she was like the couple's sister-wife. However, Jacqueline and her husband don't "do the do."
Article continues below advertisement
While the rest of the group wondered if Jacqueline was closer to Mia than they made it seem, the pair's friendship continued flourishing until the cast's trip to Mexico halfway through the season.
Article continues below advertisement
During the trip, Mia received a call from Jacqueline's sister regarding Jacqueline's children. Mia accused Jacqueline's kids of eating all of the food in her house while they were staying there. Mia also felt that Jacqueline should be more hands-on with her kids, which resulted in an argument filled with shady remarks about Mia's past upbringing, stating she didn't understand children needing a "village" to be raised because Mia didn't have her mother around growing up due to her mother being in prison.
Jacqueline and Mia's feud escalated when Jacqueline told the group Mia was grumpy because she wasn't getting enough "d–k" at home. The comment caused Mia to clap back with "close your legs to married men," a line many RHOA fans remember NeNe Leakes spewing at Kim Zolciak in Season 1. The comment visibly upset Jacqueline, especially since the cast had already suspected she had been one of Mia and Gordon's conquests.
Article continues below advertisement
Mia Thornton and Jacqueline Blake have unfollowed each other on social media and engaged in several social media wars.
As new episodes of RHOP continued into December 2022 and January 2023, Mia and Jacqueline's feud got worse off-camera. The former BFFs soon took their issues to social media, which typically never ends well.
Mia started the social media war when she posted a video of Jacqueline in a domestic violence dispute.
Article continues below advertisement
According to Queens of Bravo, per Reality Blurb, Mia shared the video with an anti-violence post on her Instagram and said that, although she brought light to the incident, she does "NOT condone violence" and would "never deliberately inflict pain on another. None of it is ok; no one deserves to be treated this way."
The now-deleted post caused some speedy comments from Jacqueline and their RHOP co-stars Wendy Osefo and Candiace Dillard-Bassett. Wendy, who fans watched experience Mia's rage firsthand at the cast's dinner in Miami, slammed Mia for creating the post when, according to the doctor, she is a "poster child for violence." Jacqueline also chimed in with several digs pointed at Mia.
Article continues below advertisement
"Ouch, you got me! I guess I learned from the best!" Jacqueline wrote on Twitter, per Reality Blurb. "Housewife? Nah, sis, Im college educated, own my own home, land, and have my own career."
She continued, "We different. Says the fake boss who clearly doesn't own zilche. Your a FRAUD. And as GUTTER as it gets. Focus on your own MESS," before calling Mia "Pinocchio."
Article continues below advertisement
In December 2022, Jacqueline again commented on her and Mia's friendship. During an interview with The Reality Rundown, Jacqueline said that after "personal conversations" between them, they are "still no longer friends." She also stated that things would become more intense as the season continued.
Article continues below advertisement
Mia Thornton's husband seemingly confirmed the threesome rumors with Jacqueline Blake
After months of social media jabs, Mia and Jacqueline met at the RHOP Season 7 reunion. During the show, the childhood friends reflected on the current state of their friendship.
Following a recap of their feud, Mia shared that she and Jacqueline still weren't friends and hadn't talked to Jacqueline's family, with whom she developed a bond. Jacqueline stated her family was "disgusted" by Mia's actions and how she treated her longtime pal.
The reunion ended with Jacqueline threatening to air out more of Mia's dirty laundry. In a trailer for Part 3 of the reunion, Jacqueline claimed Mia was "never the CEO" of her company, which is currently having financial trouble.
Andy Cohen also asked the main question regarding their connection when Mia's husband, Gordon, came to the stage. When Andy asked Gordon if he and Jacqueline ever had sex, the 70-year-old CEO said there "was never any penetration" between him and Mia's friend, to which Andy replied, "Okay."
Article continues below advertisement
Is Jacqueline Blake coming back to 'The Real Housewives of Potomac'?
Part 3 of The Real Housewives of Potomac reunion airs on Sunday, March 5, 2023. Since the season isn't over just yet, it's unsurprising that Bravo hasn't shared who the RHOP Season 8 cast will be.
So far, Jacqueline's future on the show remains unknown. However, with her current issues with Mia going strong, the mother of two might have to lean on the other connections she made with co-stars like Wendy and Candiace. Mia also hasn't hinted at leaving RHOP either, so maybe we will see more of this feud in the future!
The Real Housewives of Potomac airs Sunday nights at 8 p.m. on Bravo.