Offset's Net Worth Just Increased By $2 Million — Thanks to a Birthday Gift From Cardi B
Offset's net worth was considerable at the beginning of 2021, but it is even more astonishing now. What's Offset's net worth? Read on to find out.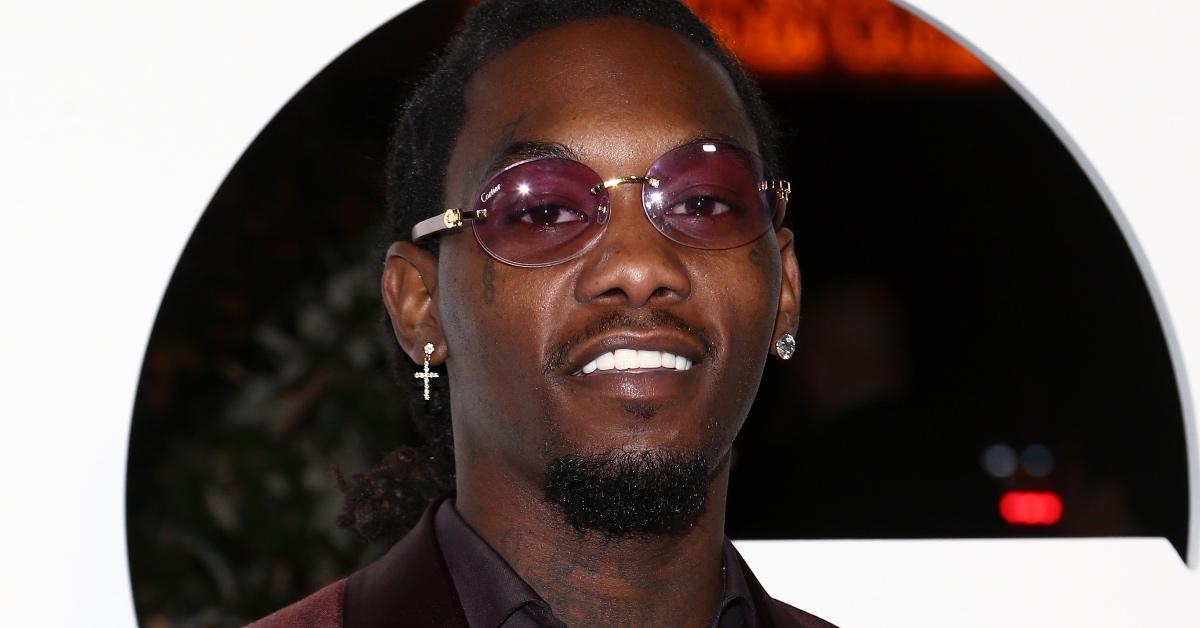 "Father of 4" rapper Offset celebrated his 30th birthday in style with an extravagant bash held on Tuesday, Dec. 22, 2021, at Los Angeles's Sneakertopia. Attended by the creme de la creme of the hip hop world, including French Montana, The Game, and Ye (aka Kanye West), the Sneaker Ball-themed birthday party was one for the ages. What made it even more memorable were the birthday gifts, including Cardi B's present, a jumbo check for £2 million. How much is Offset's net worth now?
Article continues below advertisement
Offset's net worth is very impressive, but it became even more impressive after the birthday party.
A painting depicting Offset's grandmother, a gigantic sneaker-themed floral sculpture, ice sculptures, and pole dancers made Offset's Sneaker Ball-themed birthday party even more extravagant. But nothing topped the check Cardi B gifted to Offset for his birthday.
Article continues below advertisement
As loyal fans of the couple will remember, Cardi B gave Offset a fridge stacked with $500,000 worth of cash for his 28th birthday in 2019, in what has seemingly become a family tradition since then. Does the gift affect Offset's net worth at all? Or does he have so much money that it's more like a mild-mannered bump to his bank balance?
Birth date: Dec. 14, 1991
Birth place: Lawrenceville
Birth name: Kiari Kendrell Cephus
Father: unknown
Mother: unknown
Marriages: Cardi B (since 2017)
Children: Jordan (with Justine Watson), Kody (with Oriel Jamie) Kalea (with Shya L'amour), Kulture Kiari and a baby boy (with Cardi B)
Education: Berkmar High School in Lilburn, Ga.
Article continues below advertisement
Offset started rapping over a decade ago. He cemented himself as a star-status musician with collaborations with 21 Savage, YoungBoy Never Broke Again, Metro Boomin, and many others.
He is best known for his work with Migos, the hip hop trio he co-founded with his cousin, Quavo, and Quavo's nephew, Takeoff, but he achieved considerable success as a solo artist and the creator of "Father of 4" as well. Offset's estimated net worth is $26 million (birthday gift excluded.)
Article continues below advertisement
The $2 million gift makes up less than 10 percent of Offset's $26 million estimated net worth. In other words, Offset is in the position to zealously throw single dollar bills for days on end at gleeful party-goers with no real consequence (at his birthday party, they showered guests with $100,000 in single dollar bills.) But let's face it, Cardi B's gift was quite the show-stopper.
Offset once promised fans he would drop (his first) solo album, "Father of 4," on his 27th birthday in 2018. The plans didn't come to fruition in the end. It's uncertain if he has new songs on the backburner that could be released in time for, say, his 31st on Dec. 14, 2022.
Article continues below advertisement
Cardi B also delivered a heart-felt speech before handing over the impressive gift at Offset's Sneaker Ball-themed birthday party.
Before handing over the check, Cardi B also addressed a few words to Offset, her partner and baby daddy.
"What do you like? Oh, that's right! Some schmoney [sic]! Babe, this is my birthday [gift] to you. I know you have a lot of business ventures coming in 2022, so bring out the birthday gift motherf--ker" Cardi B said. "That's $2 million ... Here you go!"
"I love you," she added.