These 'Selling Sunset' Season 5 Memes Are Beyond Hilarious to See
The wait for Selling Sunset Season 5 was unbearable, and as soon as it hit Netflix's streaming platform, millions of people tuned in to binge-watch each dramatic episode.
Article continues below advertisement
Hilariously enough, Season 5 is filled with endless moments that have instantly turned into memes across every single social media platform. Here's a round-up of some of the funniest memes surrounding Selling Sunset Season 5 as we impatiently wait for Season 6 to hit Netflix.
Memes about Christine Quinn will always be iconic.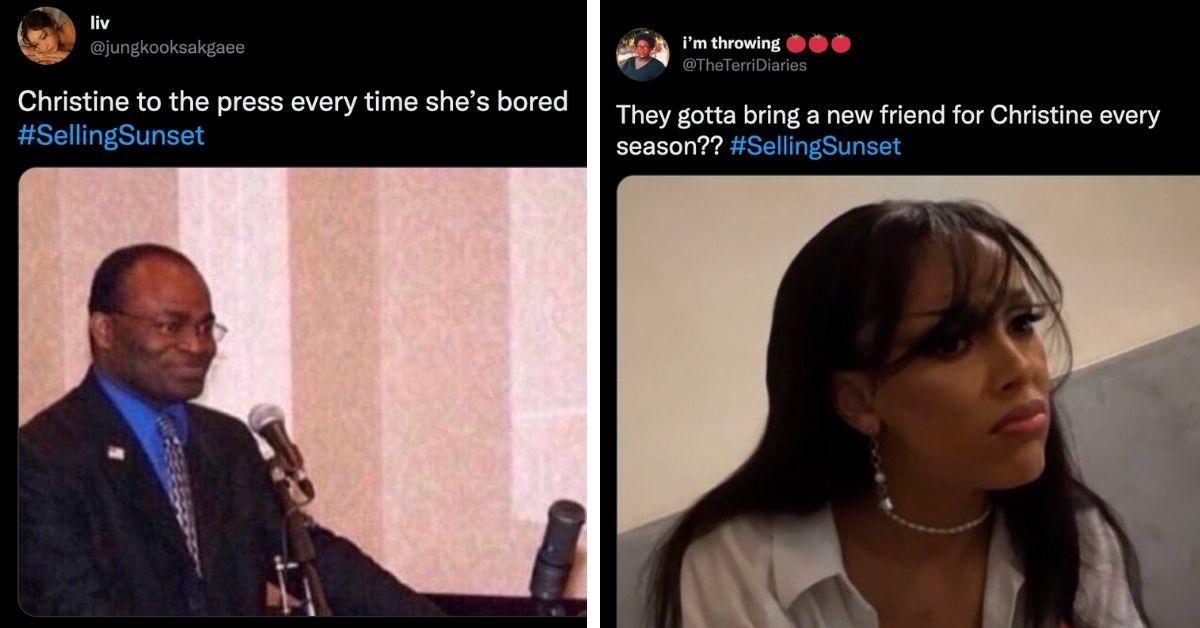 Whenever the Selling Sunset camera crew isn't around, it seems Christine Quinn is finding her way to media outlets to tell funny jokes and narratives about her reality TV co-stars. Every single time, the headlines she creates end up posing as issues between her and the other women at the Oppenheim Group.
Article continues below advertisement
It's also funny to note that in Season 4, Christine buddied up with Vanessa Villela before becoming friends with Chelsea Lazkani in Season 5. Twitter users want to know: Are the casting directors planning to hire new people to befriend Christine in every new season?
Article continues below advertisement
Jason Oppenheim and Chrishell Stause's relationship wasn't fun for everyone to see.
While a lot of people considered Jason Oppenheim and Chrishell Stause's former relationship to be absolutely adorable, other people found their love story to be totally cringe-worthy. Several people posted memes poking fun at the short-lived romance Jason and Chrishell shared throughout Season 5. Fortunately for anyone who wasn't a big fan of seeing Jason and Chrishell together, their relationship is now over.
Article continues below advertisement
Davina's getting mixed reviews from fans after Season 5.
Davina Potratz has improved majorly between Season 1 and Season 5 of Selling Sunset. She's way more likable now, and a lot easier to get along with! Since she wasn't always one of the friendliest women in the office, fans have joked around about her interactions with her co-stars in Season 5. Her choice to go back to the client that wanted her to sell a $75 million listing has also become a hilariously meme-able moment.
Article continues below advertisement
Emma is making sure the world knows about her empanada business.
If there's one thing Selling Sunset fans know for sure about Emma Hernan, it's that she's extremely proud of her empanada business. She talks about her business as often as she possibly can! Since Emma's all about being a girl boss, she loves bringing attention to her empanada business when the cameras are rolling. Fans think it's pretty funny that she consistently mentions the food she sells in almost every episode.
Article continues below advertisement
Chelsea's friendship with Christine is a hot topic of conversation.
Chelsea joined the Selling Sunset cast in Season 5 and instantly sparked up a friendship with Christine. A lot of fans are pointing out the fact that she's carrying out a friendship with Christine without taking Seasons 1 through 4 of the show into account.
Article continues below advertisement
Christine has a history of feuding with other women at the office, but Chelsea has seemingly turned a blind eye to all of that –– even though there are four seasons of proof on Netflix readily available. It's also fun to watch Chelsea and Christine dress up in some of the trendiest fashion looks ever. They're being compared to iconic characters from Clueless, one of the biggest movies of the '90s.