Seth Rogen and His Wife, Lauren Miller, Are High on Love — Inside Their Rom-Com-Tastic Romance
Seth Rogen and his wife, Lauren Miller, spend their days making movies, raising money for Alzheimer's research, and smoking the devil's lettuce.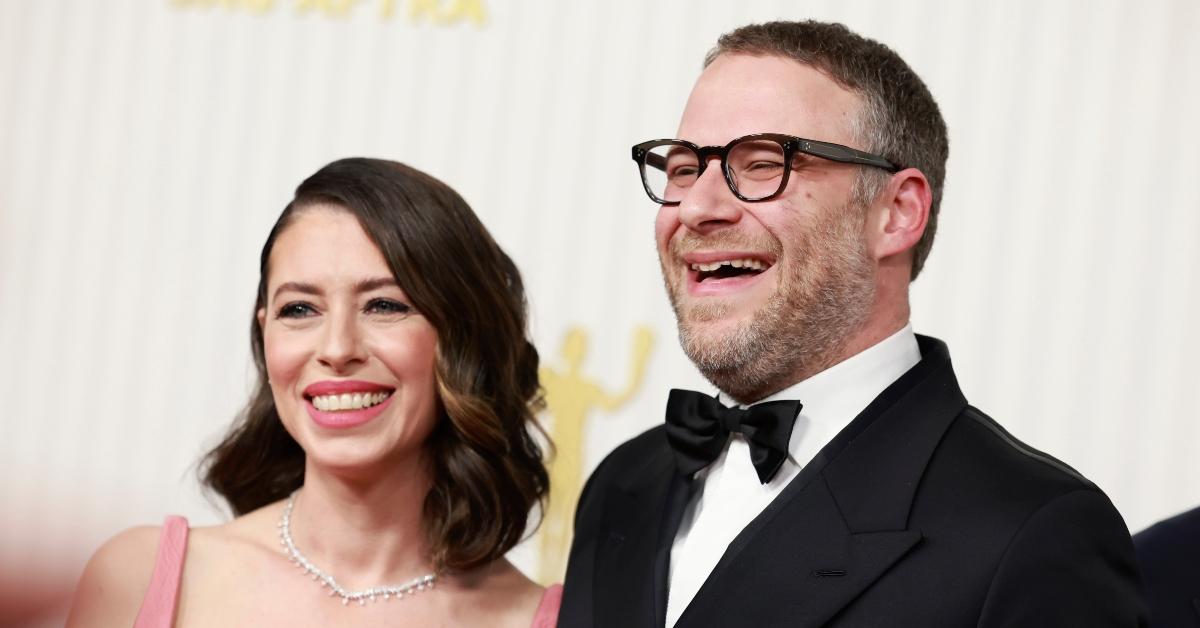 Known for his contagious laugh, his love of cannabis, and his impressive pottery skills (his "Gloopy" ashtrays and vases are trippy works of art), Emmy-nominated actor, writer, and executive producer Seth Rogen has impressed us with his comedy chops since his Freaks and Geeks days.
Over the years, the Platonic star has become an unconventional heartthrob of sorts, wooing viewers with his warm sense of humor and wittiness, not to mention his luscious curly locks (which now feature a sprinkling of salt and pepper).
Article continues below advertisement
Seth has called esteemed actors like Rose Byrne (Neighbors), Katherine Heigl (Knocked Up), and Charlize Theron (Long Shot) his onscreen love interests over the course of his film career, but thirsty fans are more curious about his real-life romance. We hate to be the bearer of bad news, but the Superbad funny guy is all wifed up, and has been since 2011. Here's a peek into Seth Rogen and Lauren Miller's sweet love story.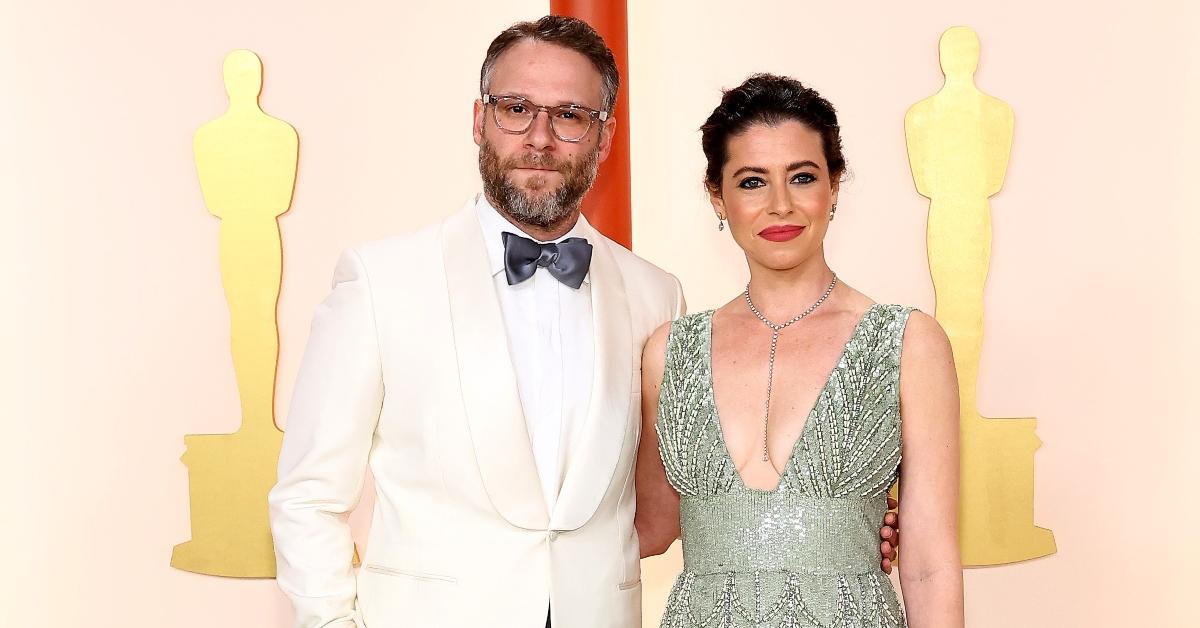 Article continues below advertisement
Seth Rogen met his now-wife, writer and actor Lauren Miller, at a party in 2004.
Seth met his real-life leading lady, Lauren Miller — who you may recognize from movies like For a Good Time, Call... and Phobias — at a birthday party in May 2004, per People.
"I first met my wife, Lauren, 10 years ago this May, at a birthday party at El Cid, a Spanish restaurant in Los Angeles," Seth wrote in a vulnerable piece titled "My Family Love Story, by Seth Rogen" for Glamour in 2014.
The two lovebirds may not have crossed paths if it weren't for Seth's screenwriter pal and Da Ali G Show colleague, Will Reiser (50/50).
"Will and I were friends, and he said that the girl he was dating had a friend, and that we might like each other, so we went to a birthday party and met," Seth told Haute Living.
Article continues below advertisement
Though Lauren confessed to Vulture that she "was really shy around guys" at the time, she was comforted by the fact that "he was also awkward and weird around girls."
Their initial encounter went so well that they decided to extend the night in the most magical, rom-com way imaginable: Grabbing grilled cheese sandwiches at 4:00 a.m. and playing Spanish Scrabble until dawn.
Article continues below advertisement
About a year after their first official date — which involved mini golf and a car accident — Seth and Lauren moved in together. By 2010, there was a ring on Lauren's finger. The proposal, however, didn't go as planned.
"I had more elaborate plans, but once I got the ring, I felt like I had a nuke hidden in my garage, and I had to unload it," Seth wrote in Glamour. "She was not entirely clothed at the time. I got down on one knee, and she said yes, and then we ate buffalo wings and watched Top Chef."
Another perfectly imperfect rom-com moment.
They officially tied the knot in October 2011 during an intimate vineyard ceremony, as reported by People. And yes, Seth's circle of comedian pals — including Jonah Hill (The Wolf of Wall Street), Adam Sandler (Hustle), and Paul Rudd (Ant-Man) — were in attendance.
Article continues below advertisement
Seth Rogen and Lauren Miller have ever-changing thoughts about having children.
Though Seth would undoubtedly be the chillest, coolest, most laid-back old man around, it isn't looking like the Rogens will become parents anytime soon, if at all.
In 2011, Seth jokingly told People that their dog — a Cavalier King Charles spaniel named Zelda — was "good for now."
Article continues below advertisement
In 2018, Seth and Lauren briefly entertained the idea of building a family.
"It's an active conversation. It's something we talk about," Seth told Dax Shepard (Baby Mama) during an appearance on his podcast, Armchair Expert. "I honestly think I would be good at it ... I have much stupider friends who are good parents."
The conversation shifted again during Seth's 2021 appearance on The Howard Stern Show.
"I don't know anyone who gets as much happiness out of their kids as we get out of our non-kids," he explained. "Like, we're f--king psyched all the time! We're laying in bed on Saturday mornings, smoking weed, watching movies naked. If we had kids, we could not be f--king doing this."
Article continues below advertisement
The only buns in the oven at the Rogen household are the cinnamon buns baking at 350 degrees when Seth and Lauren have the munchies. That's what we imagine, anyway.
Article continues below advertisement
Seth Rogen and Lauren Miller are collaborators in every sense of the word.
Since linking up in 2004, the powerhouse couple has worked together on a slew of well-received projects, including Superbad, Long Shot, Sausage Party, 50/50, Zack and Miri Make a Porno, and Like Father, which Lauren directed.
Aside from their Hollywood careers, Seth and Lauren started an Alzheimer's disease charity in 2012 called Hilarity for Charity.
During the beginning stages of their relationship — only having known each other for a few months — Seth and Lauren noticed signs of early-onset Alzheimer's in Lauren's mother. The duo felt helpless as Lauren's mother's health worsened.
Article continues below advertisement
"The depressing thing about Alzheimer's is you can't do anything a lot of the time. But just sitting there, watching it happen, was emotionally brutal. So we started Hilarity for Charity to raise money for research and awareness," he wrote in Glamour.
Whether they're collaborating to gift us with hilarious, thought-provoking films, or raising over $20 million "to support family caregivers, brain health education, and prevention research," Seth and Lauren inspire creatives and do-gooders around the world as well as each other.
Article continues below advertisement
The Better Off Single star inspired and encouraged her husband to start his smoking accessories and home goods brand, Houseplant — even pushing him to dip his toes in the pottery waters in the first place. But the muse herself has admitted that she's forever inspired by Seth's career ambition.
"I don't know anyone who works harder than my husband. He's so incredibly dedicated, but also does things always with a smile. He always has a good time. That was incredible for me to learn from," Lauren told IndieWire in 2012 while discussing her screenwriting debut, For a Good Time, Call...
Despite their busy work lives, Seth and Lauren find true happiness in lounging on the couch, watching TV, and gorging on junk food together.
"I don't have anything else I want to be doing other than sitting on a couch with Lauren eating [a] cheeseburger," Seth told GQ in 2021.
Now that's true love.