Megan Fox and Machine Gun Kelly Got Engaged and Then Drank Each Other's Blood
Machine Gun Kelly popped the question to Megan Fox and we just have one question. What does Megan Fox's engagement ring look like?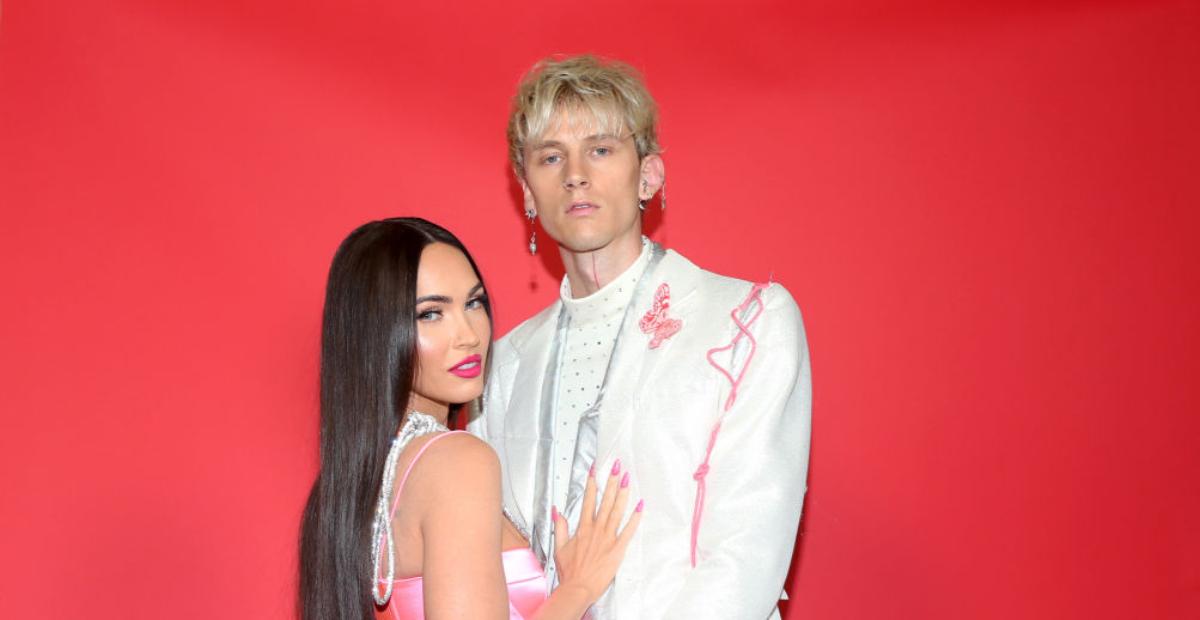 It finally happened. Machine Gun Kelly (a person who probably existed before he dated Megan Fox, but we honestly couldn't confirm this) popped the question to the Transformers star. The pair have been together less than two years, but it truly feels like a lifetime to those of us who have been obsessed with them (in that car accident kind of way).
This will probably be the wedding of the century, but for now we just have one question on our minds: What does Megan Fox's engagement ring look like?
Article continues below advertisement
What does Megan Fox's engagement ring look like?
Megan and MGK (real name: Colson Baker) have the kind of intense public relationship we haven't seen since Billy Bob Thornton and Angelina Jolie. Billy Bob and Angelina were married from 2000 to 2003. It was a pretty short blip, but we all seem to remember one thing: the fun fact that they wore necklaces with vials of each other's blood. If someone told us that Megan Fox is currently wearing Kelly's wisdom tooth on her left hand, we'd believe it. They have that vibe.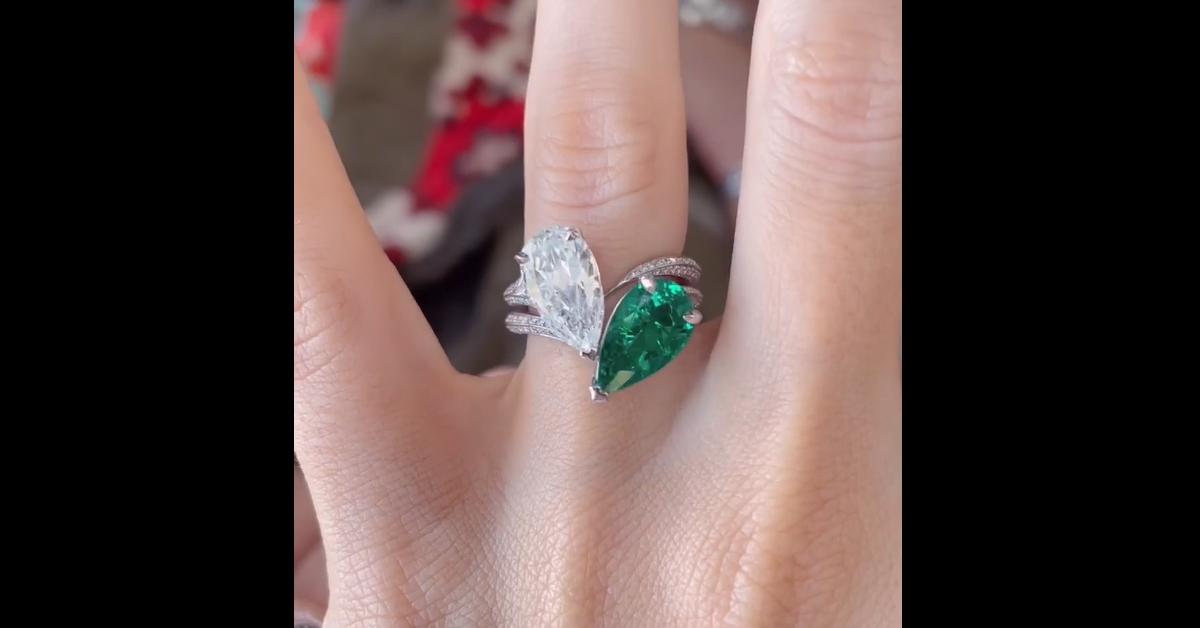 Article continues below advertisement
Thankfully, it's not his wisdom tooth. In fact, on Jan. 12, MGK posted a video of the ring on his Instagram, and it's legit stunning. He designed the ring himself with the help of British jewelry designer Stephen Webster. The ring is comprised of two large stones set on a magnetic band of thorns. The emerald is Megan's birthstone, and the diamond is his.
In his words, the band of thorns "draws together as two halves of the same soul forming the obscure heart that is our love." That's a lot to put on a ring!
At the same time, Megan posted a video of the previous day's proposal on her own Instagram feed. In the caption, she explained that the proposal took place under a banyan tree — the same banyan tree under which they fell in love in July 2020. (A quick Google search tells us that banyan trees are in Pakistan, India, or Florida. Something tells us they're in Florida.)
Article continues below advertisement
In the video, we see the couple standing together before Kelly gets down on one knee. Megan drops to her knees as well, hands over her mouth, as she says yes. In the caption, Megan goes on to say neither of them knew the challenges they would face together in such a small amount of time, and that they "were unaware of the work and sacrifices the relationship would require from us but [were] intoxicated off of the love."
She finishes her caption with "...and then we drank each other's blood." See, we told you!
Article continues below advertisement
Megan Fox and Machine Gun Kelly wedding predictions
Like their relationship, we predict this wedding will be absolutely bonkers and over the top. They love to coordinate styles, so we imagine her wedding dress and his tuxedo will be no exception to that rule. When they attended the MTV Video Music Awards in September 2021, MGK wore a red glitter suit while Megan had on a fairly transparent dress. She seems to favor more form-fitting dresses and, with her body, who on this Earth could blame her.
Article continues below advertisement
As far as guests go, we assume family from both sides will be in attendance. Megan has been pretty open about the fact that she doesn't have a lot of friends. Via E News, Megan revealed to Cosmopolitan in 2014 that "I don't have a ton of female friends—I have one. Her name is Mindy and she's a facialist."
However, she's since been spotted spending quite a bit of time with Kourtney Kardashian. Kourtney was recently engaged to Travis Barker, so... double wedding?
For Kelly's part, the performer has a fairly strong bromance with SNL cast member Pete Davidson. The two met on the set of Nick Cannon's Wild 'N Out and they've been friends ever since. In March 2019, the two participated in Vanity Fair's Lie Detector Test and it was super adorable. It's clear they are the bestest of best friends. Don't be surprised if Pete is his best man. (Which, of course, would mean Kim Kardashian would also be in attendance.)
Regardless, we definitely plan to crash this wedding, which will probably be in a cemetery.