'Love Is Blind' Fans Will Be Shocked to Learn About SK's Philandering Ways
Who did SK cheat on Raven with? The 'Love Is Blind' star reportedly cheated on his second-time fiancée with a few women.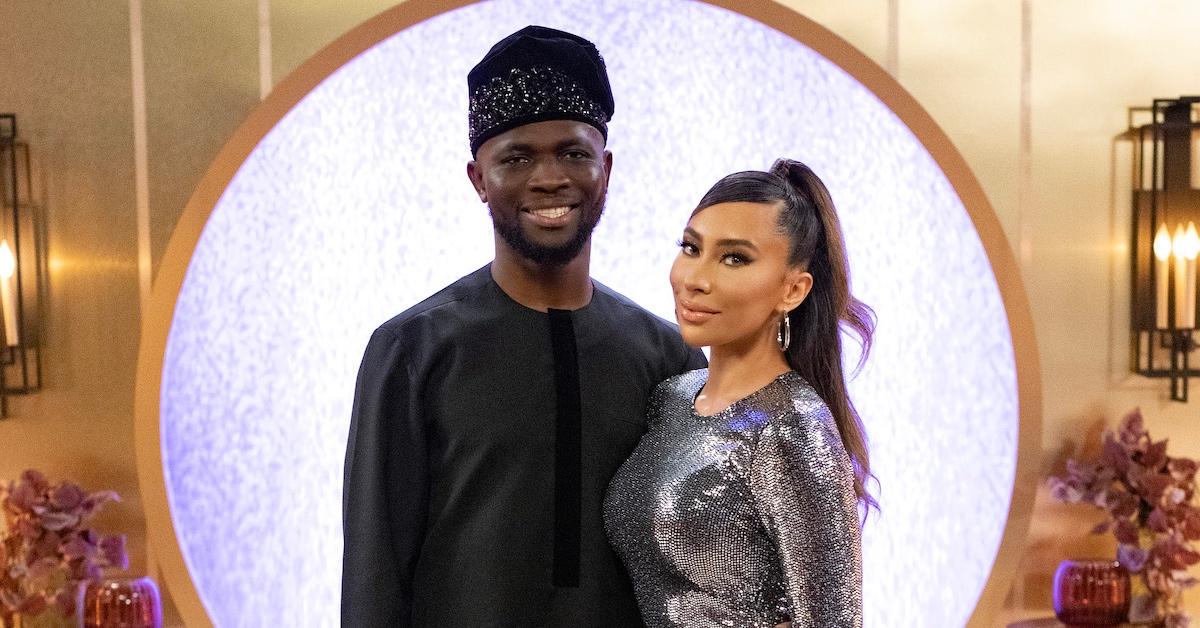 It's been a few days since the Feb. 10, 2023 premiere of the Love Is Blind: After the Altar special for Season 3. Of course, the world already knows most of how the couples and singles are doing after the season, thanks to the Love Is Blind Season 3 reunion.
However, the After the Altar special served up some extra tea about the couples, including details regarding Raven Ross discovering that Sikuru "SK" Alagbada cheated on her, leading to their breakup. Of course, folks who have been keeping up with the drama online are aware that multiple women stepped forward claiming to have had a relationship with SK.
Article continues below advertisement
Truth be told, clout is a hell of a drug. Some people will do anything for 15 seconds of fame, even if that means hurting someone. So, it's always best to take cheating rumors with a grain of salt.
However, some of the women's claims proved to be quite substantial as receipts made their way online.
So, who did SK cheat on Raven with? Here's everything that we know.
Article continues below advertisement
Who did SK cheat on Raven with? TikToker Hannath Beth shared receipts.
Alexa, play Beyoncé's "Irreplaceable."
Yes, we're taking it back with our song choice as SK's behavior is certainly fitting to the theme.
In a now-deleted TikTok, influencer Hannah Beth shared that she and SK were in an on-again-off-again relationship that spanned from 2019 to 2022.
In the video, she gave viewers a comprehensive rundown of her time with SK. Hannah started by sharing that she and SK were friends-turned-lovers who hung out a lot and attended various events from weddings to birthday celebrations with each other.
However, she said that they broke up and remained good friends.
As the video continued, Hannah shared various photos of herself with SK attending multiple events.
Article continues below advertisement
Then, Hannah says that SK invited her to go to Ibiza in late July 2021 — and provided text messages and location stamps as proof — which is when things started to get murky.
However, once she asked Sk to see his phone to send herself pictures, she noticed messages from a person with their name listed as "fiance."
Article continues below advertisement
Hannah then shared that she confronted SK about the messages and his fiancée at dinner. SK allegedly told her that it was for "LIB and that he was just friends with [Raven] and that they were doing it for money."
Although Hannah didn't fully believe him, she let it go.
Article continues below advertisement
However, Hannah claims she was still uneasy about it so she confronted SK again. She claims that he told her she could meet Raven, and she agreed to do so.
Hannah then found Raven on Instagram, followed her, and liked some of her photos.
As Hannah and SK were waiting for an Uber, she glanced at his phone and claimed she saw Raven text SK inquiring about her with a photo of Hannah's IG page.
SK allegedly told Hannah "I told you I was going to handle it."
Hannah shared that she still felt weird about it but decided to let it go again. In May 2022, she invited SK on a Cabo trip. She says that he paid for their tickets.
SK also went to visit Hannah in August of that year, per Hannah's text message receipts. SK also invited her to Miami that September, but the trip fell through.
Article continues below advertisement
Thanks to Bartise Bowden (via ZacharyReality) we learned that Love Is Blind Season 3 was filmed in May 2021, After the Altar was filmed in August 2022, and the reunion was filmed in October 2022.
So, judging by Hannah's timeline of her time with SK, it appears that he indeed cheated on both women.
Article continues below advertisement
SK also allegedly cheated on Raven with a TikToker named Emm.
TikToker @emmwho9 first shared receipts in a now-deleted video that she and SK went out on a date while he was engaged to Raven.
"Put a finger down if you went on a date in April with a guy from Hinge and then you see that he's actually on the show Love Is Blind and that he met you after the show was filmed, but is still with the same girl right now," she said before putting her finger down.
Article continues below advertisement
As fans challenged Emm's claims, she posted another video filled with text messages and videos of the two spending time with one another.
One text message exchanged showcased SK referencing that he talked with Em on Hinge.
"What's up Em…it's SK from Hinge," SK wrote.
"Hello. Hi," she responded.
In another text, SK wrote, "I'm honestly ready to plan our ramen date because I'd hate to have to go without you lol. When are you free this week?"
Interestingly, some fans have taken Emm's account with a grain of salt since some of her text messages seemed to be missing context as if she deleted messages.
On the flip side, others believe the proof is in the pudding.
Article continues below advertisement
Raven revealed that she and SK broke up after getting engaged on 'After the Altar.'
Poor Raven! On After the Altar, fans witnessed SK ring shopping with his brother AB for a new ring for Raven.
AB shared how surprised he was that SK was able to rebuild with Raven.
As the episode continued, SK surprised Raven with a proposal that she accepted. Unfortunately, once the special concluded, Raven tearfully shared that she and SK went their separate ways.
Article continues below advertisement
"My world is completely different because SK cheated on me, and our relationship is now over," Raven says. "I really was so invested in the person that everyone saw and everyone loved. That's the person I saw and I loved every day, too. So to see everything that has happened since then is so hard."
Raven also shared that she still believes in love despite being heartbroken.
Love Is Blind Season 3 is available to stream on Netflix.