Yes, Megan Thee Stallion Is Officially Part of the MCU!
Who does Megan Thee Stallon play in 'She-Hulk: Attorney at Law'? Read for everything we know about the rapper's role in the MCU so far!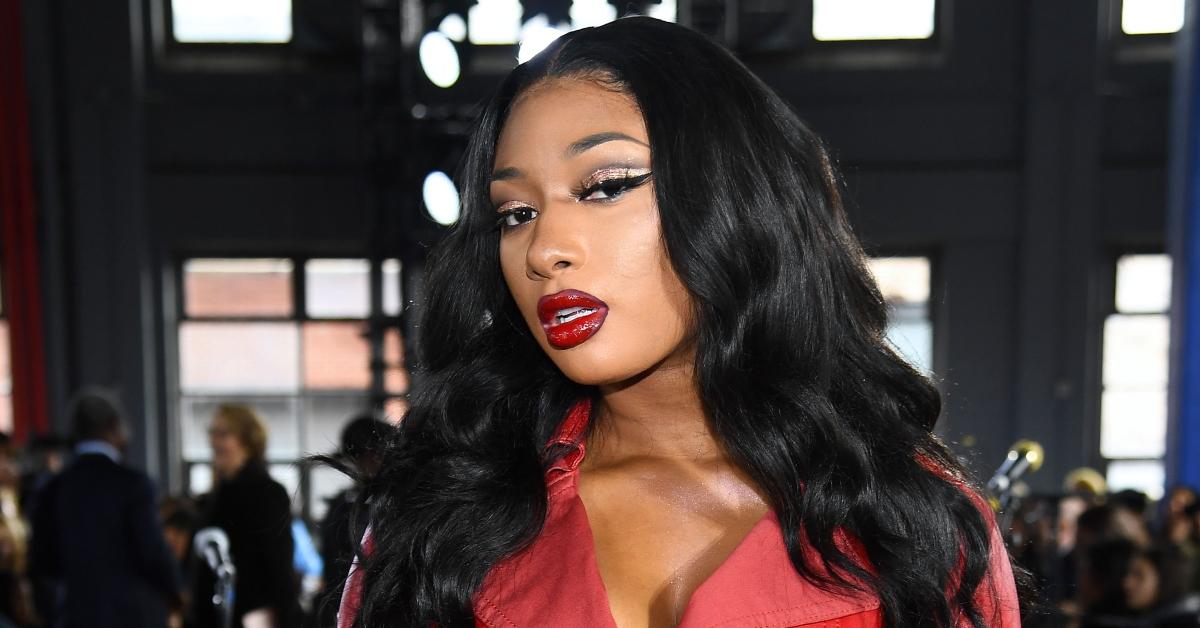 Since recording artist Megan Thee Stallion rose to popularity nearly a decade ago, her life has been an emotional rollercoaster, to say the least.
Sadly, in March of 2019, Megan's mom died of a brain tumor. Later, she found herself in the middle of a criminal investigation after she suffered a gunshot wound to her foot. To make matters worse, Megan is embroiled in an ongoing legal battle with her former record label.
Article continues below advertisement
All things considered, it's fair to say that this has been one helluva decade for Meg — but things are definitely looking up for the entertainer. Along with releasing a new album, she was featured in a role in the Disney Plus series She-Hulk: Attorney at Law.
But who does Meg Thee Stallion play in the series? Check out the details on her cameo!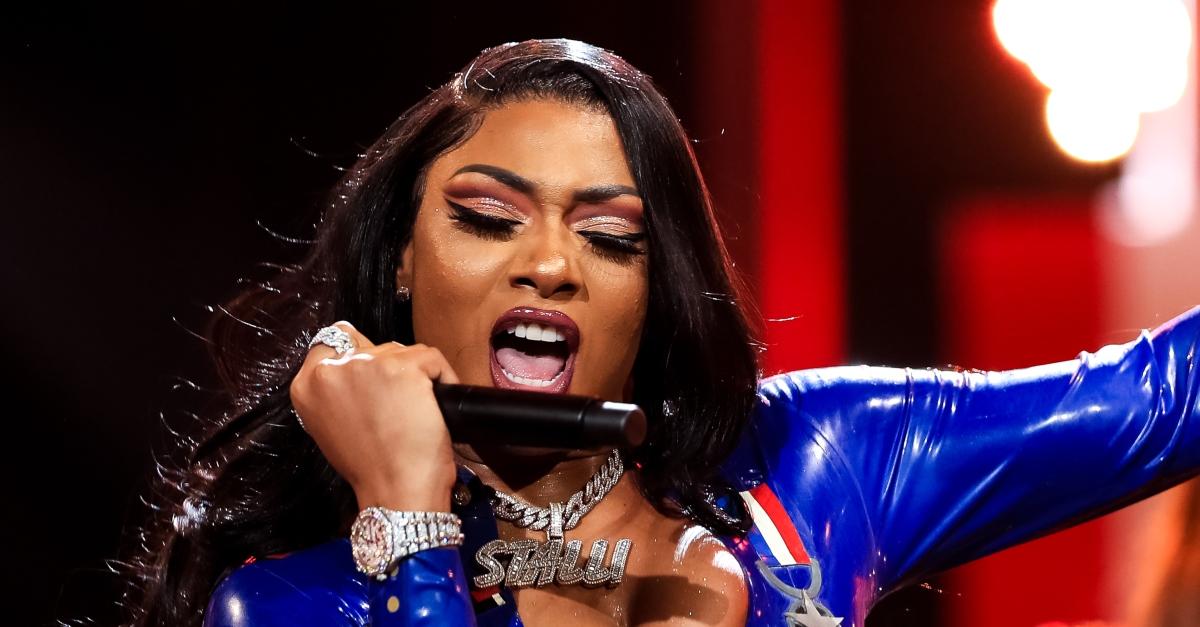 Article continues below advertisement
Who does Megan Thee Stallion play in 'She-Hulk: Attorney at Law'?
Meg Thee Stallion and the Marvel Cinematic Universe have officially collided. The Cut previously confirmed the news that she would appear in the MCU.
In an interview with the publication, Meg expressed that her dreams far surpass her current success. "I don't feel like I'm only going to be an actress — I feel like I'm also going to be a director and I'm also going to be a producer."
Josh Segarra, who plays Augustus "Pug" Pugliese, Jennifer Walters' co-worker, teased her role in an interview with Deadline.
"A gentleman is being catfished by somebody that lives in another universe, let's say. Another world," he told the outlet. "So, he thinks he's dating one person, and he's not, so we need to help him figure that out."
Josh also revealed that said catfisher is impersonating a recording artist — and you can probably guess who it is.
Article continues below advertisement
In the B-plot Episode 3 of She-Hulk, Jen's former colleague and sexist a-hole Dennis Bukowski (Drew Matthews), is represented by Jen's law firm, GLK&H, in a case involving his New Asgardian ex-girlfriend, Runa (Peg O'Keef). During their relationship, the light elf posed as Megan herself in an effort to illicit favors and gifts from Dennis. Jen agrees to be a witness in Dennis' favor, albeit revealing how delusional he is to a formal jury. She helps him with the case to the tune of $175,000.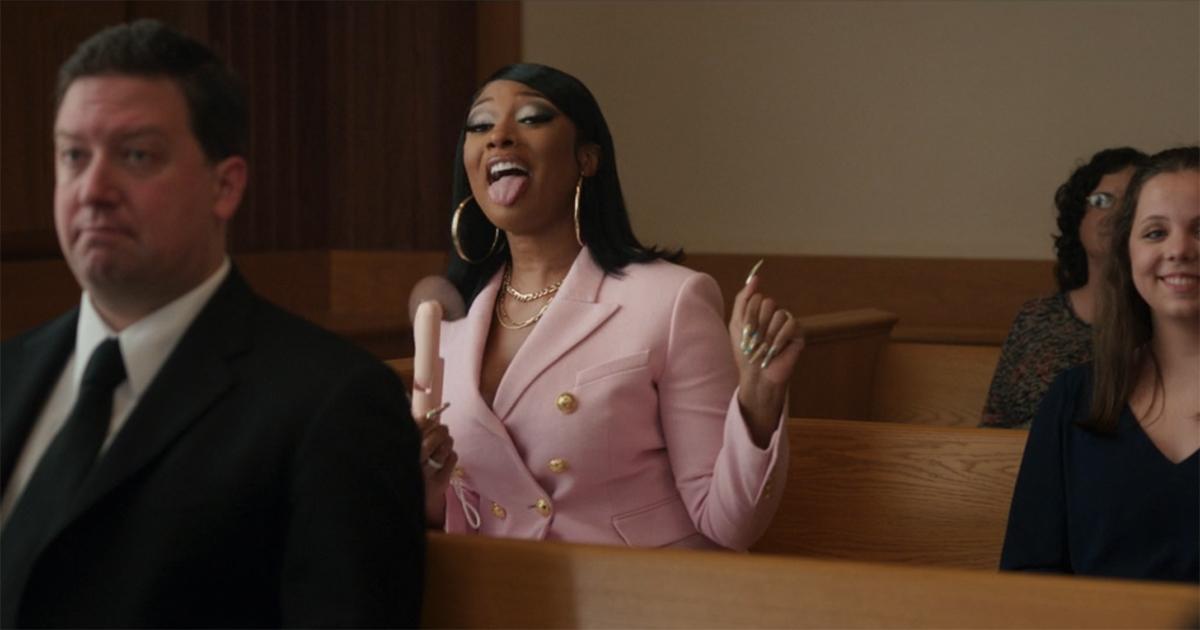 Article continues below advertisement
Megan not only briefly plays Runa impersonating the Grammy-winning rapper, but Megan also appears in court herself to witness Jen's testimony. She likely served as a witness, considering her likeness was being used in a defamatory manner.
In a mid-credits scene for the episode, it is also revealed that Jen is able to sign Megan on as one of her clients for GLK&H.
Oh, and they also twerk together to celebrate the deal.
Fans react to Megan Thee Stallion's casting in 'She-Hulk' on Twitter.
It's no secret that both Meg and series lead Tatiana Maslany are, as some might say, thicker than a Snickers. With this said, viewers can't wait to see them together onscreen. "Meg and She-Hulk twerking... gonna sound like two basketballs bouncing in an empty gym," one fan of the series joked on Twitter.
This isn't the only acting gig Meg has secured in the last few years. In August, she starred in an episode of the hit STARZ series P-Valley.
Article continues below advertisement
Before that, she also made appearances in Sarah Cooper: Everything's Fine and NBC's Good Girls. In addition to being cast in She-Hulk, she also signed on to be part of A24's musical comedy, F***cking Identical Twins with Nathan Lane, Megan Mullally, and Bowen Yang.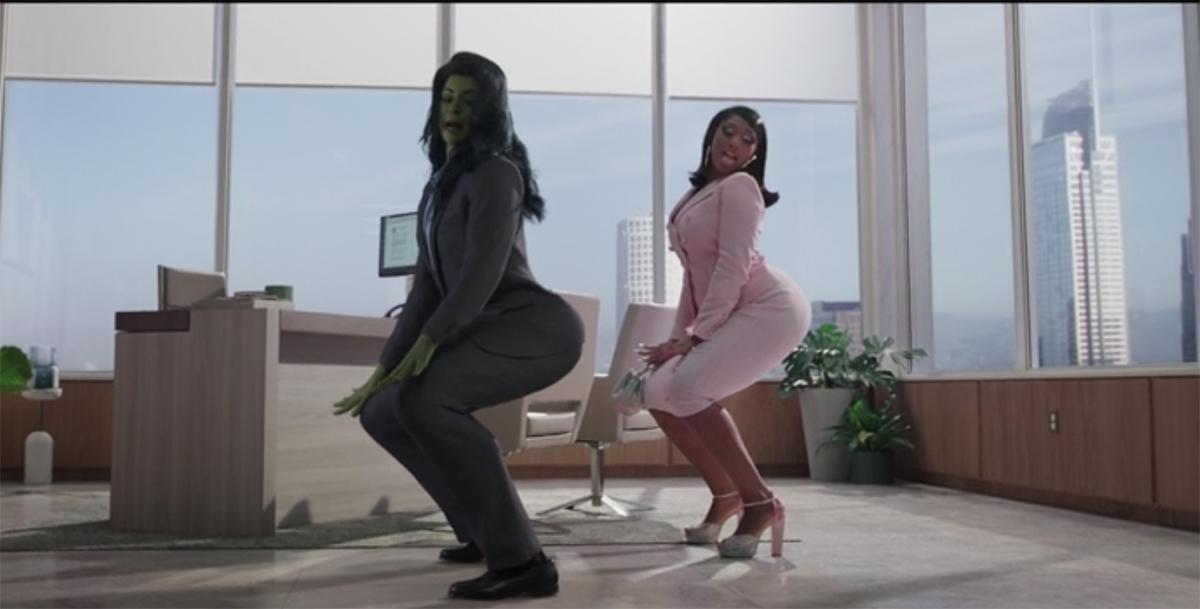 Will Megan Thee Stallion be back in 'She-Hulk'?
It's reasonable to think that Jen could work closely with Megan once more in the future, should the musician require her legal expertise. Does that mean that she could come back in a future episode? It's not impossible, but the jury's still out. Hopefully, She-Hulk will have plenty more reasons to have a twerk-off with Megan in another installment.
New episodes of She-Hulk: Attorney at Law premiere every Thursday on Disney Plus.