'And Just Like That': Carrie and Aidan Are Back Together, and I'm Not Rooting for Them
Carrie and Aidan reunite in Season 2 of 'And Just Like That,' but Carrie's past behavior during their relationship may still cause problems.
Article continues below advertisement
But for those of us, like myself, who have watched every single episode of SATC and its movies, Carrie and Aidan getting back together after all this time may not be the best idea.
That's because deep down, I don't believe Carrie ever deserved Aidan — even after all 20 years.
Article continues below advertisement
Why Carrie never deserved Aidan — A look back at her 'SATC' treachery.
I want to start this take on Carrie and Aidan's relationship by first saying I like Carrie's character, and I am only dragging her for her how terribly she treated Aidan from the time they met. Aidan should also feel special because caping for men isn't exactly my forte, but he deserves it!
Carrie lied to Aidan from the beginning of their relationship, a move now considered a big red flag. First, she lies about smoking to impress Aidan in S3, Ep. 5, "No Ifs, Ands, or Butts," Aidan eventually finds out, but still chooses to continue seeing her.
Article continues below advertisement
Throughout their relationship, Carrie compares Aidan to her previous love, Mr. Big (Chris Noth). After Aidan introduced her to his parents, she used the kind gesture to express her desire for Big to have introduced her to his parents in a previous season. But the ultimate betrayal on Carrie's end happened in S3, Ep. 9, "Easy Come, Easy Go."
Article continues below advertisement
During the episode, Carrie goes to a hotel. At the same time, a furniture designer, Aidan reupholsters her apartment's floors (I'm side-eyeing Carrie again for not noticing how lucky she was to have a live-in handyman in NYC, of all places!). While she's at the hotel, Big follows her and says he wants her back. Then, after a steamy elevator make-out session, Carrie and Big start an affair while she's with Aidan, and he's with his wife, Natasha (Bridget Moynahan).
Although I commend my girl Carrie for ultimately confessing her and Big's rendezvous to Aidan, it should've never happened because she was supposed to be over Big, who was always considered the "bad boy" to Aidan's "good guy."
Article continues below advertisement
Then, in Season 4, Carrie annoyed me again after she emailed Aidan because she "misses him" and tries to overlook that she broke his heart — until he reminds her by yelling it in the street. However, the couple briefly reconnected and even got engaged. But again, Carrie's betrayal ruined the relationship, as Aidan admitted he had resorted to marriage, hoping she won't cheat on him again.
Article continues below advertisement
Carrie will likely break Aidan's heart on 'And Just Like That.'
As much as I appreciated seeing Carrie and Aidan reunite without their "Big" problem in Season 4, I remember watching it and thinking Aidan shouldn't have returned. I secretly hoped he would find someone else and would avoid Carrie at all costs.
Eventually, my wish came true when Aidan revealed in SATC Season 6 that he married a woman named Kathy, who seemingly wanted what he was looking for with Carrie. However, and now Aidan is back for more heartbreak in AJLT since he and Kathy are divorced.
Yes, Carrie has gone through a significant loss with Big, but that doesn't necessarily mean she, as a character, has evolved. It actually means she probably should continue being by herself moving forward.
Article continues below advertisement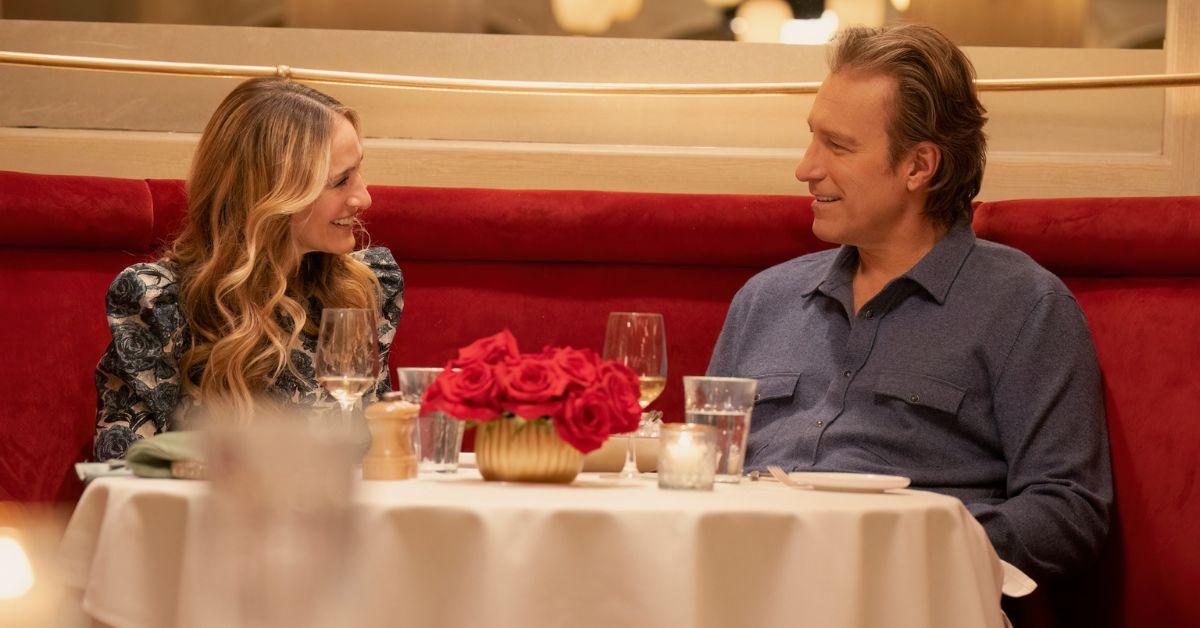 We saw a glimpse of Carrie's post-Big single life in the early episodes of AJLT Season 2. And let's just say it; single Carrie is a bit of an "A--h—." I mean, she couldn't even handle seeing her casual fling Franklyn (Ivan Hernandez) outside of their routine.
Article continues below advertisement
Carrie also dumped another love interest, George Campbell (played by Peter Hermann), because he has a demanding job and an even more demanding business partner. Name a middle-aged white man who doesn't, Carebear!
With all the evidence of Carrie not getting dating, it's easy to think she needed a Prince Charming like Aidan. She had her prince and ruined it. What makes fans believe it will end well on And Just Like That? I don't see it happening, but I will be tuned in!
You can stream new episodes of And Just Like That Thursdays on Max.