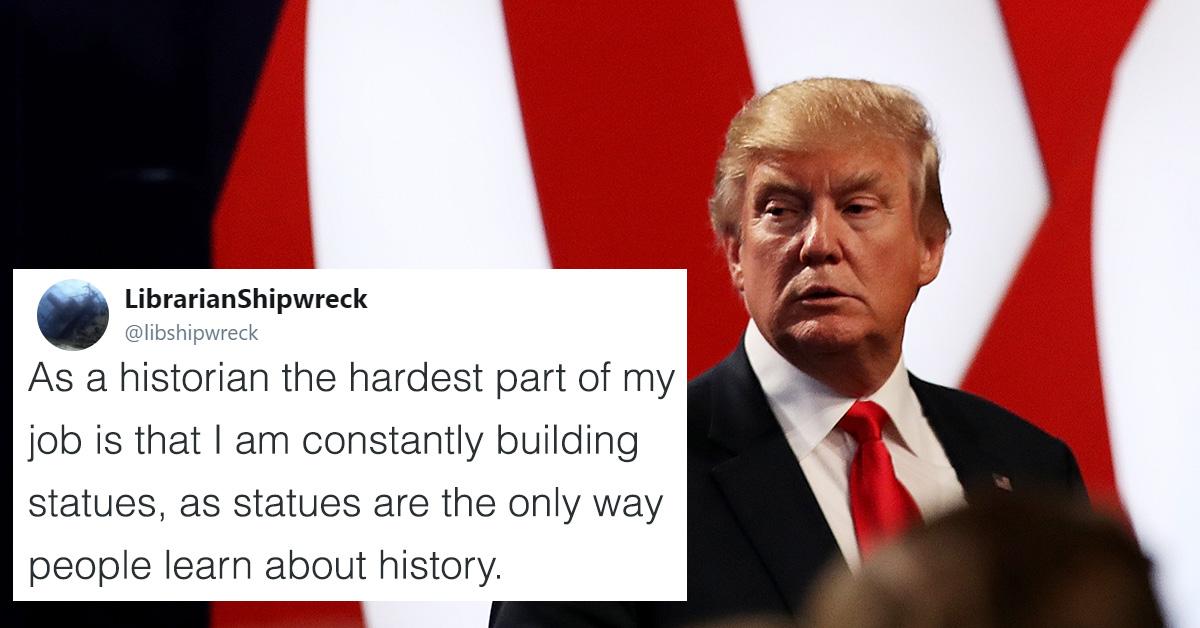 Historian Blasts Trump Over Confederate Statues In Hilarious Twitter Rant
By Mark Pygas
Donald Trump responded to the events in Charlottesville on Thursday on Twitter, calling the removal of Confederate monuments by several local governments "foolish," and once again comparing Confederate general Robert E Lee to the likes of George Washington and Thomas Jefferson. He conveniently left out the fact that Robert E. Lee supported a bunch of traitors and actively led armies to kill soldiers who were battling to keep the "United" part of the "United States" intact. So yeah, maybe Lee is a teensy, tiny bit different than historical figures like Washington and Jefferson.
His stance has caused controversy among those who believe that the monuments are glorifying the horrors of slavery and the Confederate generals who fought against the United States to preserve slavery. Which is understandable, because slavery was easily the darkest thing that this country, as a government, propagated and profited from.
One person who doesn't seem to agree with the president is Twitter user and historian Librarian Shipwreck. They took to Twitter yesterday to highlight the hypocrisy around the argument in a hilarious series of tweets...
People found his rant pretty hilarious, but probably only because comedy almost always seems to hit hardest when there's an absolute truth involved.
History is cool. But what would be cooler is if we had a President who denounced racists and racism altogether and didn't bank on getting support from bigots who blame other people for their problems instead of taking some personal accountability for why they aren't happy. He's been elected President and there's still so much rage on the side of the ultra-conservative right win nutjobs who are perpetrating acts of violence and spewing hatred all over the country. The fact they so vociferously defend confederate statues is crazy too.