'Don't Look Up' Has Fueled Plenty of Hilarious Memes — Here Are Our Favorites!
Netflix's original film 'Don't Look Up' is full of meme potential, and viewers are taking advantage of it. Here are the best memes about the movie.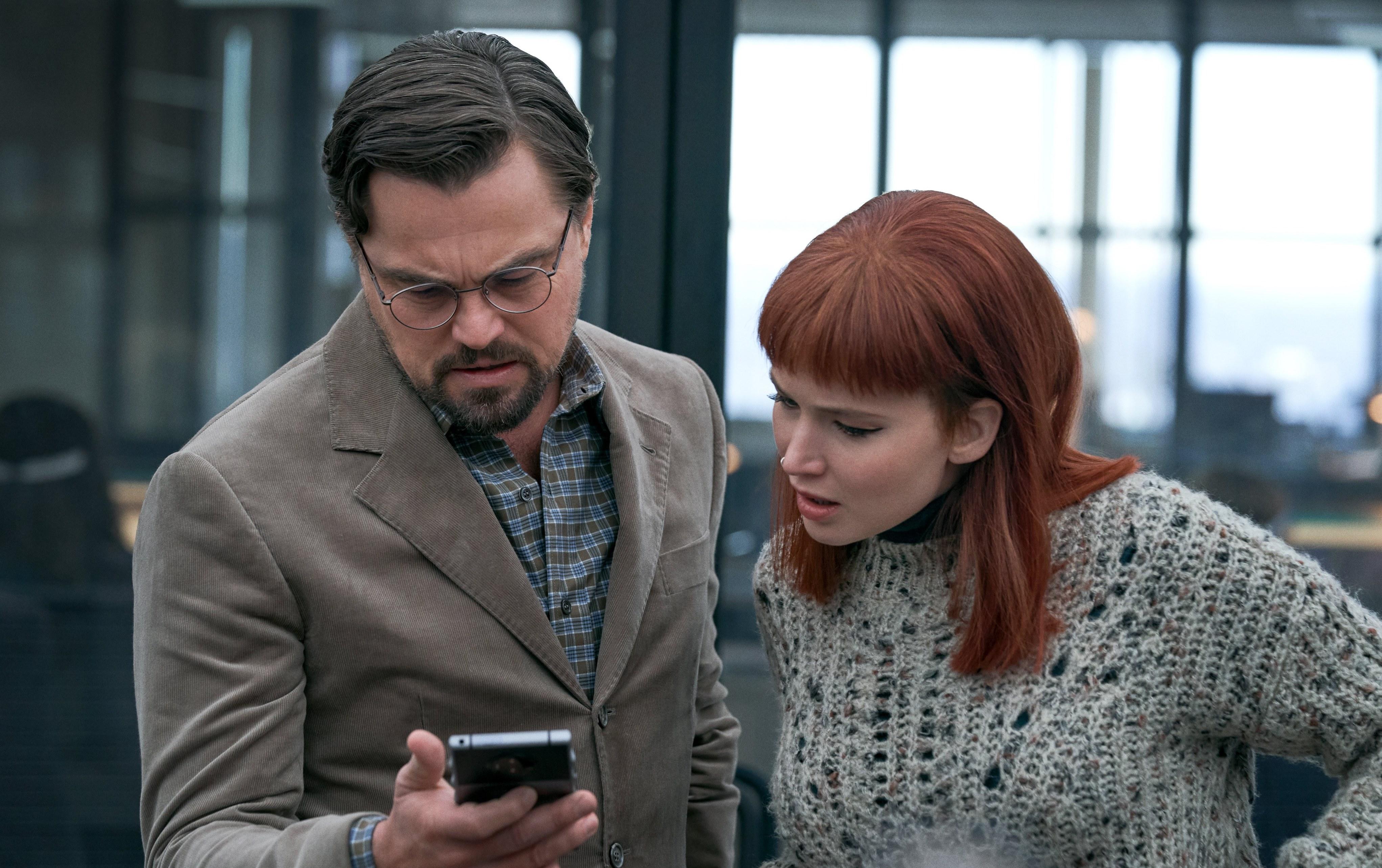 The latest original film on Netflix is Don't Look Up, a satirical sci-fi from Adam McKay. Starring Leonardo DiCaprio as Dr. Randall Mindy and Jennifer Lawrence as Kate Dibiasky, the film follows the pair as they travel across the United States to warn the public about an impending comet that will destroy human civilization.
Article continues below advertisement
After viewing the two-hour comedy, we can't get over the meme potential Don't Look Up has, and thankfully, other viewers thought the same thing. While most took political turns with their memes, we decided to look at the more humorous and character-driven memes. Check out our favorites below!
Leo's real-life romantic partners just keep on getting younger and younger.
If you don't know Leonardo DiCaprio's dating history, we'll catch you up: The 47-year-old actor obviously refuses to date a woman over the age of 25.
In Don't Look Up, it's bizarre for us to see that Leo can have a wife his own age and children older than his real-life partners. Plus, Ariana Grande's character Riley calling him an "old f--k" was the best thing to ever happen to him.
Article continues below advertisement
It looks like Gal Gadot's "Imagine" video is getting the recognition it desired.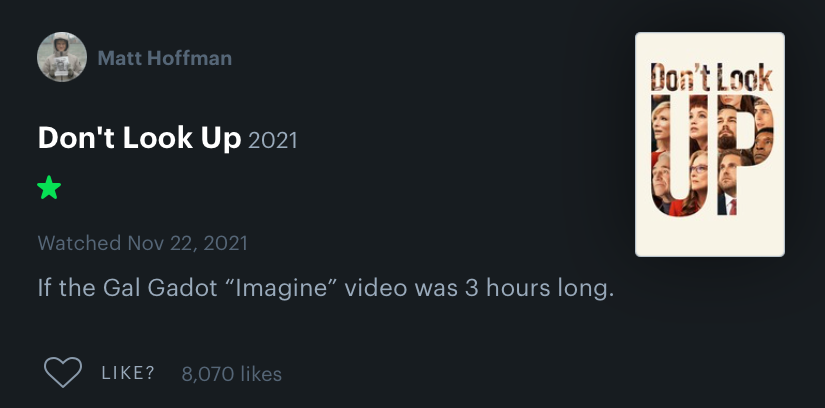 Yeah, we still have PTSD from this video. Gal Gadot really thought she and her celebrity friends were doing something by sharing this cringey video at the start of the worldwide public health crisis.
This Letterboxd review is spot on, as Don't Look Up basically served the same purpose with an ensemble of A-listers making millions off of issues we are all experiencing.
Article continues below advertisement
How cheap was the hair and makeup budget for 'Don't Look Up'?
Either the hair and makeup budget were severely cheap, or the team decided to give Jennifer Lawrence this god-awful wig. We hope it's the latter because it suits her character, Kate, very well.
But, we have to say, this cute cat works the wig way better than Jen, and their performance with its tail wagging and blank stare is Oscar-worthy. Great job, kitty!
Article continues below advertisement
To the guy in the Dunkin parking lot, you'll always have a place in our heart.
If Adam McKay requested to see a tweet that accurately describes Timothée Chalamet's character in Don't Look Up, we would show him this one.
Yule is such a small part of the movie, but he leaves such a lasting impact on the story, and we will never forget his character (just like the guy at Dunkin we saw for 0.5 seconds).
Article continues below advertisement
If Leo doesn't have a meltdown in a movie, we don't want it.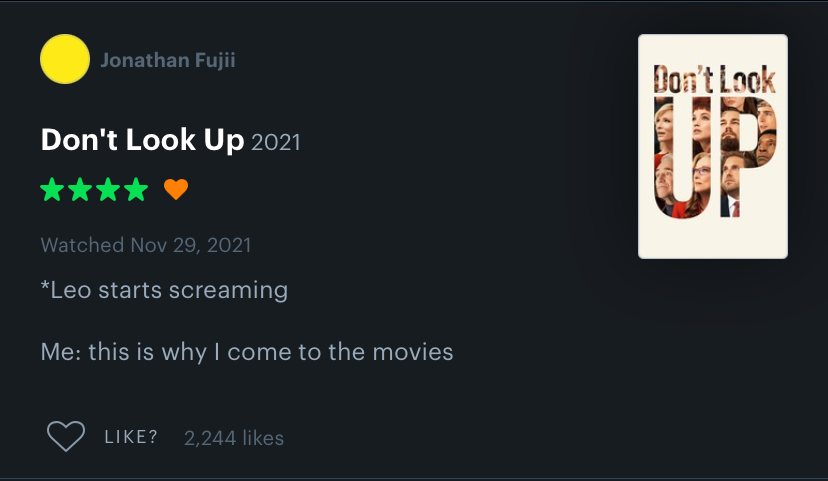 Is it really a Leonardo DiCaprio movie if he doesn't have a meltdown? We don't think so.
Leo must have a contractual obligation that he has to scream at the top of his lungs in every one of his projects, and frankly, we love to see it. Our life dream is to be there in person when he breaks down on camera; it's probably so incredible to see.
Article continues below advertisement
The world is ending? Well, at least we can spend our last moments with Ariana!
We can't even deny that we would do the same thing. Come on — the world is ending. So, why not do something fun to live out your last few moments doing something you enjoy, like seeing Ariana Grande live in concert? You certainly won't regret it.
Article continues below advertisement
Leo definitely watched 'The Big Bang Theory' to prepare for his role as Dr. Mindy.
Wait, was that Leonardo DiCaprio or Johnny Galecki in Don't Look Up? We know — the resemblance is uncanny.
Honestly, we wouldn't be surprised if Adam McKay suggested Leo watch a few episodes of The Big Bang Theory to get into character. Or maybe Leo liked the show and decided to base Dr. Mindy on his favorite Big Bang character, Leonard Hofstadter.