Meghan Markle's Awkward Curtsy Might Be the Most Divisive Moment in 'Harry & Meghan'
Everyone is talking about Meghan Markle's curtsy for the queen during their first meeting. Let's break down what happened and what people are saying.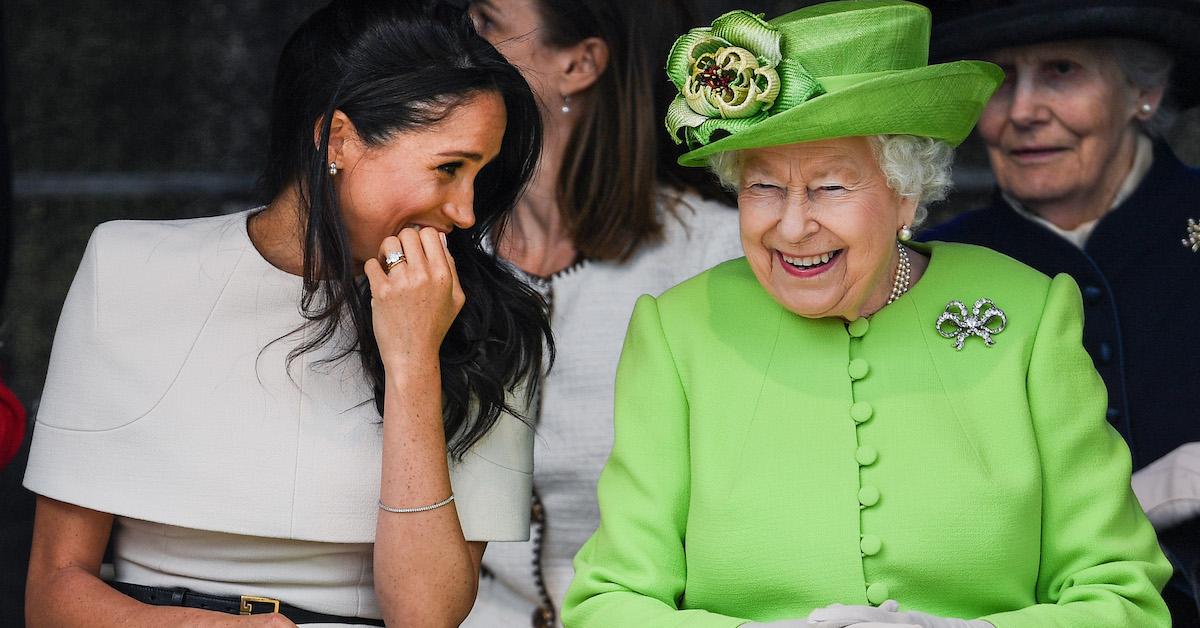 There's a lot to dissect about Netflix's Harry & Meghan. One moment that people are buzzing about online has to do with Meghan Markle's curtsy to the late Queen Elizabeth II. Let's just say that the ex-royals recounting the first time Meghan met the former monarch has left folks extremely divided.
Article continues below advertisement
Some fans are defending Meghan's reaction to having to bow to her boyfriend's grandma. Others feel deeply offended by Prince Harry's partner not taking the moment more seriously. Read on to relive the seemingly-awkward encounter and decide where it sits with you.
For Meghan Markle, curtsying was clearly a foreign concept.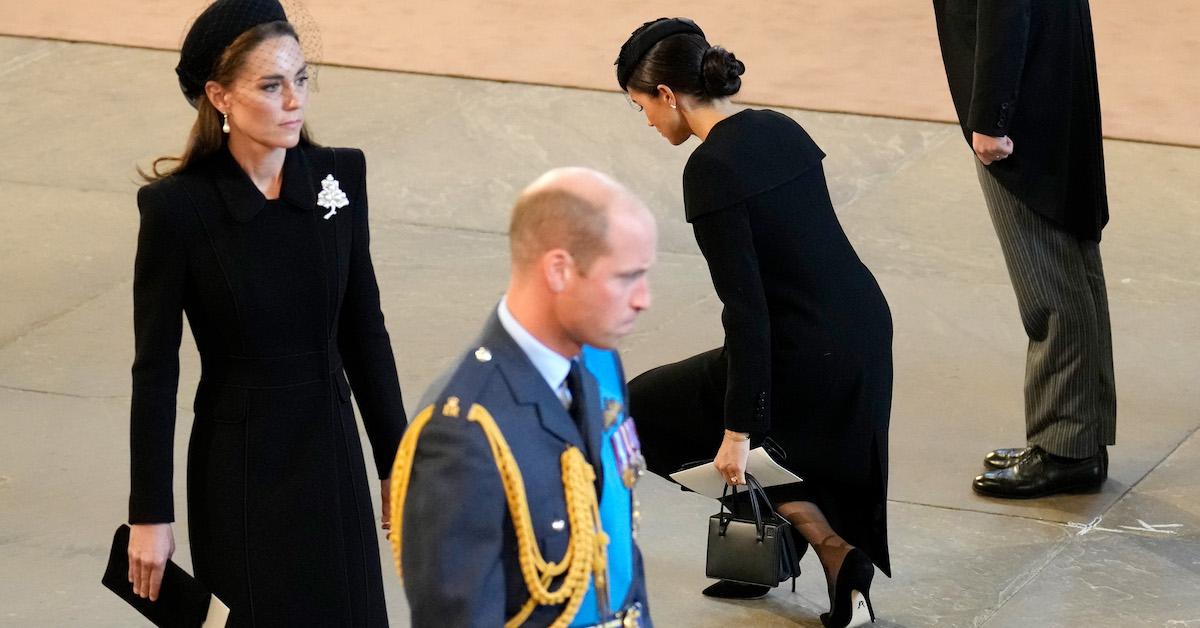 Article continues below advertisement
However, the high-stakes meeting was a sneak attack of sorts, with Meghan sharing that she didn't know she was going to meet the queen "until moments before," per People.
On the way to the seemingly informal meeting that took place at a family home, Harry asked his one-day bride, "Do you know how to curtsy?" To be fair, he also noted that it was "weird" to explain to anyone outside the family, let alone an American, that the custom was to bow to his grandmother.
Article continues below advertisement
In the episode, we see Meghan's reaction to the notion of having to curtsy for the queen. She seemed to think he was joking at first and then likened the moment to going to Medieval Times with a "dinner and tournament," and noted that her fellow Americans would get what she was talking about.
Article continues below advertisement
Meghan's demonstration of a super exaggerated curtsy is what has many viewers upset, with the over-the-top gesture even appearing to make Harry uncomfortable and embarrassed. "It was so intense," she ultimately says of the moment, which has been shared en masse on social media, prompting a wide range of very strong reactions.
Twitter stands divided over Meghan Markle's curtsy reenactment.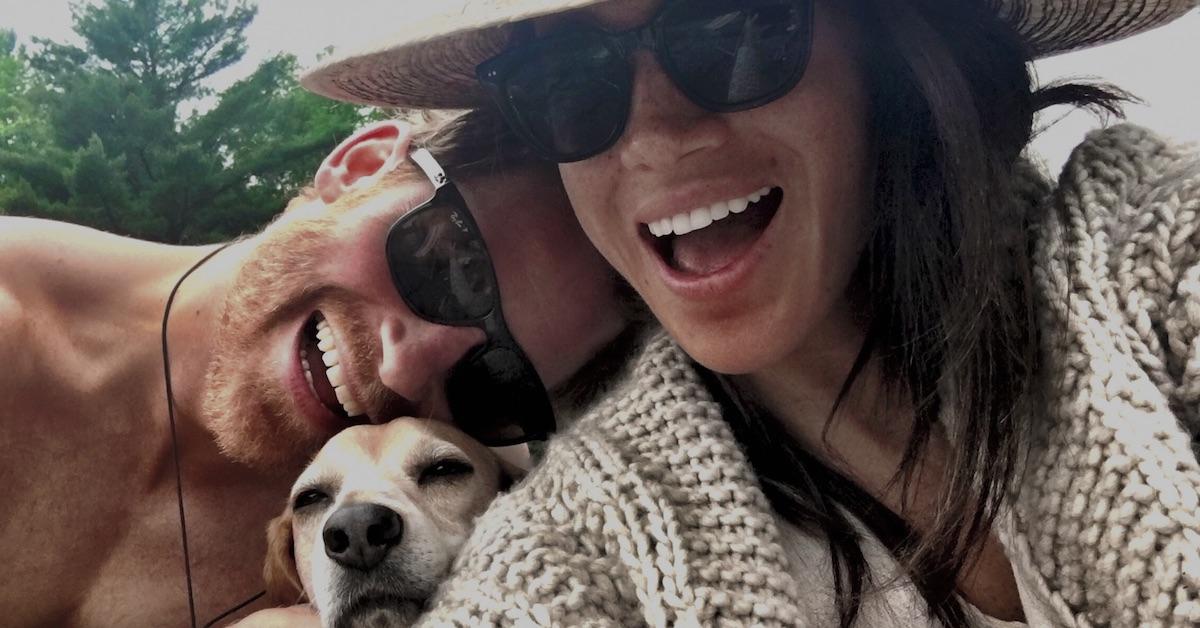 The only thing that everyone can seemingly agree upon after seeing how Meghan felt about curtsying for the queen is that there are no "neutral" opinions, per Today — and incidentally, that extends to the show in general!
Article continues below advertisement
Many Twitter users were offended by the curtsy segment, with some claiming she was "mocking" the royal family and the queen. Many high-profile Brits voiced their displeasure with curtsygate, like royal correspondent Charlie Proctor, who called Meghan "dismissive" of "the single most important female figurehead of our times, perhaps ever," and implored her to have more "humility."
Although Meghan received a ton of flack on social media, not everyone perceived of the viral Harry & Meghan scene in a negative light. According to Esquire, Meghan was mocking herself, not the queen, and how much she had to learn about becoming a member of the royal family. Plenty of fans defended her on Twitter as well.
Article continues below advertisement
Ultimately, it doesn't really matter what the public thinks of the moment, since according to Harry, Meghan won over his family right away. As he tells it on the show, "I remember my family first meeting her and being incredibly impressed. Some of them didn't quite know what to do with themselves."
He went on to infuse his trademark humor into the story by saying, "I think they were surprised. Maybe surprised that a ginger could land such a beautiful woman and such an intelligent woman."