'The Marvels' Is the Biggest Flop in the MCU so Far, but There Was Plenty Working Against It
Why did 'The Marvels' flop on its opening weekend? The MCU film was marred by poor timing and an ever-increasing feeling of superhero movie fatigue.
The Gist:
The Marvels premiered in theaters on Nov. 10, 2023.
It is currently the biggest box office flop in the Marvel Cinematic Universe.
Several factors were working against its financial success.
Article continues below advertisement
Whereas the Marvel Cinematic Universe once stood at the summit of pop culture conversations and box office success, it now stands on some rather shaky footing. Its post-Endgame phases have been plagued by inconsistent quality, lackluster animation, over-saturation between films and streaming series, and troubled productions that place even the most anticipated projects on thin ice. But despite the divisive reactions that Phase Four and Five have gotten, Marvel Studios could at least bank on regular box office success.
Unfortunately, even that may no longer be a safe bet. After all, The Marvels premiered in theaters on Nov. 10, 2023 to become the biggest box office flop of the MCU thus far. According to Variety, the film made a scant $47 million in North America during its opening weekend and $63 million internationally. But why did The Marvels flop? If you take away all of the needless bigoted criticisms lobbied against Brie Larson, there were plenty of factors working against the film's success.
Article continues below advertisement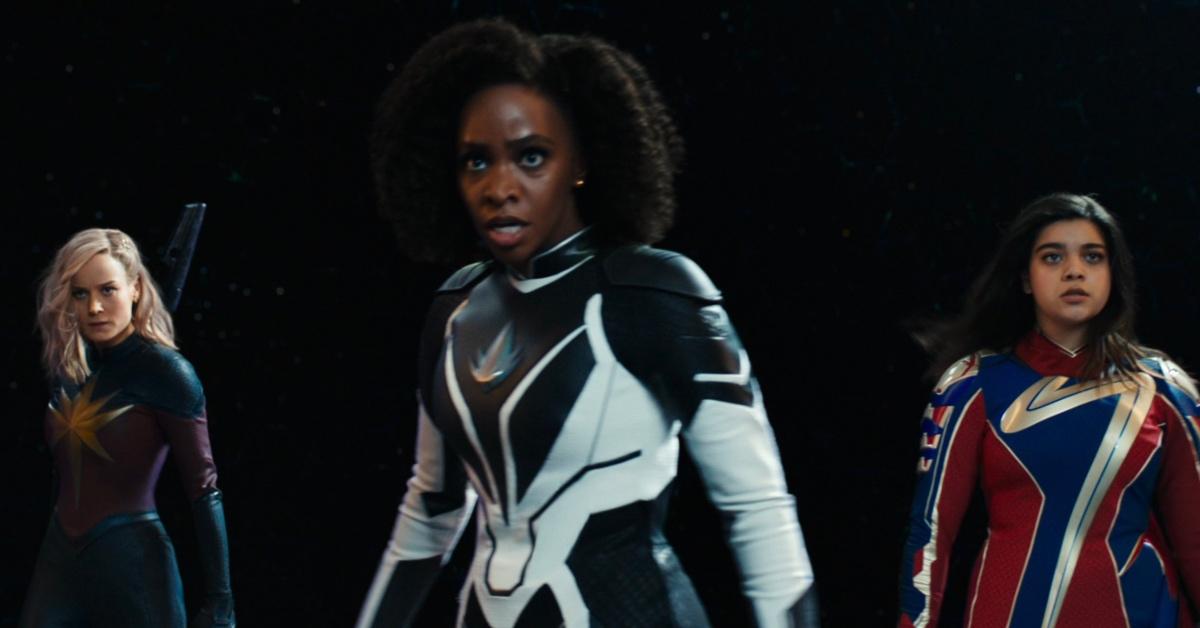 'The Marvels' flopping can be chaled up to bad timing and way too much Marvel in the 2020s.
The Marvels unites three separate heroes in the Marvel Cinematic Universe. In the film, Carol Danvers (Brie Larson), Monica Rambeau (Teyonah Parris), and teenager Kamala Khan (Iman Vellani) accidentally become linked through their cosmic powers and must work together in order to stop an evil warlord named Dar-Benn (Zawe Ashton) from continuing her interplanetary conquest.
Article continues below advertisement
From a Marvel fan's perspective, there's already an issue with how approachable the film is for general audiences. In order to keep up with The Marvels, one would have to have watched two movies (one of which is three hours long) and two separate shows streaming on Disney Plus that otherwise have nothing to do with each other. Even dedicated MCU fanatics who could check off the first two things on this list may have trouble keeping up, especially when taking everything else into consideration.
Throughout the 2020s, Marvel Studios has oversaturated the market with more releases than one can be reasonably expected to keep up with. Thanks in no small part to having to make up ground for the lack of production caused by the COVID-19 pandemic as well as former Disney CEO Bob Iger's insistence on constant releases toward that end, movies and streaming shows were being released at a blistering pace.
Article continues below advertisement
Not only would this stretch production teams remarkably thin, but the rate at which projects were put out would tire out even the most dedicated Marvel fans trying to keep themselves abreast for whenever the next big thing drops.
But that alone doesn't explain The Marvels financial failure. After all, several MCU films released in the 2020s still managed to conquer the box office during their releases despite the overabundance of Marvel. Of course, those films didn't have a strike to contend with.
Article continues below advertisement
Part of the reason for The Marvels flopping can be attributed to the SAG-AFTRA strike being timed against the film's release. With hundreds of Hollywood actors enacting a movement against unfair wages and the encroaching influence of AI in filmmaking, those same actors were unable to promote any upcoming projects that were already slated for release. As such, Brie, Teyonah, and Iman couldn't perform the regular promotional circuit for their own superhero movie.
This certainly isn't meant to say that the actors didn't deserve to strike. They have every right to fight back against studios that take their work for granted. But the lack of promotional material from said actors would be enough to rattle any release, even a Marvel film.
Regardless of the film's overall quality, The Marvels' success was marred by its inability to promote itself properly and audiences coming to grips with how much Marvel is officially too much Marvel.