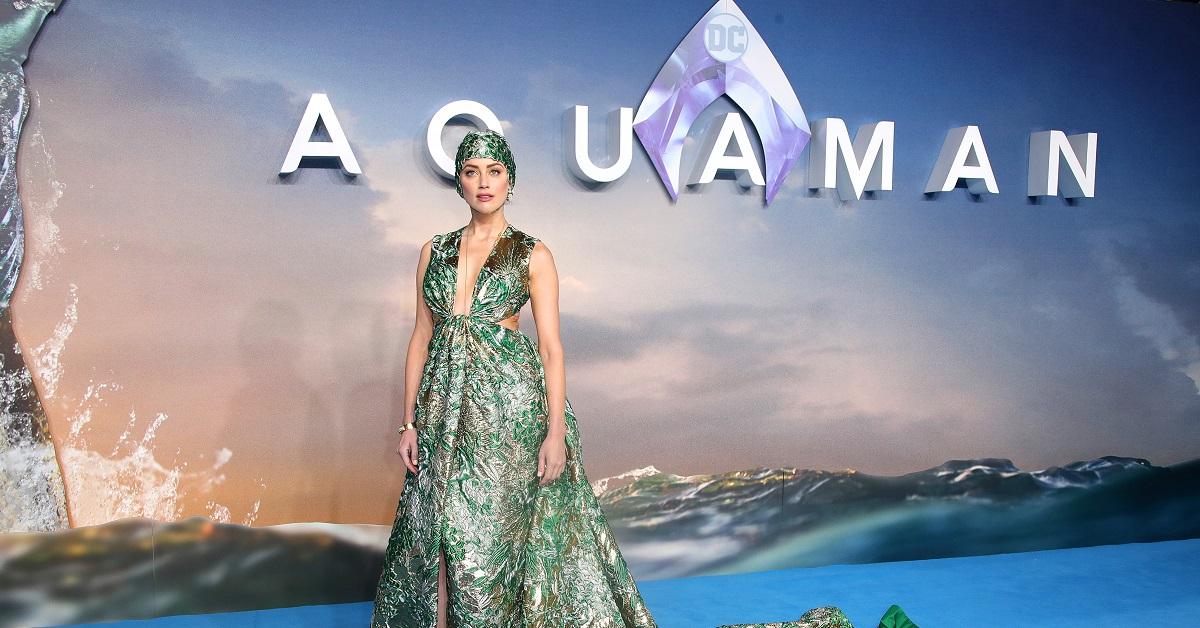 Rumors Are Still Swirling About Amber Heard Being Fired From 'Aquaman 2'
By Joseph Allen

Mar. 1 2021, Updated 10:03 a.m. ET
The first Aquaman movie was another in a long string of hugely successful superhero films. Its tone was a little stranger than many other superhero films, but it attracted a massive audience nonetheless. Although a sequel is expected, Aquaman 2 is not set to start shooting until well into 2021. In the meantime, fans have begun to speculate about whether Amber Heard, who played Mera in the first film, is going to be recast. 
Article continues below advertisement
Will Amber Heard be replaced in 'Aquaman 2'?
The speculation about Amber Heard being replaced started after her legal battle with ex-husband Johnny Depp began to dominate headlines. Johnny has sued Amber for defamation, claiming that her allegations of abuse are untrue. Although that lawsuit is still ongoing, Amber has already clarified that it will not impact her ability to participate in Aquaman 2, which is expected to hit theaters in 2022. 
Article continues below advertisement
Rumors began to swirl that Amber was going to be replaced by former Game of Thrones star Emilia Clarke, although those rumors may have been unfounded. Emilia worked with fellow Aquaman star Jason Momoa on Game of Thrones, so fans know that the two have chemistry. At least for now, though, Warner Bros. and DC are sticking with Amber, and she expects to begin shooting the sequel in mid-2021. 
Although the rumors put Emilia and Jason together in their first joint romantic roles since they stole everyone's hearts on Game of Thrones, Ryan Parker of The Hollywood Reporter tweeted he has it on good authority that Amber will not be replaced in the Aquaman movies. For now, this includes Aquaman 2, despite the ongoing rumors that claim Amber is no longer part of the sequel.
Article continues below advertisement
The Australian entertainment news website Sausage Roll reported that because Amber allegedly broke a clause in her Aquaman contract regarding her weight and appearance, she was fired from the sequel. The outlet said she violated the terms that require her to be in a certain shape in order to properly perform in her role.
Because Amber and the studio have not come forward to confirm these claims, however, they are just another part of the rumor mill that keeps spinning regarding her exit from the sequel.
Article continues below advertisement
Johnny Depp asked for a delay in court proceedings to film.
One of the reasons some fans were speculating that Amber may be replaced is because Johnny Depp had asked for a delay in court proceedings so that he could film the third movie in the Fantastic Beasts franchise. Amber agreed to the delay on the condition that it wouldn't introduce any unfair prejudice against her. Thankfully, it seems that the delay did not make her unavailable for filming. 
Some fans even petitioned to have Amber removed from the film in light of the defamation lawsuit. A change.org petition with more than 500,000 signatures has been signed calling for her removal. The petition doesn't seem to have swayed those making the film, though, who have stood by Amber through this trial, at least thus far. 
Article continues below advertisement
When will 'Aquaman 2' hit theaters?
Although it hasn't even started filming yet, the entire release schedule for many major studios is in flux as a result of COVID-19. The movie is currently scheduled to hit theaters on Dec. 16, 2022, almost exactly four years after the first movie was released. Since the movie isn't set to start filming until next year, it's possible that the virus will be much more under control by then than it is now. 
For now, Jason and Amber will both be returning for the sequel, as will director James Wan, who also directed the first film. Yahya Abdul-Mateen II is also expected to return for the sequel to play Black Manta, a major villain in the Aquaman canon. In the time since his appearance in the first film, Yahya has become much more well-known thanks to his role in Watchmen. Now, he may be the big bad in the Aquaman 2, whenever it hits theaters.