These Celebrities Have All Left Twitter Following Elon Musk's Takeover
Twitter is losing some of its celebrity users. See which stars have either deactivated or announced their exit since Elon Musk took over.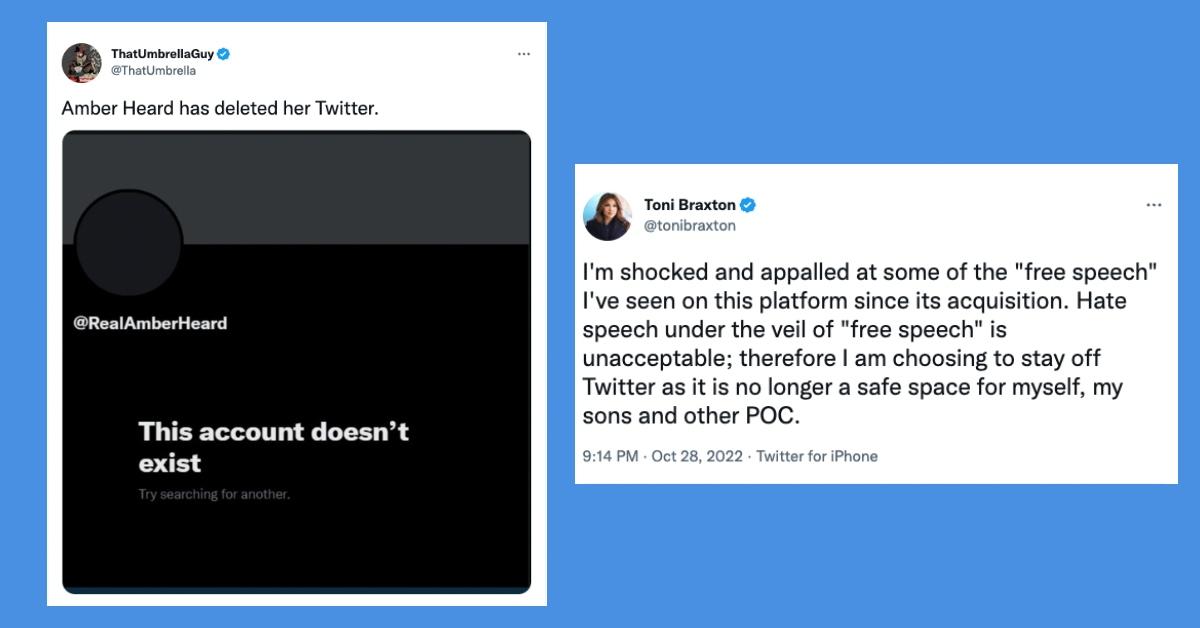 Not everyone is very happy with Elon Musk's recent acquisition of Twitter. Not only has the number of employees at Twitter decreased, but so has the number of users.
Folks far and high are either quitting or staying off the microblogging platform to protest the Tesla CEO's leadership. This includes some of our favorite celebrities. Keep scrolling to see which A-listers have officially decided to part ways with the social media app below.
Article continues below advertisement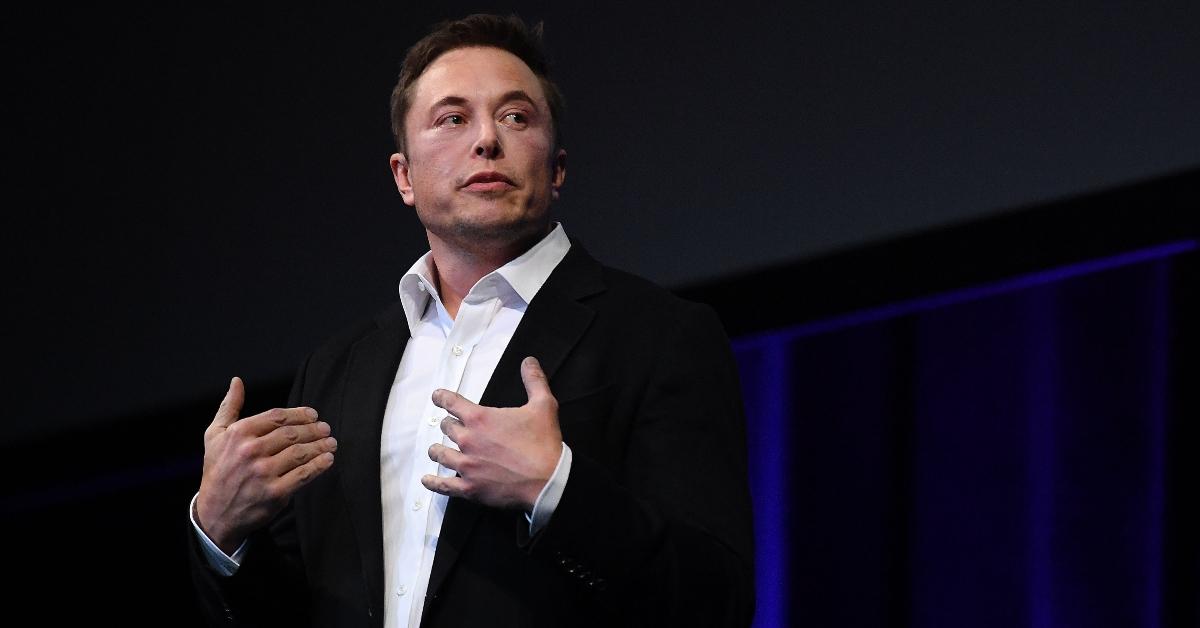 Shonda Rhimes
Shonda Rhimes, who created Grey's Anatomy, said her goodbyes shortly after Elon acquired the platform. "Not hanging around for whatever Elon has planned. Bye," read her last tweet.
Article continues below advertisement
Amber Heard
Amber Heard, who previously dated Elon, quietly deactivated her account. While she never gave a reason, her exit seemed intentional as it was just days after Elon took over.
Article continues below advertisement
Sara Bareilles
Singer Sara Bareilles publicly announced her departure from the platform. "Welp. It's been fun Twitter. I'm out. See you on other platforms, peeps. Sorry, this one's just not for me," she wrote in her final tweet.
Article continues below advertisement
Gigi Hadid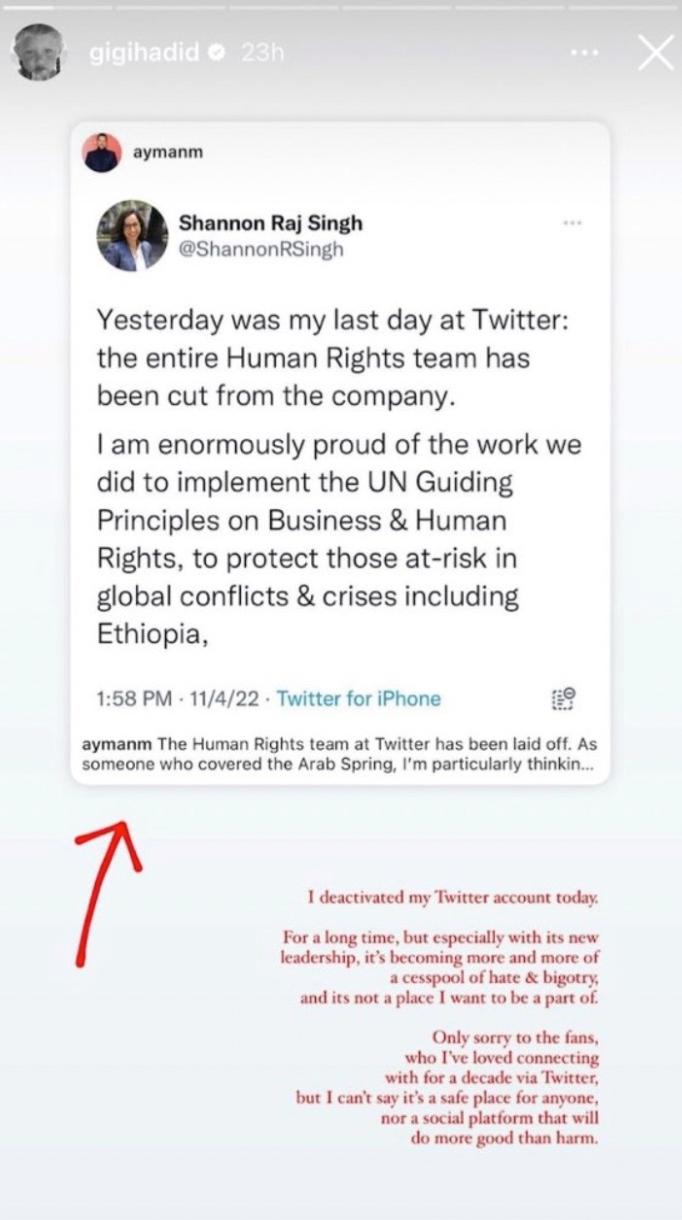 Model Gigi Hadid pulled the plug on her account, too. She shared the news alongside a tweet from a former member of Twitter's human rights team who discussed the recent layoffs.
"I deactivated my Twitter account today. For a long time, but especially with its new leadership, it's becoming more and more of a cesspool of hate and bigotry, and it's not a place I want to be a part of," Gigi wrote.
Article continues below advertisement
Whoopi Goldberg
Whoopi Goldberg announced on The View that she would be saying goodbye to Twitter. Her account has since been deactivated.
Article continues below advertisement
Ken Olin
Thirtysomething star Ken Olin went out with a poem. He encouraged his followers to keep fighting for democracy, to be kinder and more generous, and to help save the planet.
Article continues below advertisement
Toni Braxton
Singer Toni Braxton has up and left. In her final tweet, she claimed that since Elon took over, she's seen some "free speech" on the platform that sounded a lot like hate speech. "I am choosing to stay off Twitter as it is no longer a safe space for myself, my sons, and other POC," she wrote.
To further back her point, the social media research group Network Contagion Research Institute actually reported that within a 12-hour period in the early days of Elon's tenure, the use of the N-word on the platform had increased nearly 500 percent.
Article continues below advertisement
Mick Foley
Actor and ex-pro wrestler Mick Foley shared the news on Facebook that he would be taking a break from Twitter. "I decided I needed a Twitter break, since the new ownership — and the misinformation and hate it seems to be encouraging — has my stomach in a knot," he wrote in his post.