Aemond Targaryen's Fate May Impact the Future of the Iron Throne
Aemond Targaryen has an eventful Episode 7 in 'House of the Dragon.' How does he die and how does he lose his eye in the book 'Fire & Blood'?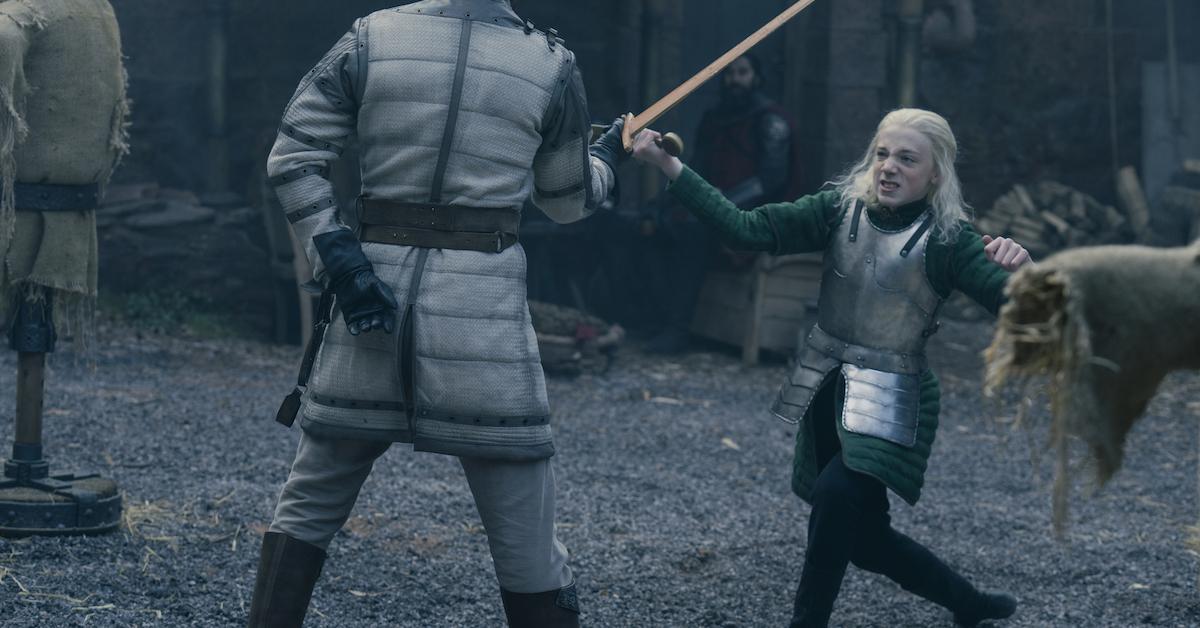 Spoiler alert: This article contains book spoilers for Fire & Blood and potential spoilers for HBO's House of the Dragon.
Although some characters weren't even alive when House of the Dragon began, they're quickly becoming central to the story. The Game of Thrones prequel is getting closer and closer to the Dance of the Dragons, the Targaryen civil war that leads to the deaths of several members of House Targaryen, House Velaryon, and more. And one such member is Aemond Targaryen.
Article continues below advertisement
In the first few episodes of House of the Dragon, Aemond is but an innocent child. However, as he grows older, he grows more ambitious and resentful of his siblings and nephews. The second son of King Viserys, Aemond has a definite chip on his shoulder, which leads him to lose his eye and eventually his life. So how does he die in the George R.R. Martin books on which House of Dragon is based?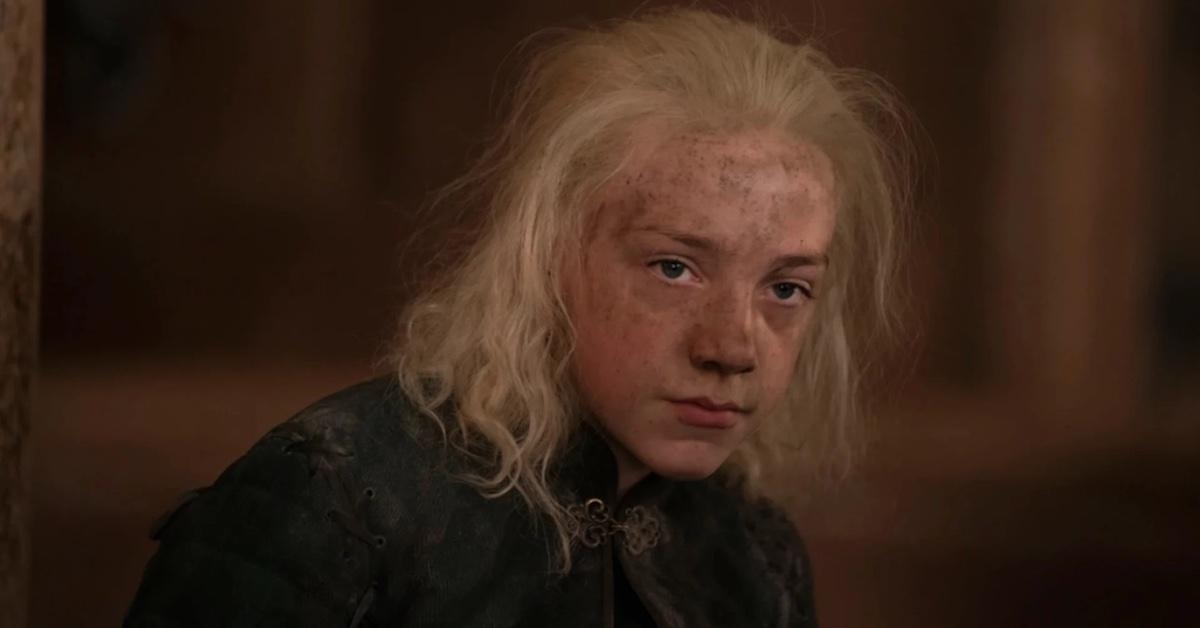 Article continues below advertisement
Aemond Targaryen first loses his eye in the book 'Fire & Blood.'
Fire & Blood tells the story of House Targaryen, and in doing so, it explains how Aemond lost his eye and gained his nickname, Aemond One-Eye. Basically, when Vhagar is left without a rider during Laena's funeral, Aemond goes to claim Vhagar and take the dragon for himself. But to do so, he has to sneak out, and unfortunately for his eye, he gets caught by the young Joffrey. Aemond slaps and threatens Joffrey to keep him quiet, but Joffrey alerts his brothers.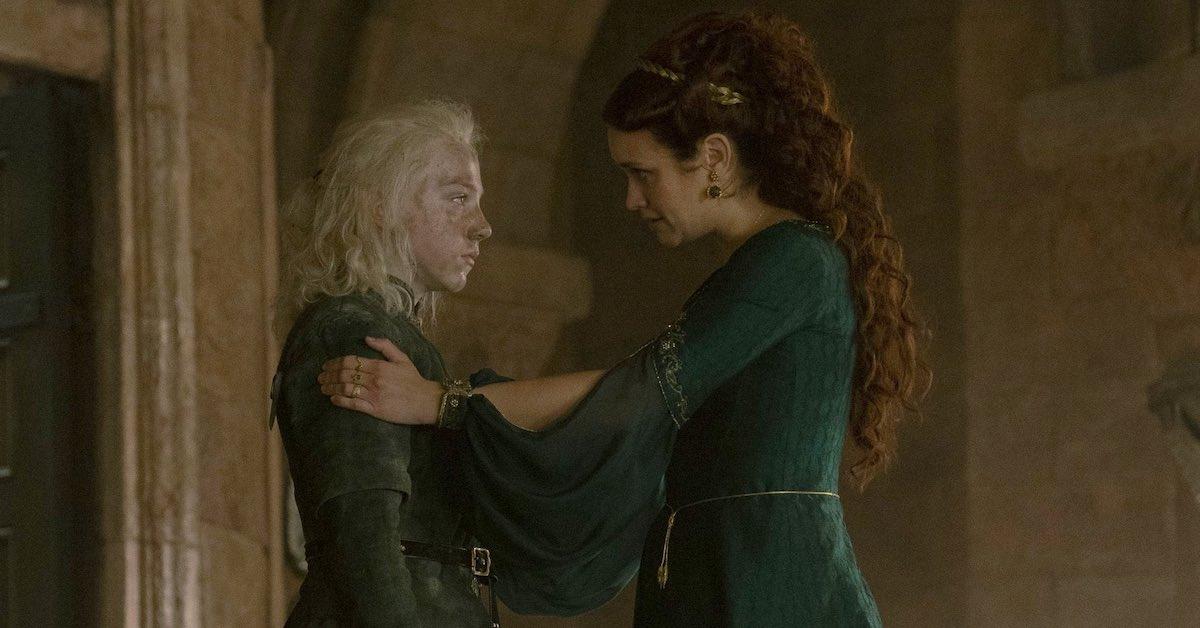 Article continues below advertisement
Rhaenyra's sons, Jacaerys, Lucerys, and Joffrey, fight against Aemond with wooden training swords. However, when Aemond calls the boys "Strongs," suggesting that they're bastards, Jacaerys attacks Aemond with a vengeance. When Aemond gets the upper hand and starts pummeling Jacaerys, Lucerys draws his dagger and slashes at Aemond's face, taking out his right eye.
There's plenty of drama after this — Alicent demands that Jacaerys give up his eye in fairness, but Viserys won't allow it. Even with all the drama, however, Aemond claims that winning over Vhagar was worth losing his eye. Aemond goes on to become a skillful sword fighter and feared pillar of strength in support of "the greens."
Article continues below advertisement
How does Aemond Targaryen die? 'Fire & Blood' may have the answers.
House of the Dragon shows Aemond get progressively stronger, so many of us are wondering how his story ends in the series' source material. Basically, when Viserys dies and Aemond's older brother, Aegon II, is named King, Aemond sides with his brother despite Rhaenyra's claim to the throne. To support Aegon II, Aemond heads to Storm's End to get Lord Borros Baratheon's approval with the promise of marriage.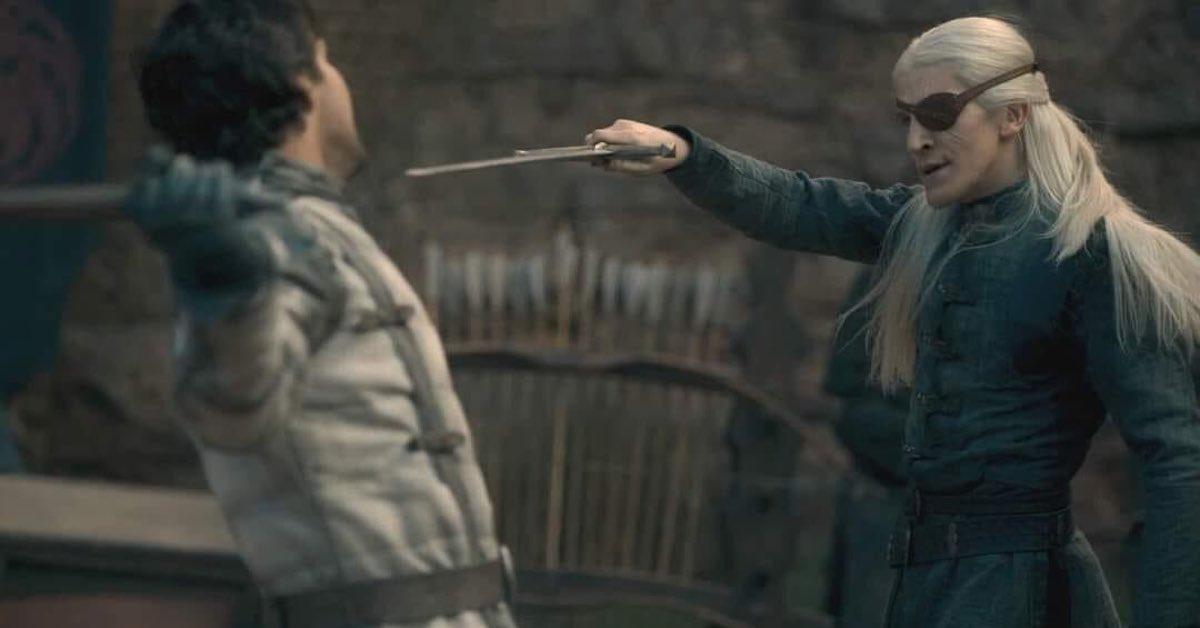 Article continues below advertisement
However, Lucerys goes to Storm's End to speak on his mother's behalf at the same time, and Aemond's resentment toward Lucerys has only grown stronger over the years. The two try to fight but Borros won't allow it under his roof, so when Aemond follows Lucerys out on dragon, Aemond and Vhagar kill both Lucerys and his dragon, Arrax. This earns Aemond a new nickname: Aemond the Kinslayer.
Eventually, through much more killing and revenge, Daemon Targaryen and Aemond become sworn enemies. Aemond and Ser Criston Cole march against Daemon at Harrenhal while King's Landing falls to Rhaenyra and Daemon (after Rhaenyra's death). Aemond then orders the deaths of Simon Strong and his kin, although Alys Rivers is spared when she becomes Aemond's bedmate.
Article continues below advertisement
While Aemond goes off with Vhagar to burn black-aligned settlements, Daemon searches for him, eventually waiting for him at Harrenhal aside Caraxes for 13 days. Aemond arrives with a pregnant Alys, and Aemond and Daemon engage in the Battle Above the Gods Eye. As the two dragons crash down, Daemon stabs Aemond in his other eye with Valyrian steel, and both Aemond's body and Vhagar's skull sink into the lake.
After Aemond's death, Alys rules Harrenhal as a "witch queen," calling herself Aemond's widow. She even presents her son as Aemond's only heir, which could make him the rightful king.
Aemond's rise is surely eventful, and we can't wait to see how it plays out on House of the Dragon.
Tune into HBO every Sunday at 9 p.m. EST for new episodes of House of the Dragon.