Inside Ellen DeGeneres's Longtime Friendship With the Kardashians
The Kardashians have had many famous friends over the years. Is the family friends with talk show host Ellen DeGeneres? Here's what we know.
The Kardashian-Jenner family has formed many friendships with A-listers over the years. The reality stars are always on the red carpet of high-profile events such as the Met Gala and award shows.
Article continues below advertisement
Kris Jenner, Kim Kardashian, and the rest of the gang have also developed connections with media professionals. In 2007, American Idol host and radio personality Ryan Seacrest landed the family their hit show, Keeping Up With the Kardashians. Years later, Oprah Winfrey interviewed the entire tribe at Kris's home.
Although they've connected with other media host platforms, the Kardashian-Jenners' relationship with talk show host Ellen DeGeneres is seemingly just as genuine behind-the-scenes. Here's a look into how Ellen connected with the Kardashians and if they're really friends.
Article continues below advertisement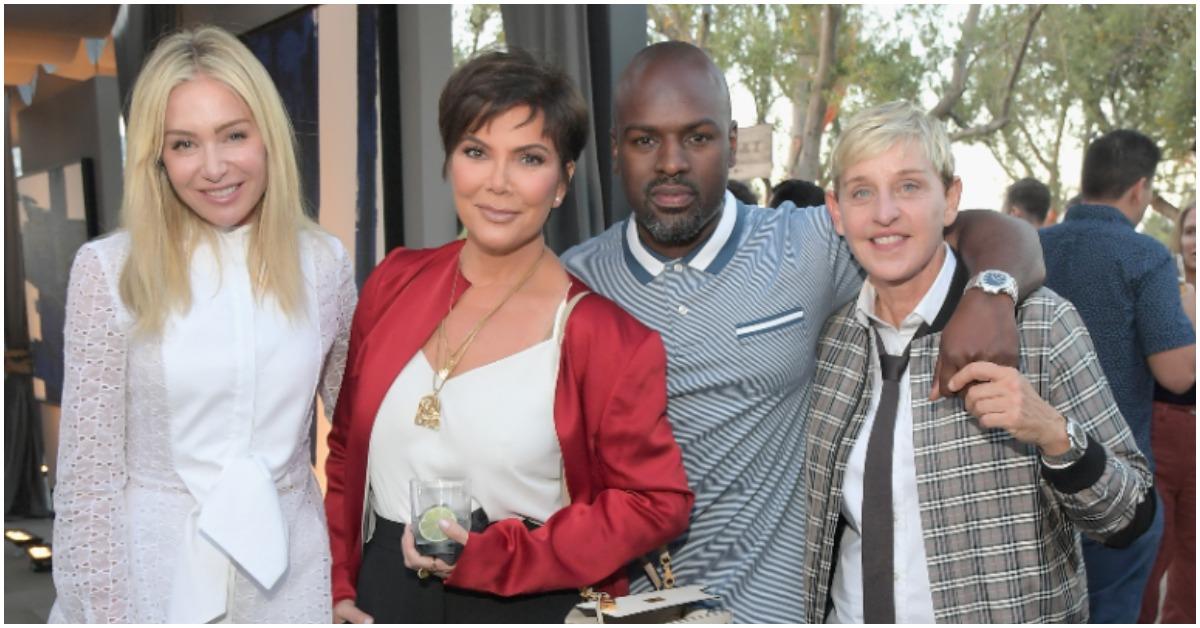 Is Ellen DeGeneres friends with the Kardashians?
Yes, Ellen is friends with the Kardashian family and has been for quite some time. After years of having the famous bunch on her show, the Finding Dory star became close to Kris. Since then, the celebs have double-dated with their respective partners — Portia De Rossi and Corey Gamble.
Article continues below advertisement
Due to their close bond, the Kardashian-Jenners always go on Ellen's talk show when they have something to discuss. Kim used the platform to discuss her boyfriend, Pete Davidson, publicly. According to Vice, the family also felt at ease while opening up about Khloe's ex, Tristan Thompson, cheating on her in 2018 while she was pregnant.
In a Season 18 appearance on The Ellen DeGeneres Show, Kris shared her appreciation for Ellen's friendship and support.
"I just love you so much," Jenner said. "And you're such a dear, wonderful friend. You're an inspiration to me personally because you've taught me so much and been there for me when I'm going through something."
Article continues below advertisement
Ellen DeGeneres reportedly sought Kris Jenner's advice during her talk show's work environment scandal.
During her 2020 appearance, Ellen also told Kris how much their friendship means to her. The comedian said she witnessed more of her friend's down-to-earth nature as they started going on more outings. While the Kardashian-Jenners have dealt with multiple friend breakups, Ellen explained why she remains loyal to the family.
Article continues below advertisement
"You have been so supportive," Ellen told Kris. "We saw each other this summer and hung out. And you're a good person to be around when things are going a little tough because you have been through it."
Article continues below advertisement
Although Ellen didn't divulge what "tough" times they've seen each other through, the Emmy winner was in the middle of a dispute with her staff during Kris's interview. In July 2020, several of The Ellen DeGeneres Show's employees claimed Ellen provided a "toxic workplace" that became worse during the COVID-19 pandemic, per Variety.
The show's staff allegedly displayed "a spectrum of racist behavior" that included a producer allegedly mistaking two Black staffers with what they perceived as similar hairstyles.
Before Ellen eventually addressed the allegations on her show, she reportedly reached out to Kris. According to The Sun, the momager used her "Kris Jenner" magic to support her friend and Portia.
"If anybody knows scandal, it's Kris, and she has been a real pillar of strength for Ellen during this difficult time; she's found it very reassuring," a source said in September 2020. "Ellen has spent years being loved by viewers, and this has understandably hit her hard; she wants to come back from it and prove to her audience that things are going to change. Kris has done it all with 'Keeping Up With the Kardashians.' She knows how to weather a storm."