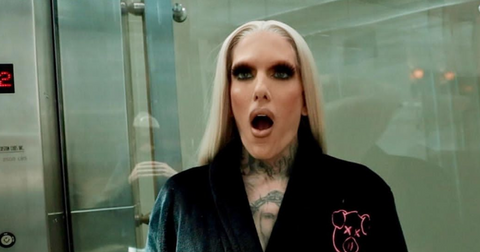 We Have Updates on Jeffree Star's Tumultuous Love Life
By Lizzy Rosenberg

Updated
Fans of makeup guru and YouTube star Jeffree Star were absolutely heartbroken when he officially parted ways with his longtime boyfriend Nathan Schwandt after dating for about two years. The celebrity couple had parented several dogs, and even lived in a $14.6 million mansion together.
Several months have passed since Jeffree and Nathan split, and at this point, fans are starting to wonder if Jeffree Star has a new boyfriend, or if he's still taking time to heal from his previous relationship. Here's what we know regarding the YouTube star's love life (or lack thereof).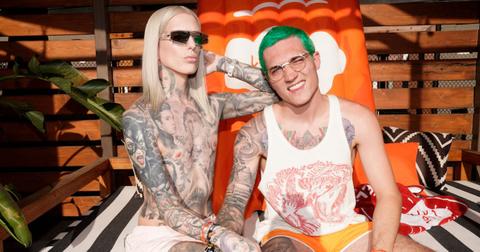 Jeffree Star went on a date with a well-known reality star in June 2020.
Five months have passed since Jeffree and Nathan broke up, and it seems as though Jeffree is now back in the dating game once again in a video from June 21. In the video, titled First Date Does My Makeup, he documented a first date with reality star Jozea Flores, whom you may recognize from Big Brother and The Challenge.
"... imagine inviting a guy over and he shows up to take you out to dinner but you haven't gotten ready..so you ask HIM to do your makeup. Yes, that's what's happening today. Buckle in and watch the journey of Jozea doing my entire face from start to finish before our date!" Jeffree captioned the video. Hopefully, this means there's a second — and possibly even a third — date in their future.
Check out the date in its entirety below.
After his breakup with Nathan, it was rumored Jeffree Star was dating YouTuber Mitchell Halliday.
In February 2020, just one month after Jeffree and Nathan broke up, rumors that Jeffree had moved on and started dating someone else — namely Mmmmitchell, (aka Mitchell Halliday) — were spreading like wildfire. However, Jeffree was quick to shut down those rumors almost instantaneously when Mitchell appeared in one of his videos, according to PopBuzz.
"So, me and Mitchell were watching the sun rise – not set – for some reason some channels and news sites popped up like, 'Is this Jeffree's rebound?' All jokes aside, the last thing I'm trying to do is be in a relationship with anyone. Me and Mitchell are really close friends... So today we are going to create a really sickening look – no, we are not sleeping together," Jeffree explicitly stated in the video. Clearly, they're just friends and nothing more.
For a while, fans thought Jeffree and Nathan started secretly dating again.
In an Instagram Story that Jeffree had posted a mere few days after his breakup video dropped, fans apparently noticed that Nathan was in the background of one of them. Obviously, this led to endless rumors that the two were secretly dating, but the YouTuber denied it immediately, and also shut down rumors that Nathan had moved on with a woman.
Clearly, the 34-year-old is not currently dating anyone — in fact, he essentially stated that he's "on the rebound," some might say. Earlier this month on March 9, the beauty blogger tweeted that he had hookups lined up, as he had "three NBA players in [his] DMs," thanking the public for their apparent "concerns." We are absolutely loving the shade, Jeffree — get it!
There are currently three NBA players in my DM's right now, but thank you for the concern ❤️

— Jeffree Star (@JeffreeStar) March 10, 2020
Jeffree says he and Nathan broke up because of the death of their dog.
In a breakup video, Jeffree said the death of their dog apparently took a major toll on their relationship, and it ultimately influenced their breakup, according to Cheat Sheet.
"We haven't processed our dogs fully because this lifestyle is so crazy and we're always on to the next thing. We were both so busy being there for each other that we forgot to be here for ourselves, and that's what 2020 is — focusing on ourselves," he said.
Jeffree seems to love being back in the dating game, and as long as he's happy, we're happy!