We Want to Go to Nevermore Academy Too! It Has Some Very Dark and Mysterious Roots
What is Nevermore Academy based on? Netflix's 'Wednesday' pulls inspiration from Edgar Allan Poe in its modern day Addams family adaptation.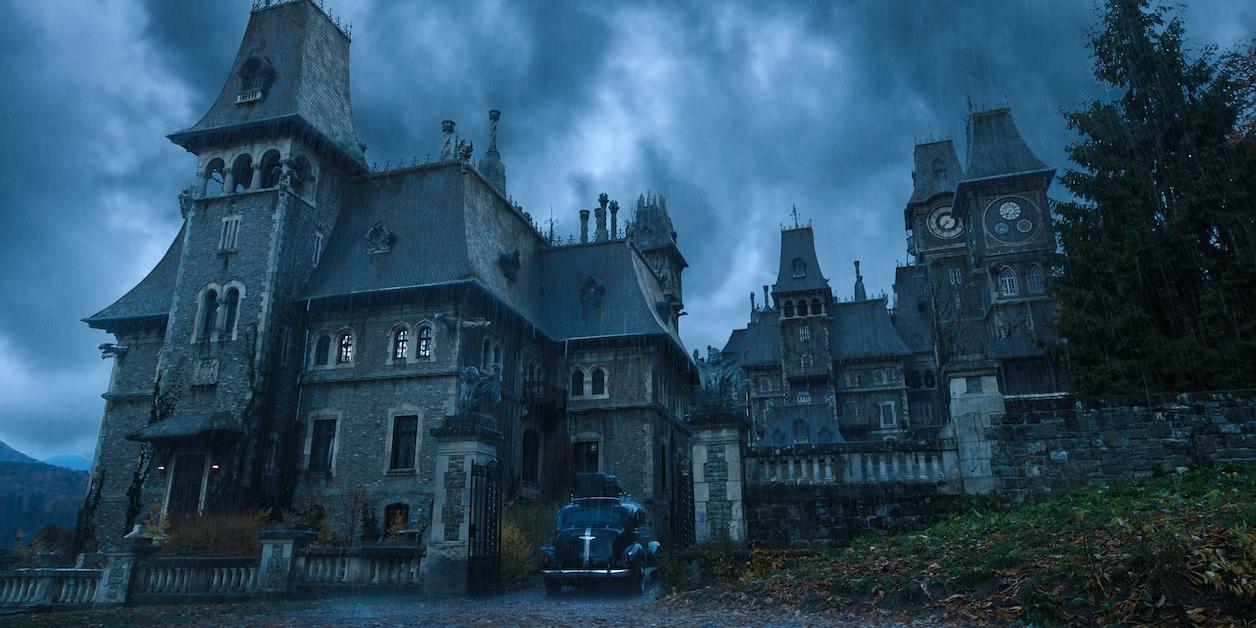 In Netflix's updated adaptation of the Addams family, we follow Wednesday Addams (Jenna Ortega) as she attends Nevermore Academy. Wednesday is a somewhat modern take on the classic family of kook and spook, and Nevermore Academy fits into their world perfectly. Throughout the series, Wednesday uncovers secrets about her family history, as well as Nevermore's history.
Article continues below advertisement
Many of us are wondering what the inspiration behind Nevermore Academy is and if it's ever appeared in a previous Addams family iteration. Some of us might recognize its name, "Nevermore," from Edgar Allan Poe's poem, "The Raven." But what else could Nevermore Academy be based on?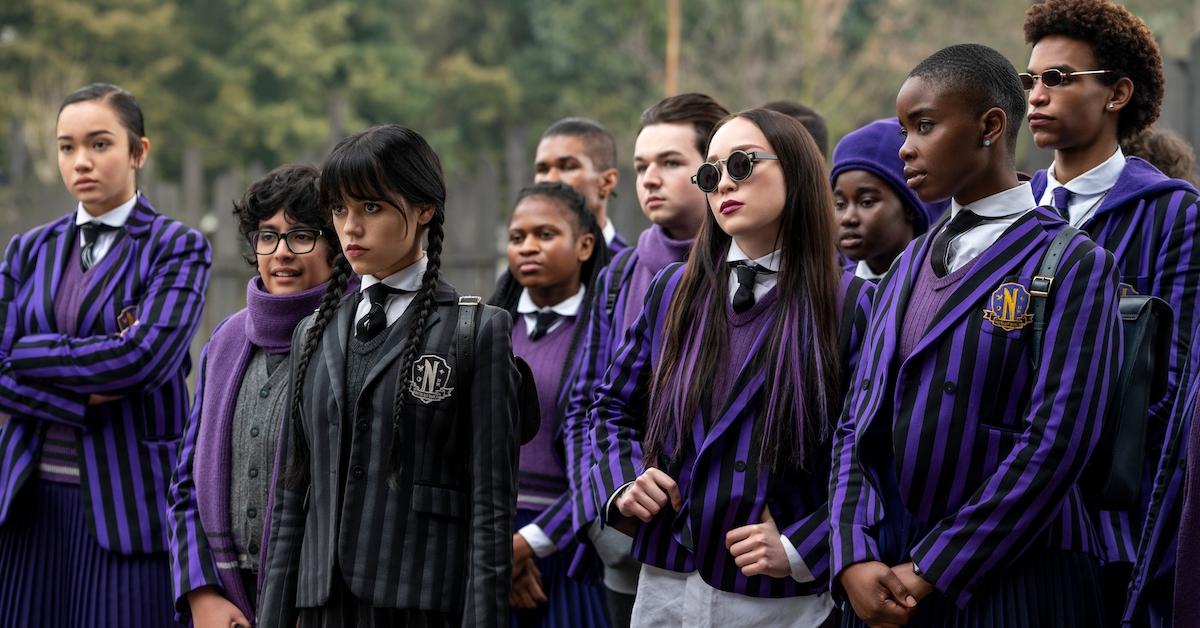 Article continues below advertisement
Nevermore Academy isn't based on any one source of inspiration, but on many.
Tim Burton's influence on Nevermore Academy (and on Wednesday in general) is apparent through the school's production design and overall gothically quirky essence. The school itself serves as the main setting of the series, but it also has a long history. According to the school's official website, it was founded in 1791 as "an academic institution that nurtures outcasts, freaks and monsters."
Article continues below advertisement
Those who feel like outcasts can apply to the school through the website, although we should remind everyone that the website is just an aspect of Wednesday's incredible world-building. In fact, it boasts some truly "famous" alumni, such as Morticia and Gomez Addams, Ignatius Itt (known to many of us as Cousin Itt), and of course, Edgar Allan Poe himself.
Like any school, Nevermore hosts events such as Parent's Day, in which students' families come to visit, and Outreach Day, in which the students go into the outer community of "normies" in Jericho to foster Normie/Outcast relations despite their fractured history. And of course, we can't forget the Poe Cup, as well as school dances. In fact, Nevermore is just like any other high school!
Article continues below advertisement
It follows in the footsteps of iconic magical high schools, so naturally, Harry Potter's Hogwarts comes to mind. And while there aren't Houses like at Hogwarts, there are certainly cliques based on the students' different characteristics, which are reflected in their costumes. Netflix shared how costume designer Colleen Atwood built this world of the high school hierarchy and clique culture.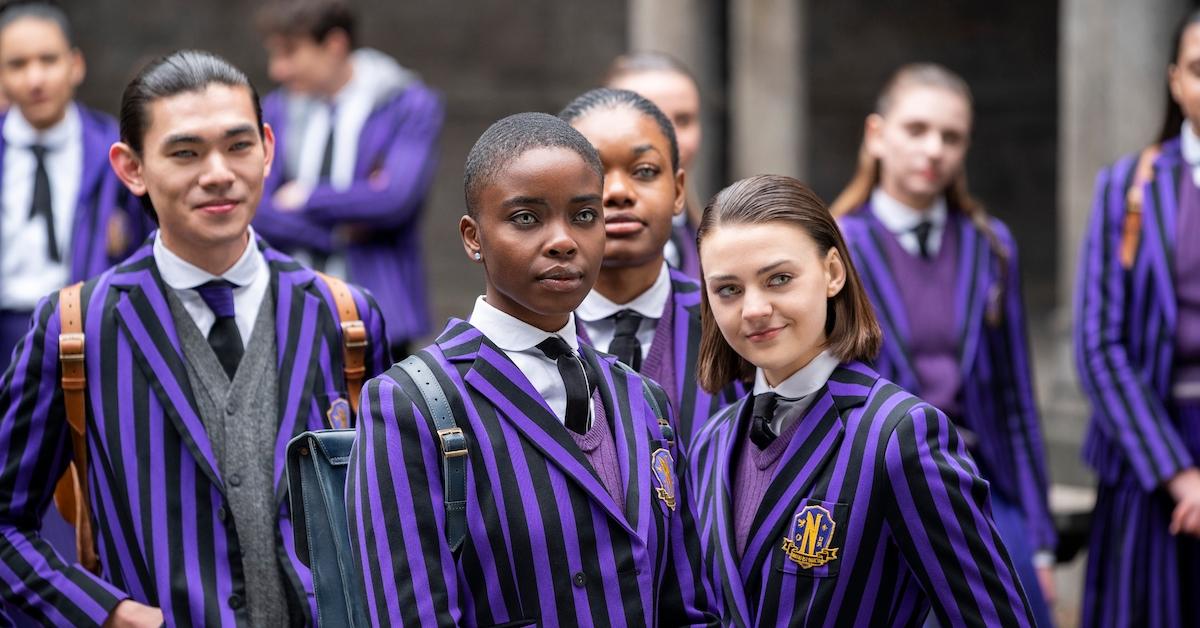 Article continues below advertisement
"All of the different groups at Nevermore have costume-specific details that signify their cliques — for example, the Furs (werewolves) have furry textures or animal prints, and the Stoners (gorgons) have looser-fitting, more pajama-like costuming."
As far as the design of Nevermore Academy itself, production designer Mark Scruton had some very specific ideas.
"[He] wanted Nevermore to look like a New England gothic mansion, but was also inspired by the architecture in Bucharest, which he describes as 'this huge, eclectic pile of architecture, with Renaissance and Ottoman influences coming up through Transylvania.'" But of course, one of the main references throughout Wednesday is Edgar Allan Poe and his ties to both the Addams family and Nevermore Academy itself.
Article continues below advertisement
Nevermore Academy was named after Edgar Allan Poe, who was also a major influence on Addams family cartoonist Charles Addams.
Before Wednesday, there were countless other Addams family projects. But it all began with a comic strip in the New Yorker from the 1930s by cartoonist Charles Addams. While he's most famous for his Addams family cartoons, he also drew at least two cartoons referencing macabre writer Edgar Allan Poe.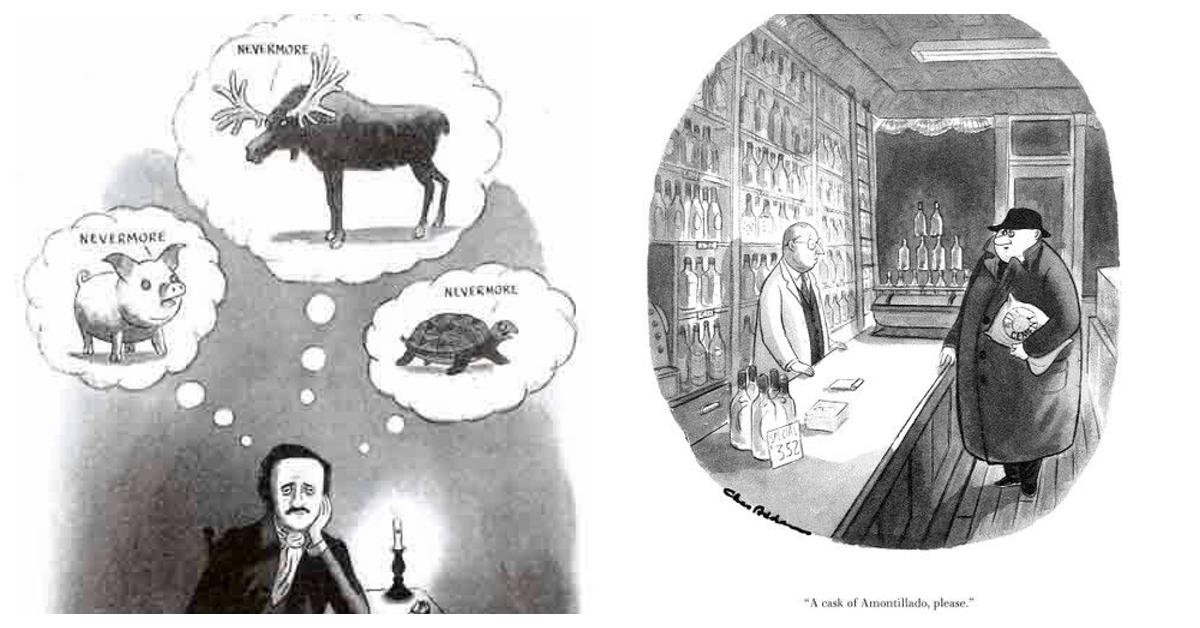 Article continues below advertisement
Edgar was famous not only for his gothic literature and morbid perspective on life but also for his riddles, which come into play in Wednesday's mysterious plot. Like Wednesday director and producer Tim Burton, Edgar combined the whimsical with the darkness, so it's only fitting to pay homage to him through this series.
Plus, one of Tim's major film influences is Roger Corman, who created a series of films adapted from Edgar's works in the 1960s starring horror icon Vincent Price. Tim later worked with Vincent on Edward Scissorhands and a still-unfinished documentary about Vincent's life in which he interviewed Roger. But that's not the only connection between the spooky family and the horror writer.
Article continues below advertisement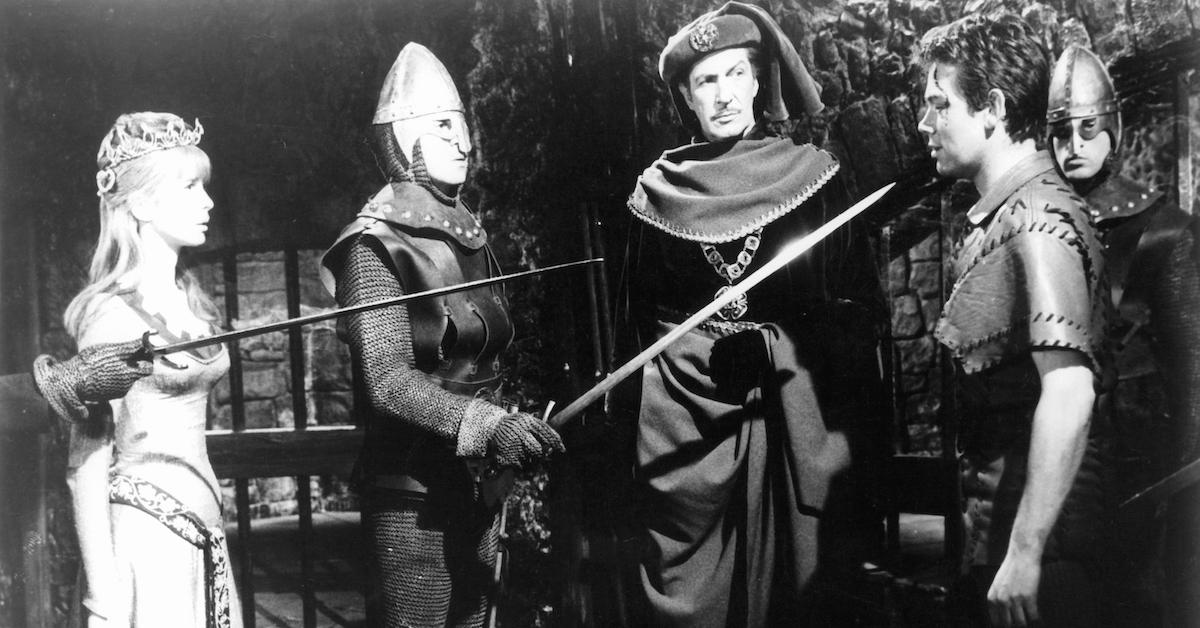 John Astin, who portrayed Gomez Addams in the original Addams Family 1960s television series, had a deep fascination with Edgar, so much so that he portrayed him in a biographical one-man play. "Today, Poe has been stereotyped as Mr. Gothic-Horror," Astin said to the San Diego Union-Tribune in 2004. "The characters are really opposite sides of the coin. Gomez Addams was continually happy, where Poe saw the darker side. Yet each was fascinated by the nature of life itself."
What side does Wednesday see? We'll have to tune in to Wednesday, Nov. 23 on Netflix to find out.