The Other Person in the Tomb in 'Moon Knight' Episode 4 Teases Another Comics Character
What's up with the end of Episode 4 of 'Moon Knight'? Who is in the other sarcophagus? Never fear — we have all the details you need.
Spoiler alert: This article contains spoilers for Episode 4 of Moon Knight.
As much a character-driven story as it is a superhero origin story, Moon Knight isn't afraid to dive deep into the mind of its main protagonist. In the Disney Plus series, Marc Spector (Oscar Issac) is a troubled mercenary who lives with dissociative identity disorder. As if keeping his alternate personalities separate isn't difficult enough, there's also the Egyptian moon god using his body.
Article continues below advertisement
Marc is the avatar for the god Khonshu, having been brought back to life by the deity in exchange for his servitude. Together with the help of Marc's companion Layla El-Faouly (May Calamawy), they work to stop religious zealot Arthur Harrow (Ethan Hawke) from unleashing an ancient Egyptian evil on the world.
But there's chaos within Marc's head as he is forced to confront his deteriorating mental health. And that comes into play in the Episode 4 ending. Fans need to know: Who is in that other sarcophagus?
Article continues below advertisement
Who is in the other sarcophagus in Episode 4 of 'Moon Knight'?
After Khonshu is sealed in stone for interfering with human affairs, Marc (and his other self Steven Grant) is left powerless as they attempt to pursue Arthur to stop his plans. They soon procure the stone vessel containing Ammit, a dangerous Egyptian goddess who judges humanity unfairly. But as they try to escape with it, Marc is gunned down by Arthur. Though it seems like the end for Marc, things get even weirder.
Marc wakes up in a psychiatric hospital, where a therapist version of Arthur Harrow tries to convince him that his actions as Moon Knight were all delusions. While Marc tries to escape, he comes across an Egyptian sarcophagus containing Steven. They attempt to escape together but soon catch a glimpse of yet another sarcophagus, jerking around violently as if whoever is inside were trying to escape.
Article continues below advertisement
While the person within isn't revealed just yet, this could finally be the arrival of Marc's third personality. We've seen glimpses of him throughout the series.
Who is Marc Spector's third personality in 'Moon Knight'?
In Episode 3, Marc has some lapses of awareness while pursuing Arthur's minions, regaining consciousness after they'd been beaten violently. Neither Marc nor Steven remembers committing these horrible acts, bringing to light the question of who could have done so.
Article continues below advertisement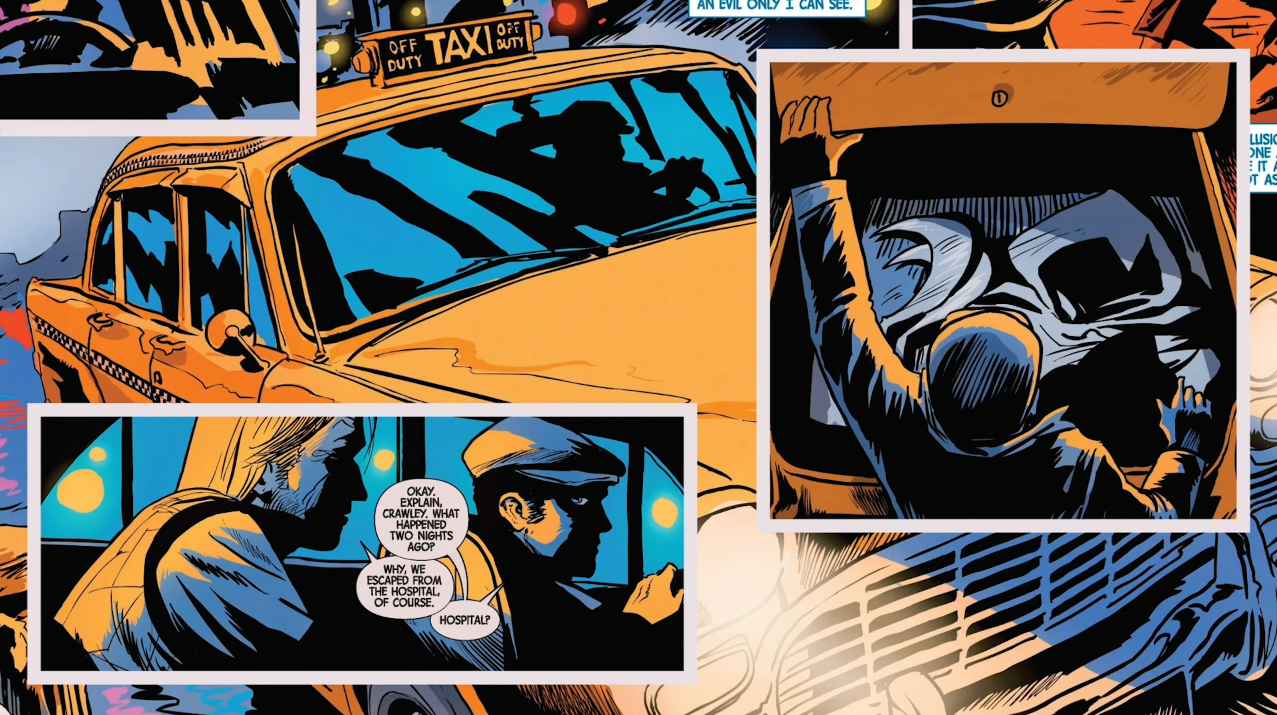 In the original comics, Marc is known to have three personalities, at least. These typically boil down to Marc Spector, Steven Grant, and one Jake Lockley. The appearance of this tomb in the series is mostly likely a tantalizing teaser for the MCU version of Jake Lockley.
Article continues below advertisement
If the blood on his hands and his desperate attempts to escape that tomb are any indication, we could be looking at a very brutal personality who is capable of some real damage.
Letting him out might be the only way for Marc and Steven to win, but who knows what he'll do if he ever takes control?
New episodes of Moon Knight stream every Wednesday on Disney Plus.